OK I'll try to get us all the way to Queensland in this post, I'm not quite as tired tonight.
We picked up a healthy breakfast of cake and coffee in Coona as the motel we'd stayed in didn't serve breakfast. It was about 11ish by the time we hit the road that day and the plan was to make it to Queensland, our next motel was booked in Goondiwindi.
We passed though the Piliga, and I noticed a place I've been itching to go to for years, Piliga Pottery. They do the most gorgeous pottery you've ever seen inspired by the surrounding bush and mountains, but I've never seen any in the flesh. The sign for the turn off pointed down a gravel road and indicated it was about 8 km long ... nope not on the bike, I'll have to take the car there one day soon (besides I'm gonna need boot room for purchases). The road through the Piliga is good, but it's dead straight and I'd been told boring, I didn't find it boring, the trees and tree shadows on the road kept me on my toes enough, it seemed perfect for my current riding skills. It took us about 2 hours to get to the next stop, Narrabri. I spotted McDonalds as we were heading out the other side of town and nearly lost it on a sharp corner because I was watching where the Macca's was instead of the road. All good we parked and Terry waited patiently while I got all my goodies out of my bags.
The camera was the first thing out of the bags. You can see the bend I almost missed on the left side of this shot.
I only put the camera down for half a second ... how did he get it?
We spent too long over lunch, seemed that time management was becoming non existent for us on this trip. Oh well ... we headed on our way to the next leg at about 2:30ish, next stop Moree.
As we headed out of Narrabri we realised there were no more petrol stations this side of town, on our return we figured there was only one petrol station in the whole town, maybe there's more but they sure aren't obvious. So I waited with 4 livestock trucks at the edge of town while Terry went back to fill up.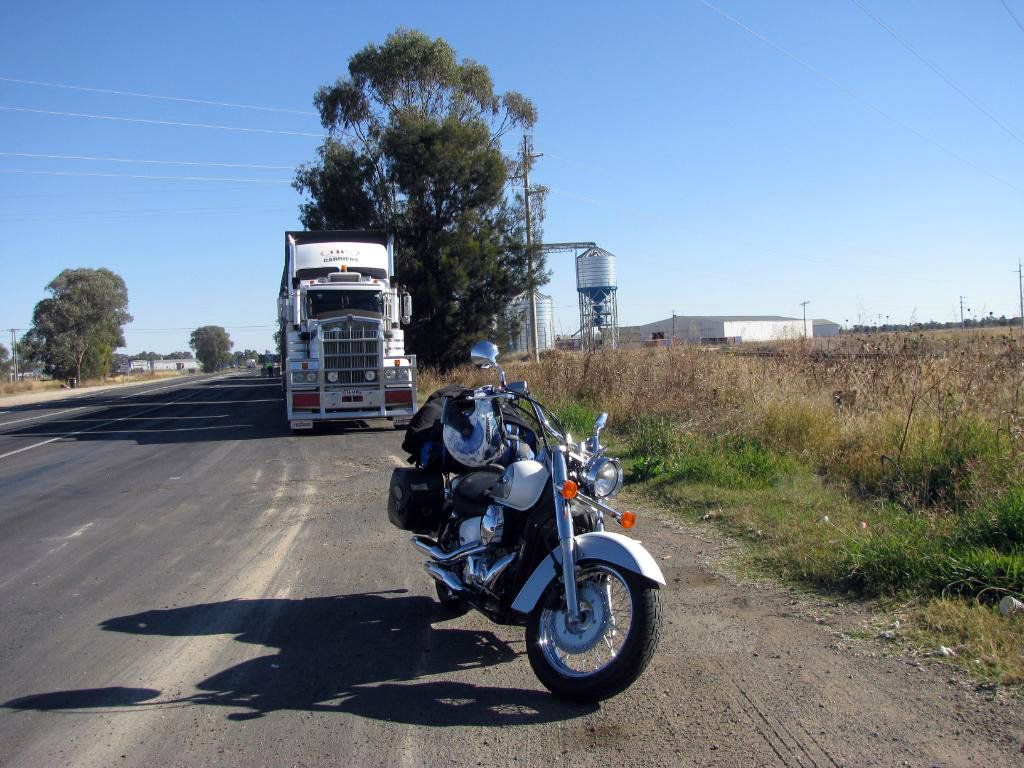 The White Shadow looked so tiny against all those monsters. They smelt terrible too ..
Nothing else to do while I waited so I pulled out the camera again.
I took a bunch of pics, then noticed they were getting into their trucks. Hmm I hope they see my baby in front of them, I wonder where Terry is?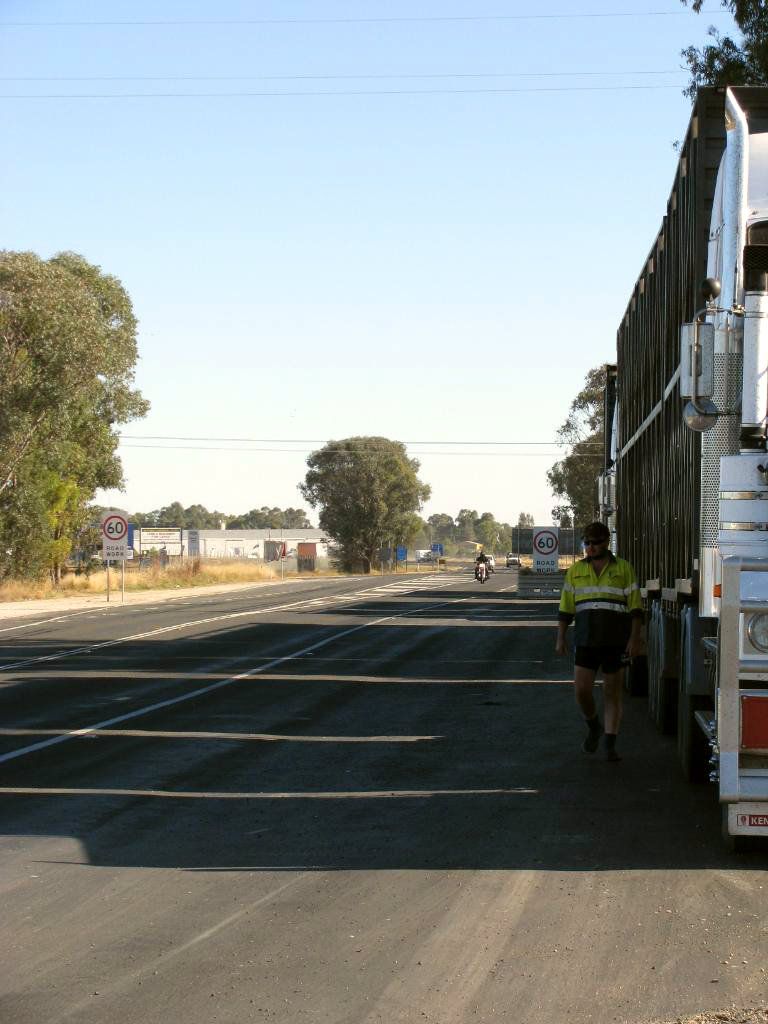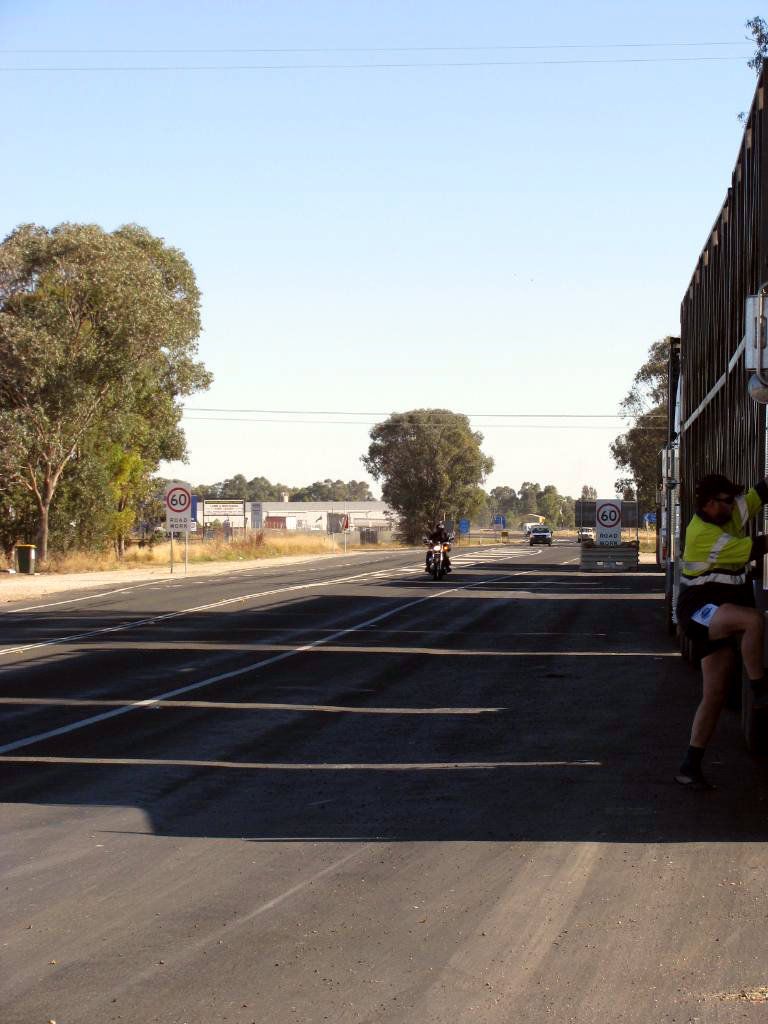 It was OK, Terry turned up before too long and I took the opportunity to get some continuous shots of him.
It was closer to 3pm by the time we got back on the road, even so we did have to stop one more time not much further along the road. We'd noticed the side of the road was becoming littered with cotton, we were entering the cotton farmers domain and Terry wanted a shot of that.
That was the last of the photos for that day. We realised we'd been mucking about too much and made a bee line for Moree, it was looking like we weren't going to make it to the border that day. We made Moree at about 4:30ish and decided to look for a motel, Terry was heading for a turn that looked suspiciously like a turn back onto a highway when I said 'hey left turn right where you are for a motel!' He missed it and kept going up the highway while I waited round the corner in front of the last motel in town.
While I waited about 3 council road work trucks full of guys pulled up and men filed into the motel, I didn't think we were going to get a room in that motel tonight. I had company while I waited for Terry to turn back, one of the young blokes fell in love with the White Shadow and I had to try and sound like I knew what I was talking about when he asked question after question about her. I was happy when Terry pulled up, even though it did still take a bit longer to get rid of the guy before we could find out if there was room at the motel. There wasn't, but we made our way back into town for one of the other million motels we'd passed, Terry was following me this time and I didn't hear swearing bout the gravel alley I lead him down, but he has mentioned it a few times since. My turn babe :)
The motel was nicely bike friendly, the guy actually took me to find the perfect parking spot for the bikes where they would be safe, and gave me a full run down on all their security measures. I really wasn't that concerned all I wanted by now was a hot shower, food and sleep.
We woke up kinda earlier the next day and even got breakfast at the motel this time, then we were off towards Queensland. We were kinda hoping to make it all the way to Indooroopilly that day.
The big difference about that day was the wind, it was stronger than I've ridden in before. It didn't take long to make me feel utterly exhausted, we were riding slower so Terry needed to pull over the adjust his cramp buster for the slower speed, you didn't need to ask me twice I was hanging for a break half an hour after we got going.
This was as far as I got on this gravel parking area before I stopped. The wind was hitting me hard by now and I thought if I tried to go side on to it the way Terry had, I'd end up sideways on the ground.
First stop was just before the border (I think, I could be wrong about this) at a truck stop just outside of Bogabilla. Terry paid for the petrol while I moved the White Shadow up to the parking area to go inside and get something for lunch. I parked in a spot that had room for Terry to pull up next to me, so when I heard a bike pull in next to me I still had my head in my bags rummaging for all my chattels as I called out a cheery "Hi babe!!" without looking up. The kinda confused 'Hi ..." I got in response didn't sound quite right so I looked up to see a bit of a perplexed look on the face of the guy riding the touring bike that was parked next to me. 'Ooops, you're not my husband ... hi anyway" I said, then spotted Terry just pulling up around the other side of the lot.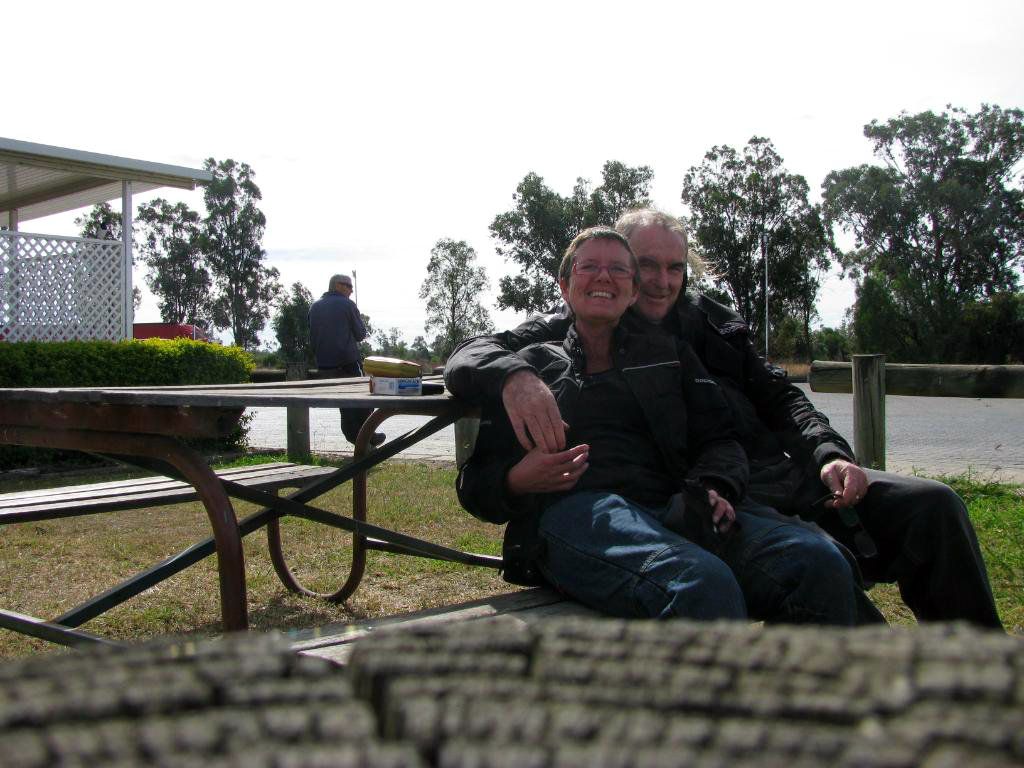 While we were here we realised we didn't have any photos of us together yet. Time to work out the timed shot.
While we were taking that photo a police car pulled up beside The Black Shadow, the cops were just getting back to their car when Terry and I were getting on our bikes, Terry asked over the Sena if I was ready to go and the cop walking beside him gave him a look, you know the one .. 'umm I'm talking to my wife' and Terry pointed across the parking lot at me. Hehehe
We headed off again, I'd started to notice that we took longer to get places on the bikes than we did in the car, 100km seems to take us about an hour and a half. I've worked out that it's a bit of a combination of my slower riding speed and the amount of time it takes us just to get geared up and going on the bikes. Oh well we're on holidays, we just needed to be in Indooroopilly before Friday, it was already Thursday and getting late enough in the day that we'd started planning to stop for the day in Warwick.
The first motel we came to became our home for the night. And it was another motorcycle freindly place, the bikes got to share the only cover with a BMW, and we got a room with a spa!!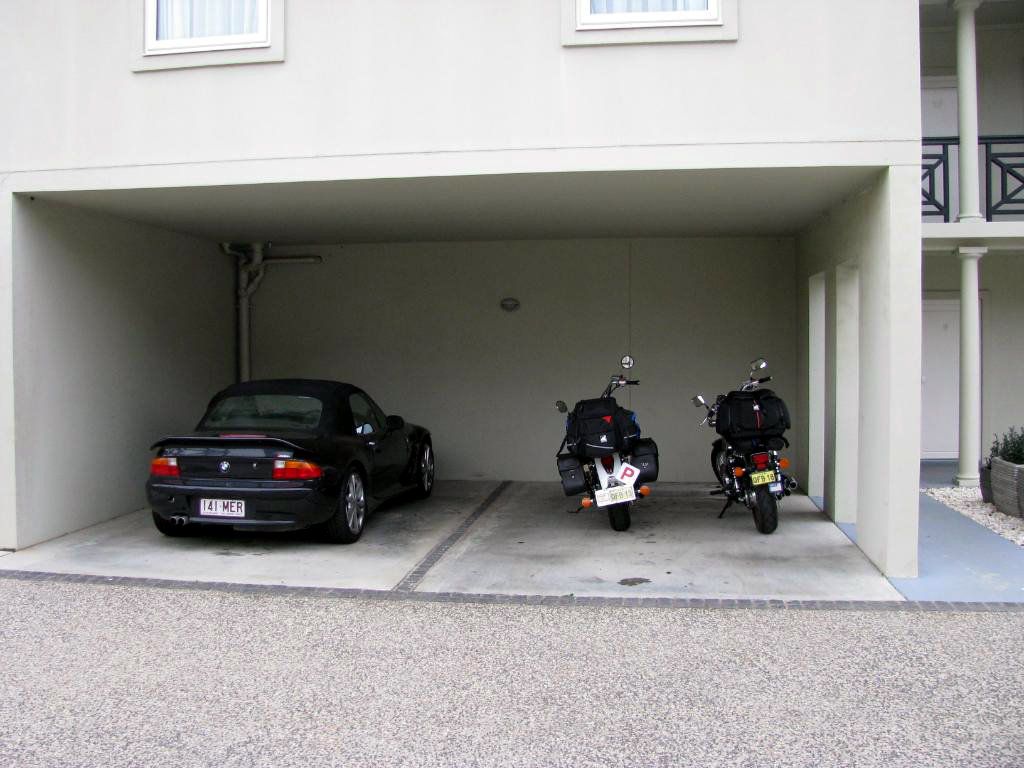 Terry parked both the bikes that day, that stone driveway was slippery and I was tired, but other than that my riding was definitely improving. highway riding is different to city or town but I'd also noticed myself feeling more confident and comfortable doing things like negotiating driveways and petrol stations. I'd developed one of those phobias about petrol stations after I dropped the bike in one a couple of months ago, but now I was starting to forget all about that mental block, now to just familiarise myself that well with U-turns and get rid of the last mental block I have when riding.
We had a nice rest that night in a very comfortable room, a great meal in their restaurant and planned to get up early the next day to ride through the mountains at a place called Cunningham's Gap. Then we'd just have the motorway to negotiate before getting to Indooroopilly and be able to spend some time with Terry's brother Friday. The whole reason we were going to Queensland was to attend Terry's brothers 60th birthday party on Saturday and we had wanted to be there by Thursday and be able to spend a bit of time with him and his wife, helping set up for the party and stuff.
The next morning I was woken by a soft pattering sound on the roof, I looked out the window and was dismayed to see this ...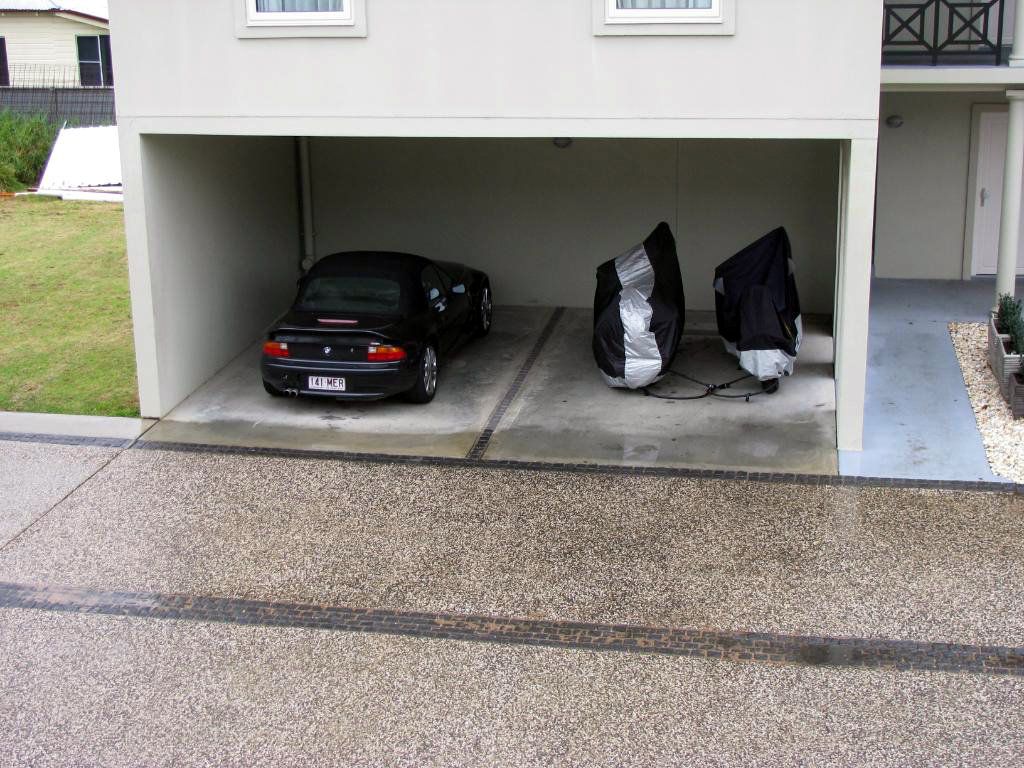 It didn't take much consultation for us to decide that the mountains, trucks and rain were not going to be a good mix. So the bikes stayed nice and cosy in their little cubby hole and we booked another night in the motel in Warwick.
We wandered into the shopping centre later that day, in the rain with one umbrella. We hadn't been able to find Terry's umbrella when we were packing (he found it about 5 minutes after we got home), so on top of the shopping list was a new umbrella. The other reason we wanted to shop was for a new pair of gloves for Terry.
The day before we'd stopped in Inglewood for a coffee and to warm up a bit. While I was paying for the coffee Terry went back up the road about 20 meters to get petrol. It was one of those tiny petrol stations that only had one pump, and the guy in the farm truck behind him kept pushing for him to move on while he was trying to gear up so he just put his gloves between his legs and moved on. I was standing on the veranda of the coffee shop waiting for the gaggle of middle aged women to pay for their coffee and cakes one at a time and I noticed something dropping into the middle of the road behind Terry as he turned out of the station, I thought briefly about putting my helmet on and telling him he'd dropped something with the Sena but by the time I got to my helmet he'd already pulled up next to the white shadow. It didn't take him long to realise he'd dropped his gloves and do a u-turn to go back and pick them up. I went inside and paid the bill and by the time I came out he was coming back up the road. No gloves .. huh that's crazy cause I could still see them in the middle of the road when I went in to pay. That quickly someone had picked them up. Terry was annoyed and his hands were frozen by the time we got to Warwick, so the first thing we bought on our day stuck in Warwick was new gloves for Terry.
I looked for winter gloves for me but when I asked the young guy in the bike shop if he had women's gloves, or even extra small men's gloves, he looked at me like I'd grown an extra head. Sheesh is it that strange that a woman rides a motorcycle? I should be getting used to this reaction by now, but I'm not.
My hands were the only thing that suffered on that trip, the thermal gloves seemed to develop holes as soon as I started to move, specially while we went through the mountains. This system is not working and I'm seriously going to have to do something about it, even if it means a special trip to Sydney just to buy gloves.
Warwick is an interesting little town, but sadly run down in some aspects. There were a few more empty shops in the main street than you would expect and a lot of run down empty houses as we walked to the main street. Some of the old architecture was lovely though.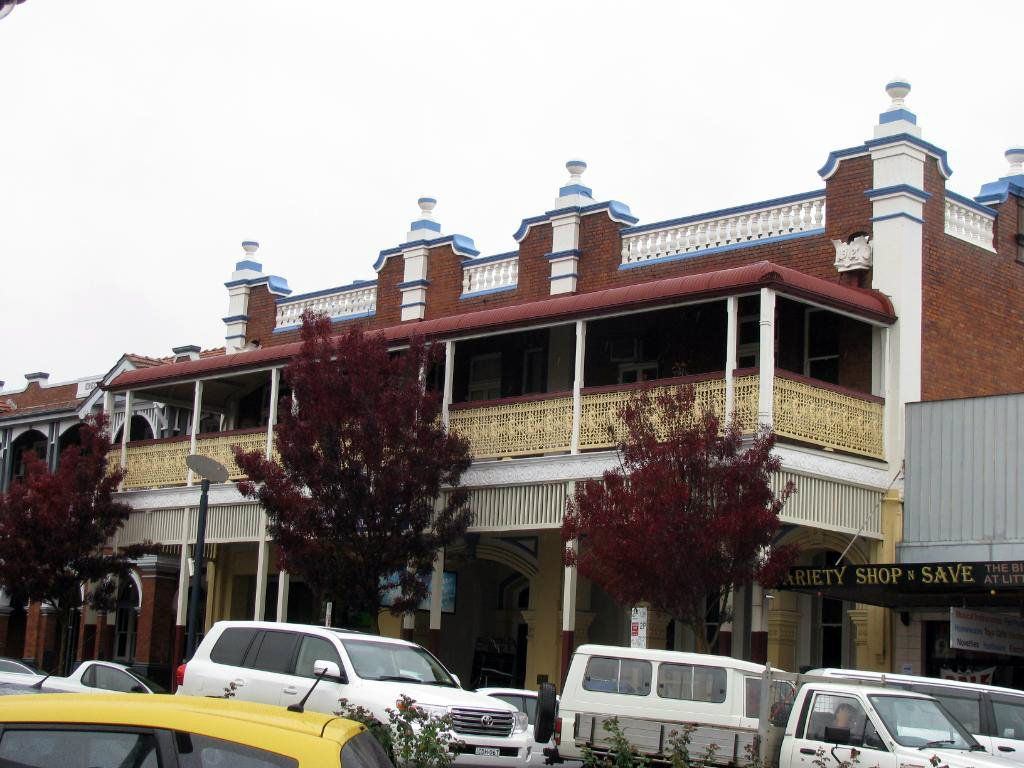 We found a nice man in the middle of the street who happily told us where to get lunch and we spent at least half an hour in the middle of the footpath chatting with him about bikes. One of the things that I am truly starting to love about riding the bike is the social aspect. It's something that I'd had no idea about before starting to ride the bike, but I was starting to realise it is a huge aspect of biking. You don't even need to be on the bikes to find that people who would normally say little more than boo to you will suddenly start telling you their life history when you tell them you are riding bikes from one state to another.
Well this is starting to take as long to write as it took to ride. I'll continue the story in another post soon, and I swear I will get us through the mountains and to Indooroopilly before the end of the week, we had a party to get to!!