Hi! My name is Roxette but my friends call me Roxy. I am a Honda Shadow who happens to have a very sexy white color scheme .. hence the name of this Blog. Yes I am the namesake of The White Shadow Diary. As such I thought it was about time I had my say here.
Now I dont want to sound like I'm whining but I have noticed that the White Shadow has taken a bit of a back seat in Brenda's life lately. Both the bike and the blog. I know she's been a bit busy of late, her work has been hectic with her taking on a new role as a trainer and now they have all this new staff, yes she gets home after work and just flops onto the lounge and immediately falls into a trance in front of the TV. Not to mention the fact that her computer recently started to give up on her, she did get a new one (that's what I'm playing with now .. fun!) but she has hardly turned it on, there's only one folder of photos on it so far .. she's really been slacking!
Brenda and Terry had a wedding that had to be attended last month, I thought for sure they would be taking us, but no .. the black shadow and I were left at home, quietly crying ourselves to sleep in the dark for two days. We both got very dusty! They went all the way to Canberra without us and their pathetic excuse, neither one of us could fit the present on our back racks ... I reckon they shoulda just bought the present down there.
So having raided Brenda's one folder of photos on this new pc I found this ...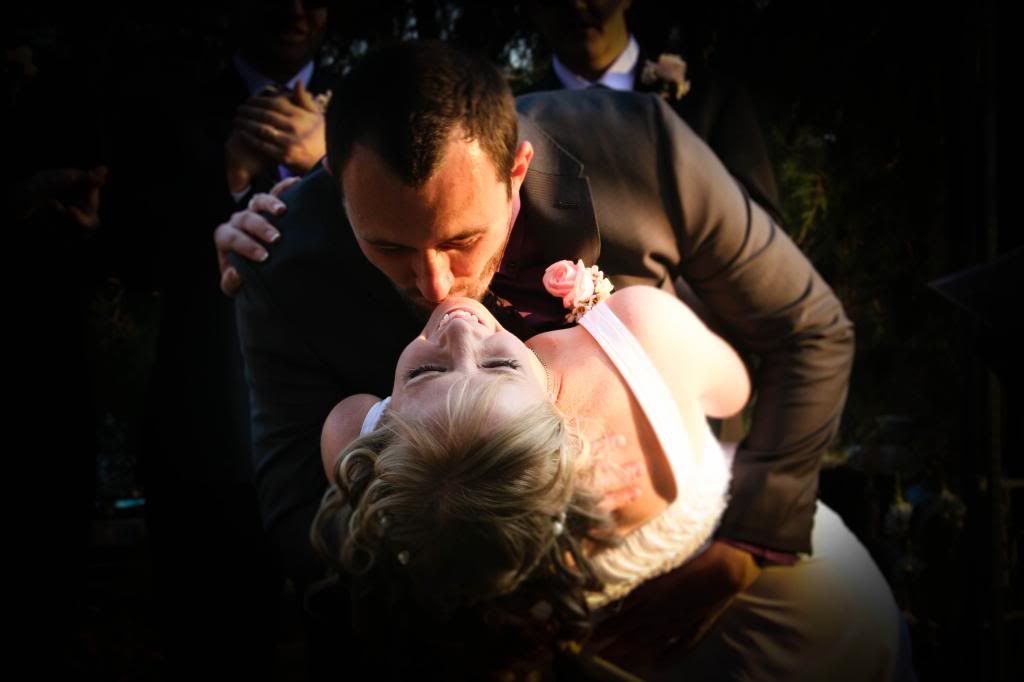 That's the lovely couple, Terry's son and new daughter in law. Looks like it was a fun wedding doesn't it. I was feeling very left out when I saw that picture .. then I spotted this!!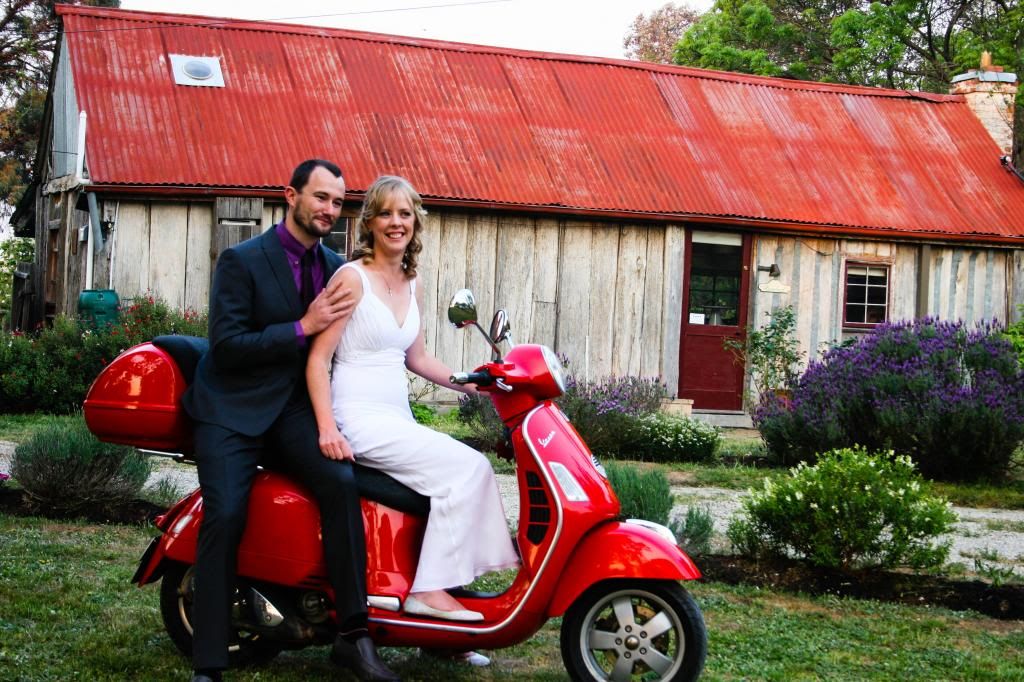 There was a scooter there!! And I wasn't even invited and I'm a grown up .. sigh. It looks like the bride actually rode up to the end of the aisle on that scooter ... oh what fun!
I have mentioned to Brenda that the next time she knows a bride that wants to go to her wedding on a bike, I would be a great choice .. I'm all class!
Both of our riders have been promising to take us out for a weekend jaunt for weeks you know. And it still hasn't happened! I don't mind spending time with the black shadow (I wish Terry would give him a name though, the black shadow is such a mouthful) he's good enough company, but he is quiet a lot of the time .. the best fun we have is on the roads, zipping along looking at the scenery with the wind blowing through our chrome. Oh I miss that!
But no, our riders have been too busy or too tired, last weekend they promised us a nice long ride while Terry went to sort out some work stuff. I heard them talking about it, "we'll take the bikes, blow the cobwebs outta them" I heard Terry say that. Nope Friday night their shed blew down in an almighty wind. I heard the bang and it kinda scared me, I thought our house was blowing down and we would be crushed. It was OK, it was only the lawnmowers home. That small catastrophe put a damper on our ride plans though, our riders were busy cleaning up the mess all day Saturday then catching up on Saturdays stuff on Sunday. Yet again us poor bikes were left sitting forlornly in the driveway whimpering softly in loneliness.
Oh it's not all bad, don't get me wrong. Brenda does take good care of us. She noticed that we were both getting very dusty one afternoon last week and got out the hose and bucket and gave us a nice bath. And she does ride me to work when she can .. actually I think it's just when she thinks she can do without her morning coffee, a lot of the time I hear her taking off early in the car with the words "I need my coffee!" on her lips. But at least a couple of days a week I get out with her for the short journey to her work, then I sit outside her work all day and get lots of admiring looks from passersby. I don't mind that :)
We are having fun on our short rides, Brenda's really coming along nicely with her skills lately. It makes it all the more enjoyable that it's the only time we really get together lately, when it does happen, even if it's a short ride it's just so much fun. I've tried to talk her into keeping on going past work a couple of times but Brenda wont do it .. sheesh I don't reckon work would miss her for just one day.
This weekend we are going for a ride! They cant get out of it, they are meeting other riders from SRA and they organised this ride ... they are the leaders so that means no getting out of it guys!! Yay!! So hopefully Brenda will take the camera, I know she is planning to take the GoPro cause I saw her charging it last night, then she will have to post the story. I can make do with the precious time we spend together riding to work for the rest of this week, cause I know that we are getting out onto the highways in just a few short days. I cant wait!!