When I woke up this morning the headache was still with me and I groaned out loud. I am so fed up with it all I'm feeling like it's my body out to get me. I'm sick of lazing round the house nursing my head, so I decided to hell with it all ... I'm not going to let it stop me! I had a leisurely breakfast and planned what I was going to do on my day off. Wash the bikes was top of the agenda, I've been waiting for Terry to do it (it was his turn) but that was looking like it might happen when some little piggys grew wings. So I figured if I could handle that kinda physical activity then I'd see how I felt this afternoon and maybe hop on the bike for a ride. Just needed Terry to be ready to come with me just in case.
By the time the bikes were spotless, even had a bit of polish on Terry's baby to get the baked on bugs off, my headache was gone. I'd had a couple of dizzy spells when I was getting up earlier in the day so I was watching for that while bending and stuff while washing and polishing. No problems, I wonder if my determination not the let anything stop me having a normal day helped me here.
So we hoped on the bikes and as I pulled out of the driveway I was nervous to tell the truth. For the first 500 meters I was almost waiting for the aura's to start again. They didn't and after that first bit of riding the thrill took over like it always does. Yay it felt so good to be on Roxy I think my grin was nearly as big as it used to be when I first got her.
We didn't really have any plans, we thought we'd just head out towards the Western Plains Zoo which is at the edge of town and see if we could grab a coffee. They opened up a new coffee shop out there bout a year ago and my workmates took me there for my 40th birthday not long afterwards. I haven't been there since so it seemed like a nice place to go that wasn't too far from home. The cafe was closed, but there's a nice sitting area outside the cafe that looks out over the Spider Monkey and Lemur islands.
The Lemurs were huddled together on the least windy side of their little hut.
Lemurs are some of my favourite animals and I have enjoyed watching these guys playing on their little island in the past. Today it was getting late and it was cold, not to mention a bit of a cold breeze. I was half expecting they would be inside their little hut out of the wind but I guess they were warm enough all huddled up together and there was a lot of grooming and snuggling happening.
Begging for more grooming.
There is another island behind this one that has black and white Ruffed Lemurs. I've never seen them before so I was enthralled watching these guys out and about playing with each other, poking about in an old log, and generally running amok, unlike their smaller cousins.
Black and white Ruffed Lemurs poking about in a log.
I like Western Plains Zoo, it bills itself as an open range zoo, and it was one of the first that didn't keep animals in cages way back when that was the norm for zoos. I love that the animals have more than enough room to move around, though they do have some rhinos there who's enclosure always seemed a bit small for such a huge creature. I have heard that they do have other, larger areas for the animals to wander around that is not part of the public display. There are a lot of native animals on the grounds that just wander in to take advantage of the amenities and as we were sitting next to the man made lake that houses the Lemur and Monkey islands I spotted some little creature slipping off the rocks into the water. I have no idea what it was, my first thought was water rat, I've seen plenty of those on the breakwalls at Newcastle's harbour so I know what they look like at a glance. It wasn't one of those and if I didn't think it was silly I'd have said it was an otter.
We sat there for a bit and watched the Lemurs and birds in the trees on the islands.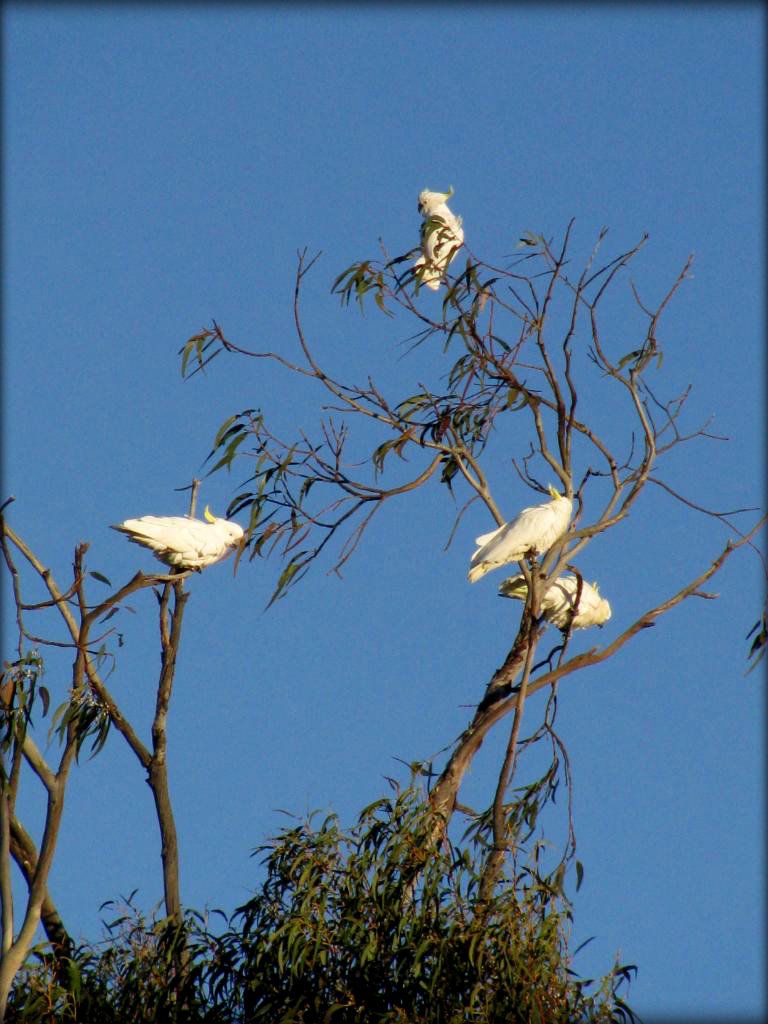 Sulfer-Crested Cockatoos. I could watch these guys playing for hours.
The Cockatoos are everywhere out here, at the zoo and along the river. They are a playful bird and always look like they are just having a ball, you cant help smiling when you are watching them.
We took off from the Zoo after about a half hour, interesting carpark, loose gravel all over the bitumen and some tight turns for me to manoeuvre through. I'm pretty happy with myself that I did it all without making too many mistakes and none of them were noticeable. Except the round about I went around the wrong way to get out. The sign posts aren't terribly clear and I could see a sign that said exit, so I headed for it. The only thing was I was supposed to go around the round about to get to it, which I didn't notice til I got half way round the wrong way. Lucky it was late on a Monday evening so there were no other people around!
Look at those shiny bikes!!
We stopped at McDonald's for an unhealthy, easy dinner. As we were leaving I noticed the older lady sitting in the car parked next to me with the SA number plates, before too long her husband came along and he came over to chat. He asked how much further we had to go, and Terry cheekily told him bout 5 k's up the road. He laughed, then told us he is a mad bike lover, he has a BSA that he rides now and he's fixing up a Triumph Ariel (I think that was what he said), his favourite bike was a Vincent I think. He is a huge fan of British bikes, and I have to say after googling many bikes in the past few months I agree with him in looks anyway, I love them. I almost wanted to take all my gear off and offer this lovely couple a cuppa in maccas, but it was starting to get dark and I'm not really the type of person to do that kind of outgoing thing. Terry said the same thing to me just now though and I kinda wish we had stayed and chatted for longer.
Riding the bike again without the fear that my head was going to turn traitor was wonderful, chatting with a fellow bike enthusiast who had a lot of years of riding under his belt was fantastic. Two things I will never tire of .... riding my bike and chatting with complete strangers with just that love of riding in common, that makes it like you are chatting with someone you've known for years.
After the past couple of weeks of feeling so cruddy and bit sorry for myself, it was just the best thing in the world to get out on Roxy with my husband and suddenly I feel like a human being again. With all my old ambitions (get better at riding and do more of it) and hopes and dreams firmly back in my head and heart, it can only get better from here.