I did it!!! Yep I did something to my bike and it didn't turn into a three week marathon of finding bits and making them fit. I'm so excited!!
I got my highway bar from Hong Kong on Tuesday and I've been waiting patiently all week til the weekend to put it on Roxy. Terry had asked me nearly every afternoon if I was going to put it on, but going by previous experience, I realised that it was probably going to take longer than the ten minutes I expected it to. And I was right.
I got up early in the morning (9:30am is early for a weekend) and wasted a bit of time waking up. Then I got Terry to move my bike to the side of the house where I have more room to work. First thing was to take off the cover. I have had the new disc lock on her for the last week and Terry said it made a few little peeps yesterday, but he said only once. I figured maybe the wind had moved the cover and made the lock move a bit, just enough to do the little warning peeps it gives when first moved. So when I started taking the cover off the bike it did those warning peeps again, alright, that's OK, I kept going with the cover. Maybe I shouldn't have, cause it started the full on, high pitched screaming that means get the hell away from me I'm alarmed to the hilt. Wow I wasn't even near it and it went off, I like it, to me that means if anyone breaths near my baby they're gonna get deaf fast! After quickly putting the key in to stop the alarm (it does stop after 10 seconds then wont go off again unless it's moved again, but I couldn't have stood there and listened to that for 10 whole seconds), I took the cover off the rest of the way and unlocked all the other locks I have on my baby for Terry to move her. I reckon I'm going to have to take the disc lock off before removing the cover from now on.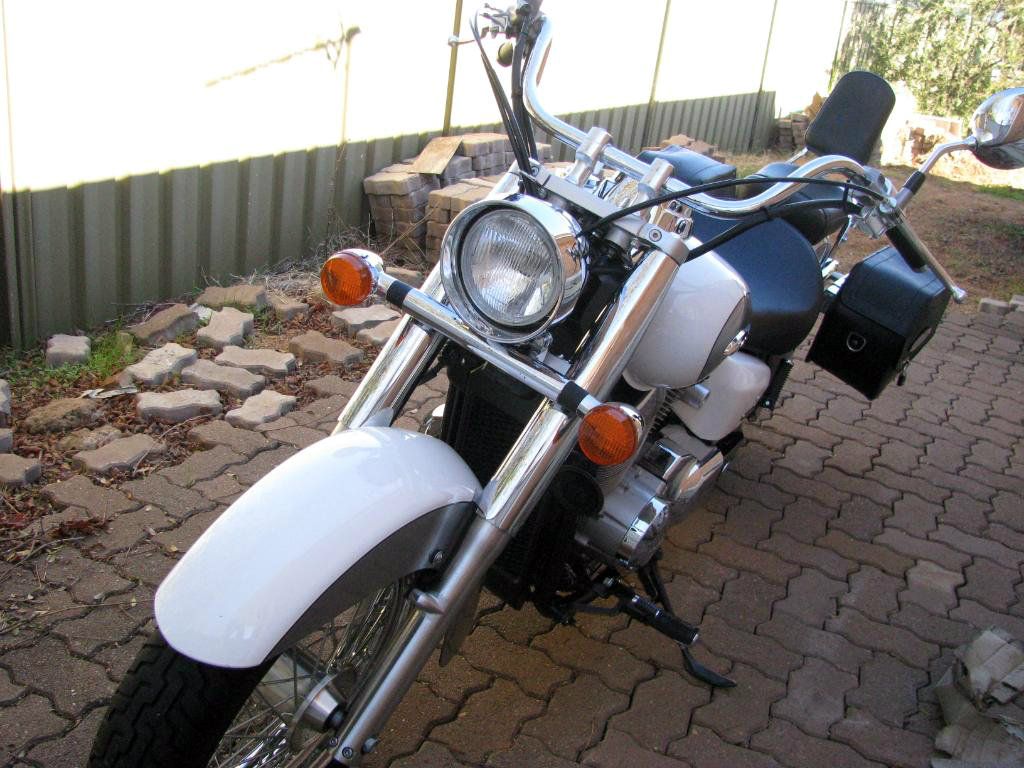 Here's Roxy in the make do work space waiting for her new bit of bling.
Before I did anything I wanted to check out the bolts that are on the bike first, making sure they would be long enough to take the bar and seeing if I thought I would need a bit of rubber between the bar and the bike anywhere.
Somehow Terry got hold of the camera while I was doing stuff with spanners.
I decided that I'd need a slightly longer bolt at the brake side and where it bolts to the top of the radiator, I also decided on a rubber washer up there too. Right, off to the local bolt shop.
There's a guy that works there who comes in every two weeks to donate blood, and I'd stuck a needle in him just three days ago, I reckon that's why he's so nice to me when I go into his shop. If he's good to me, I'll be gentle with him :) He gave me the bolts I needed but he didn't have the rubber washers I wanted, he gave me some other ones ... poly-something .... but he told me he didn't think they would do the job. Ah well I left with my bolts and picked up coffee from the drive thru coffee place next door to take home.
After coffee it was off to Bunnings to get the washers. Plumbing section had a pack of assorted with just one in it that would do what I wanted it to do. Home I go. I was thinking to myself that 'yes this is turning out like every other job I do with the bike, a lot of running around to get what I needed.' I had a feeling I'd get home and start to put it together and find that I needed something else, that's the way it has always seemed to go in the past.
So I got home, put the bar in place with Terry helping to hold and do up bolts. First time I did up the bolts at the footpegs first and then when I tried to put the one in at the radiator it just wouldn't go in the hole. Undid the footpeg ones and put in the one at the radiator first, yep that worked and I was admiring my handiwork when Terry mentioned I probably needed to put the rubber washer between the bar and the radiator. Ooops, take it apart and put the washer where it will do some good. Yay, the other bolts did up in a jiffy. No problems at all, I'm so happy! It all took about 10 minutes once I had the bolts and washers I needed.
All the bolts where they belong.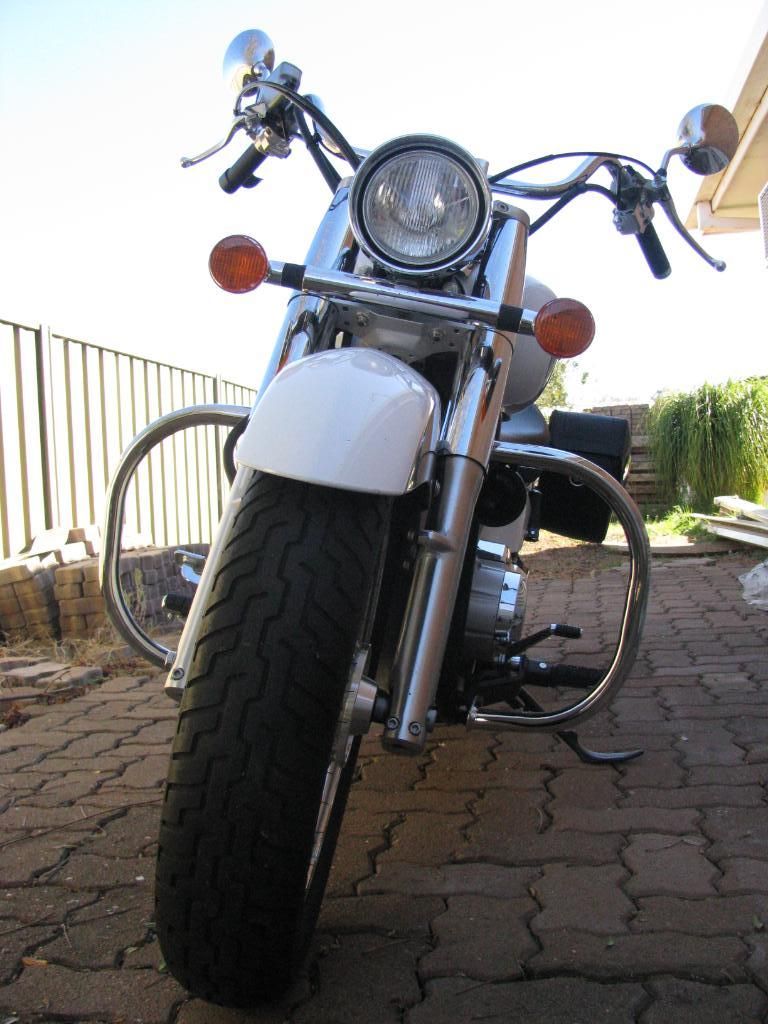 And here she is, all ready to go riding !!
A happy woman and her bike with new bling.
One thing that I have been interested in getting for the bike is highway pegs. Now that I had the bar on I stretched my legs out to see if that would be feasible ... nope I wouldn't reach pegs out there.