It seems that I'm actually going to do this. What? you may ask. Well I'm going to actually stick to writing in this blog. I've been pretty good keeping it up to date so far, which has suprised me a little. I really didn't think I'd stick to it, I often start things then get bored with them, but since it looks like I am going stick with it I've decided to put a little explanation in here. I noticed that the first posts on a blog tend to get lost as the blog gets older, and those first posts tend to be the ones that explain what the whole thing is about. So I found this handy little thing I could do, a new tab. I've decided to put a little explanation about what the blog is about and how it all started and add a few photos from my album that haven't made it into the blog while I'm at it.
My first two wheeled love.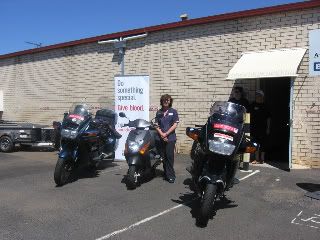 The scooter with a couple of big brothers.
My first ride on my scooter.
So here goes, first there is a post right at the start that explains in a nutshell how I got into riding ...
here
. So I'll just put a quick background thingy here, I first rode a scooter to work and back for about 18 months, then decided almost spur of the moment that I could ride a bike. After a short time researching I went with my first choice in bikes, a Honda VT400C. She was beautiful and I'd fallen in love with her from the first. When I finally got her she was all I had expected and more.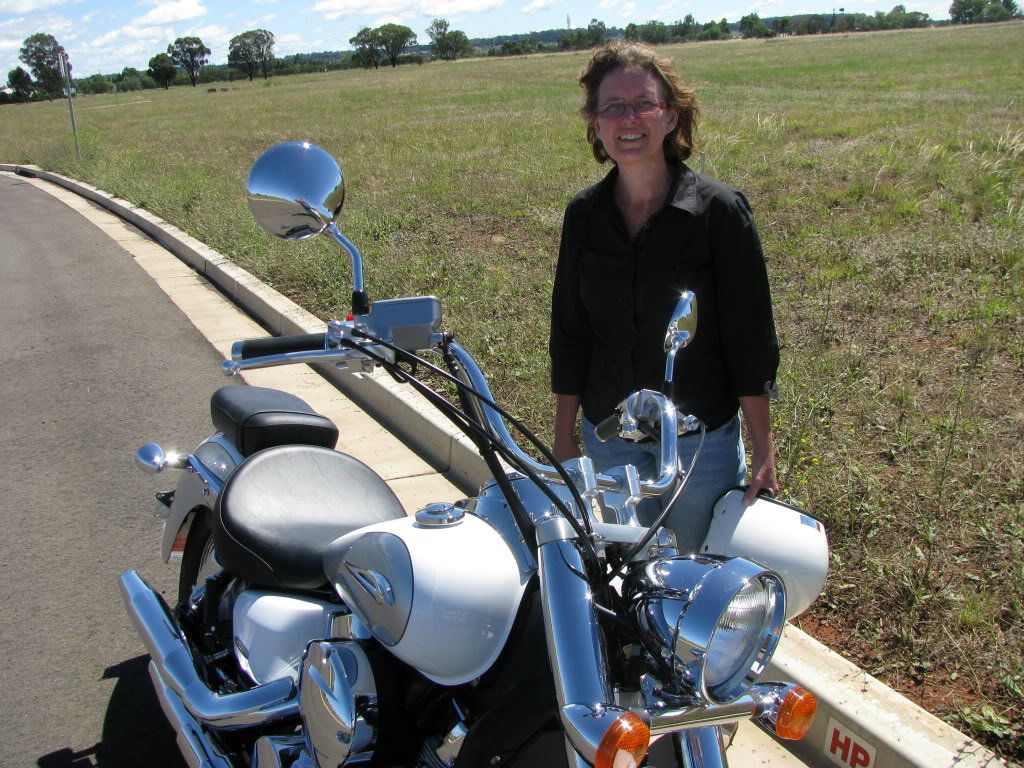 One of the early days with the White Shadow, practising on empty roads.
The very first photo of the White Shadow!
So what's with the blog then? Well after about a month of riding and not riding, and finding out how hard it really was to ride, I decided to keep a personal diary of my riding trials and tribulations. I had moments of glee and sorrow and I just wanted to write it all down for myself to help me remember what it was like, and I guess I was also thinking it might help me to get over some of my problems. I have often found writing a good way to deal with those kinds of worries in the past. So I did it, I added photos of my baby, and I proudly showed it to my husband. He then blithely suggested I start a blog. Why? I have no idea. I had recently given up online gaming and the biking was helping a bit to fill in the gap left but not enough. I've always had a thing for computers and writing so maybe he thought it was another outlet for my boredom. He was right. He has created a monster!!
So I started this blog, I did it without a thought that anyone would ever read it... so why put it online at all then? I hear you ask. Well why not, even though I don't know if it will be as interesting to other people as it is to me, you never know. It's about learning, it's about how I feel about the things I have trouble with while I'm learning to ride and I think there may be some people out there who share those feelings or at least find them interesting. Of course it's really fascinating for me to go back and read some of my earlier posts ... those feelings are all too easily forgotten sometimes as you progress with your experience with anything and it's intriguing going back to revisit them. And most of all it's fun!!
I've been pleasantly surprised to have found some lovely people along the way, and now enjoy reading their blogs as much as I enjoy writing my own, if not more. I've discovered the moto-blogging community, and they are a fantastic bunch of people who I never would have met without this blog, so that's yet another bonus for having started this venture. I hope you enjoy reading about my adventures, and while you're here check out some of the other blogs I enjoy as well.
There it is, the whole reason why this is here, I am now a bonafide addict ... to riding my bike and to blogging about it!!
Time for an update. The blog started out life as The White Shadow Diary, named after my very first bike Roxy. Today it was all changed after I sadly said goodbye to Roxy and hello to Huck. Huck is a Kawasaki VN900 custom. And so a new adventure starts! Rather than starting a new blog, I've kept the same one and changed the name.