This post has absolutely nothing about bikes in it. But it is a part of our Queensland adventure so I want to include it as part of the diary thing.
The next day, Tuesday, we had dinner and a show booked with Terry's brother and his wife but we were free for the whole day ... what to do? We could have gone for a bit of an adventure on the bikes, but to tell you the truth that didn't even enter our minds, we'd already had a lot of adventure so far on the bikes. It just seemed like a great idea to have another bike free day and a wonderful opportunity to do the tourist thingy.
So we walked to the train station and asked about a day ticket .. where we were rebuffed by the ticket lady, oh well you get them everywhere, unhappy people who just didn't want to be where they were and it showed in their dealings with others, or maybe she'd just had a bad day. We bought a ticket into Brisbane and got ready for a day of being bombarded with tourism.
Indooroopilly train station.
The train system is the best I've seen so far in any capital city, OK so I've only seen Sydney and Melbourne, but it beat Sydney's hands down and I'd prefer the trams in Melbourne as a way to get around if I have to public transport at all. If I lived in Brisbane I'm sure I'd use the trains every day. It was clean, every station was painted with murals and designs on any space that would normally be covered with graffiti, and the first train we took ended up being a 'Quiet Carriage', it was clean and non noisy with signs everywhere telling people to keep their conversations and phones quiet. Kinda bizarre and we didn't talk much during the ride, I found myself almost whispering when I did talk. But it was relaxing.
We got off at Brisbane, we kinda had ideas of taking another train somewhere else, Terry's brother had given us some ideas the night before. But since his directions aren't the greatest the first thing we needed was the tourist information centre. So we wandered to the street, any street, and stood at the traffic lights looking around and I guess kinda lost. A man in a business suit turned to us and asked if we needed help. Wow I cant think of any city I had ever been in before where this had happened, so nice. He gave us easy to follow directions to the information centre nearest us, right in the middle of the Queen St Mall. Shopping utopia.
We booked in with a tour of the city's architecture, we'd already noticed it was interesting, there seemed to be a heady mix of old and new. I have never thought of Brisbane as old, I always imagined it as just a huge touristy city with a gazillion sky scrapers blocking out any sunlight to the streets, and a myriad tangle of Motorways. There are old buildings here. We ended up skipping the tour and just going exploring for ourselves.
We ended up in this mall type area just before the river, one side had these ultra modern, brightly coloured buildings and on the other side was the old National Mint, which they are in the process of turning into a casino or something like that (such a shame I'm sure there's something better that could be done with such an amazing building)
Queen St Mall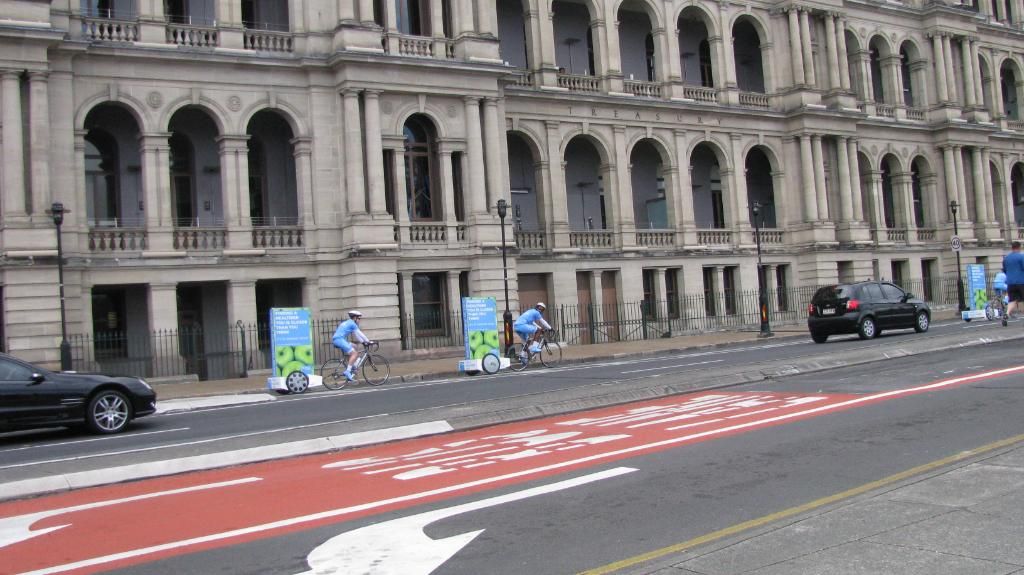 I thought these guys wouldn't be getting paid anywhere near enough money to be doing this.
We found the local bike parking area.
We decided to cross the river and have a look at South Bank, I'd googled it and the web site said there was eateries and shopping, sounded perfect.
Brisbane River.
South Bank had this lovely landscaped park area, and the walkway along there just amazed me.
I found it so interesting the way the skyscrapers peeked over the tops of the trees.
It was getting darker as we wandered around and by the time we got over the other side of the bridge the heavens opened up on us. Up went the umbrellas, I think it rained for maybe 10 minutes as long as it took us to reach the cafe district. By the time we'd finished lunch it had stopped, I was getting used to the weather up here, it seems like it just goes through all the seasons every day, keeps life interesting.
My bowl of coffee!!!
The best Steak and Guinness Pie I've ever tasted.
Brisbane from South Bank
Can you believe this photo was taken only an hour or so after the first one of the river above.
There are all sorts of things to look at over here, a gallery and museum and stuff, we didn't look at any of it. I guess we weren't really in the touristy mood after all, it was lovely just wandering around the area, and by the time we'd had a bit of a stroll it was time to jump back on the train so we'd be home in time to be picked up by Terry's brother and brought back here for our show and dinner tonight.
We got the train back to Indooroopilly with just enough time left to get ready for dinner, I stopped into the corner shop for emergency stuff (smokes), which they didn't have. Hmmm .. right I had half an hour to get to the shopping centre and back then get ready for dinner. I did it, I didn't run but I walked damn fast and have I mentioned the hills in Indooroopilly ...
So we got driven back to where we'd been that day, it was lucky they took us there cause we'd missed a whole heap of South bank.
There were these beach inspired pools next to the river.
Another lovely walkway beside the river.
And this awesome fountain area .. you guessed it .. next to the river.
This fountain in particular had me fascinated, the little cups would fill to a point then tip and rock til they emptied, all randomly. I could have watched it for hours.
This guy was interesting too.
We had dinner in a Turkish restaurant which I was excited about, I'd never had Turkish food 'cept the standard stuff from a kebab shop, and I love Turkish coffee. The food was great but the coffee was sadly disappointing.
We then went to see a show at the Cremorne Theatre in QPAC (Queensland Performing Arts Centre) called Songs For Nobodies. The woman's name was Joanna Murray-Smith and the show was amazing, she told stories about 5 or 6 different singers from different eras, from Judy Garland to Patsy Kline to Edith Piaf. She sang as each person and sounded amazing.
The Ferris wheel lights up prettily at night, we didn't go for a ride.
We had a great day and night out, tomorrow was going to be another big day though. The trip home started then and we'd decided already it wasn't going to take us 5 days to get home ... we had experience now!