Day 5 ... yes day 5, I cant believe it's taken us 5 days to get to Brisbane. But what the hell we'd taken it easy and had fun, and this trip was as much about riding as it was about going to a party.
Saturday, we had a party to go to at 2 o'clock this afternoon, so hail or shine we'd have to hit the road. Lucky for me it was a beautiful day.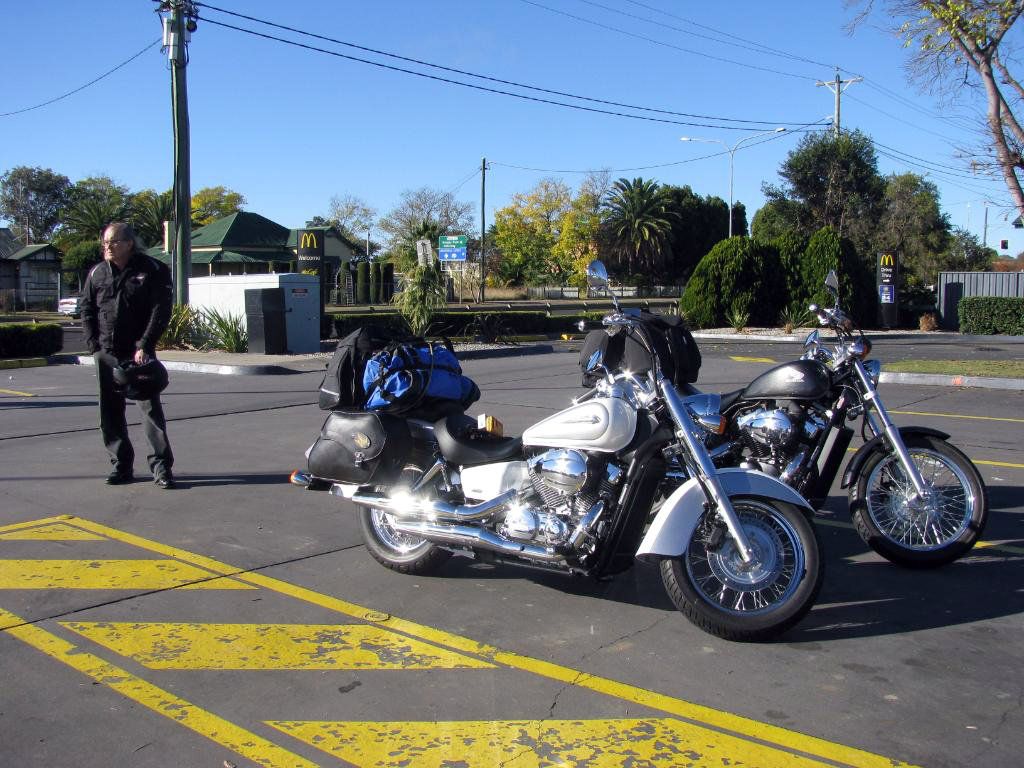 We even found the McDonald's that we'd wandered in the rain for hours looking for yesterday.
After a quick breakfast, and checking out the BMW that pulled up across the parking lot from us and wondering how anyone can touch the ground on one, we headed on our way. Our first stop of the day was in the weirdest rest area in the world which kinda went in a little spiral til you eventually ended up having to do a U-turn and go back the way you came to get out. We kept expecting to find a way out forwards (and I was really hoping), no such luck and I was forced to turn my baby. I did it!!
We were starting to get views of the mountains that we would be crossing.
Next thing I knew we were riding up a mountain, it wasn't that bad really. Terry found an interesting little place to stop right at the top of the pass. Apparently you could walk round up there, but if you really felt the need for exercise I could think of better things to do!
Yes it's freezing up here!!!
That's all gravel we are riding on there, and it was a tight parking area. I have to admit I made Terry turn my baby around, and watched him like a hawk while he did it. He had problems and it's not somewhere I'd willingly take the bike again.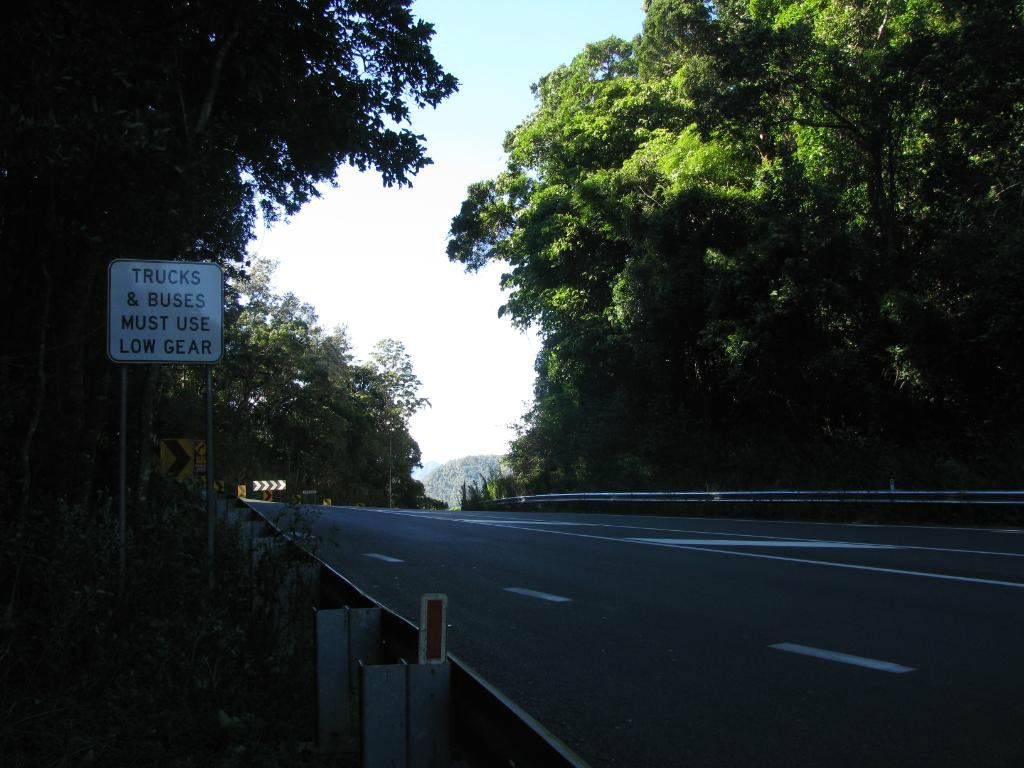 Wait are we going down there .... ?
Then I noticed where the road went next. Ah here were the twisties I'd been dreading. There are a bunch of roadworks happening, but no stop/go stuff, just confusing lane closures. I hate downhill bends, they make me nervous and I was in 3rd gear most of the way down there, except a couple of turns that freaked me a bit more than the others where I put her in 2nd to start with. Yes I was slow but I didn't go under the posted speed limit at any time to my knowledge so I didn't feel I did too bad really.
Then we just had lots of straight road until we merged onto the Ipswich Motorway. We'd been given directions from here by Terry's brother who said just follow the signs. What signs? I even asked Terry's brother that a few times ... what signs? The first time you know you are even in Indooroopilly is when you get to the middle of town and see the Indooroopilly Hotel. So we were busy looking for signs and when we noticed sky scrapers looming over us we decided we'd gone too far and looked for somewhere to pull in and look at maps. Terry turned left at the next set of lights, which took us into a hospital. We were tired and a little unbalanced so when he had to stop unexpectedly for a pedestrian he almost dropped the bike, I'm proud of him he held it up. We stopped at the first place we found to park, looked at the maps I had, they didn't help. So we google mapped on the phone which isn't ideal really, it's too damn small. I thought we had it worked out so we got geared back up just as Terry's brother rang us back, we'd rung him to see if he could get us unlost, we had helmets on and by the time I got mine off the phone stopped ringing, so I got geared up again and he rang again ... I could have worked out how set the Sena up to answer the phone, but I really don't want to answer phones while I'm riding, I don't need that distraction. So we didn't answer and just jumped on the bikes on a mission to find Indooroopilly!
We back tracked and found the motorway we were supposed to be on, still no signs for Indooroopilly, but now I knew what the name of the road was we should have been on and found it easily. Terry took us through Indooroopilly, he knew where the motel was once he got on this road, he was way in front of me and this is a damn hilly place. I even got cut off by a police car at one stage, ugh it looked like everyone here is a crazy driver. I was scared and then I nearly ran into a car on this crazy round about that kinda sneaks up on you on the crest of a hill, the first I knew I was on a round about was when the car on my right suddenly loomed into my vision, I stopped suddenly. After that it was a cinch to get to the apartments we were staying in for the next few weeks. Oh except for the hill start .... it was my first real hill start on the bike and it was interesting to say the least, I've found something to hate more than u-turns.
The view of the garden from our room.
We made it, and after unloading the bikes we parked them in a nice secure area out the back that the owner of the apartments suggested for us. The owners chatted with us for a while, yep you guessed it bout bikes, they used to ride years ago but Elizabeth said she only ever pillioned. I encouraged her to get her own bike and get Ian back into riding, who knows she may just do it :)
We had a couple of hours to rest, unpack and find clothes before we had to shower and go to a party. After the adventure of getting the bikes through Indooroopilly there was no way I was going to ride to the party, it was too hilly and unfamiliar roads were scary to me when I was tired and we would be returning in the dark. I managed to talk Terry into taking a taxi, which was interesting, the taxi driver actually asked us for directions to the place we wanted him to take us to ... I'm glad we did though, when we got there we saw there was nowhere that we could have parked the bikes. It's a lovely suburb but sheesh, hills, trees, gravel edges on roads that suddenly fall down to a park ... not bike friendly to me.
The house where the party was, surrounded by rain forest trees. Didn't feel like we were 10 minutes away from a capital city.
Us in party mode.
It was a great party, and we were glad we'd made the trip up for it. Was great seeing Terry's brother again and his wife as well, we hadn't seen her since our wedding 4 years ago. We left at a reasonable hour because we had a planned ride the next day. A bunch of the blokes from the Shadow Riders Australia (Queensland Mob) had a ride all planned for us for the next day. We had to be at Indooroopilly McDonald's at 8am. I was pretty certain I knew how to get there :D