I have exactly 4 days left of my holidays, and I've wasted the last week or so doing absolutely nothing. Well I did write up the adventure here, that was almost as epic as riding it. And I am busy making up a scrapbook of it too, that'll keep me busy for another couple of weeks yet. I'm new to scrapbooking, I did one a few years ago for my mother of our wedding it turned out OK but it's a lot more work than I'd originally thought. I have heaps of stuff left over from that and when we got pictures processed of the Queensland trip I decided it would be nice to personalise it with some of the story as well as pics, scrapbook time.
Here's some of my favourite pages so far ...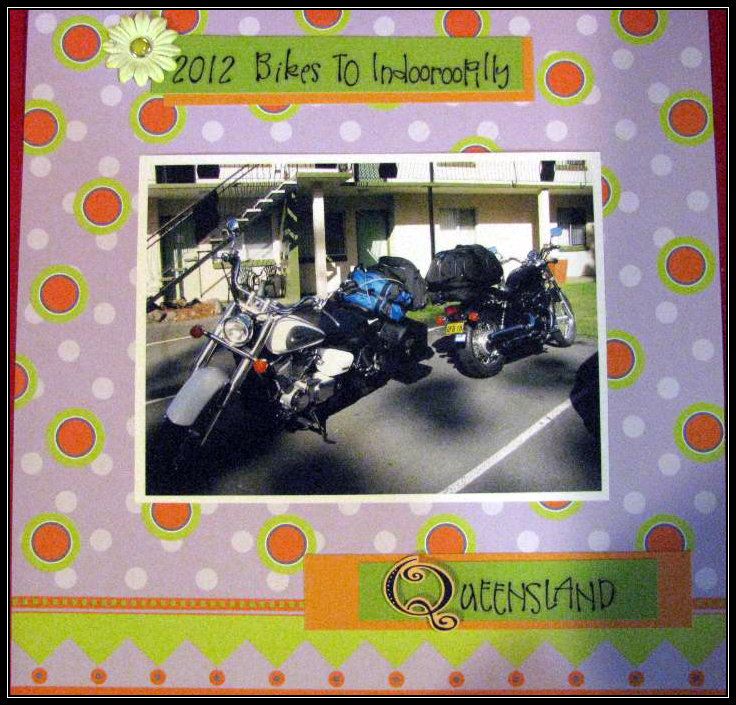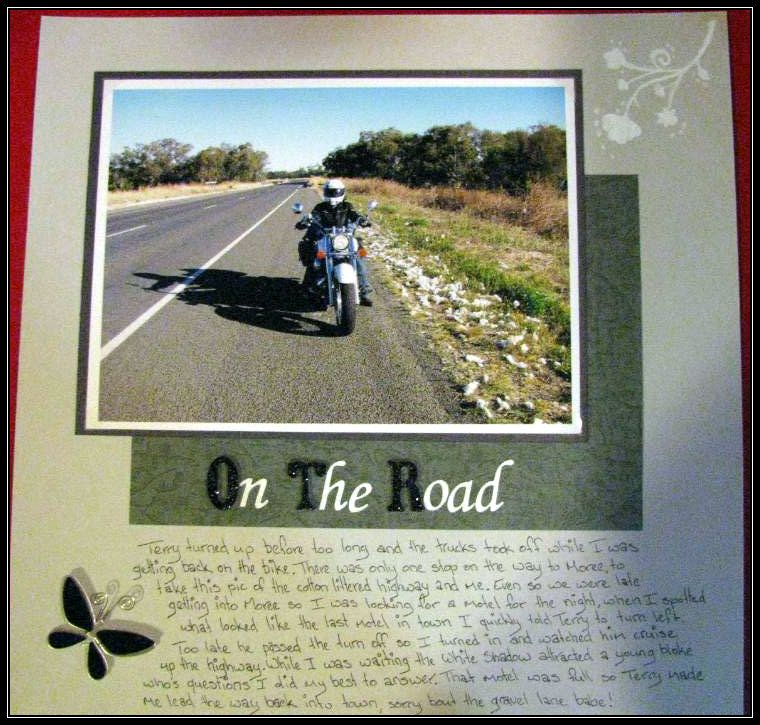 Yes I know it looks like there's 2012 bikes going to Indooroopilly, I looked at this pic then changed it to say '2 Bikes To Indooroopilly'
'Queensland 2012'
These two pages face each other, they look great together!!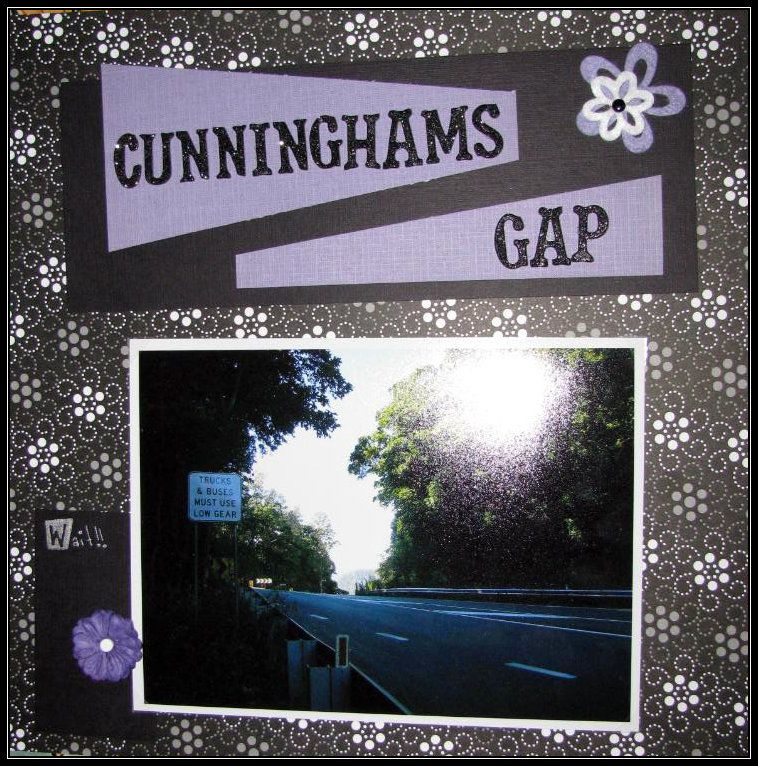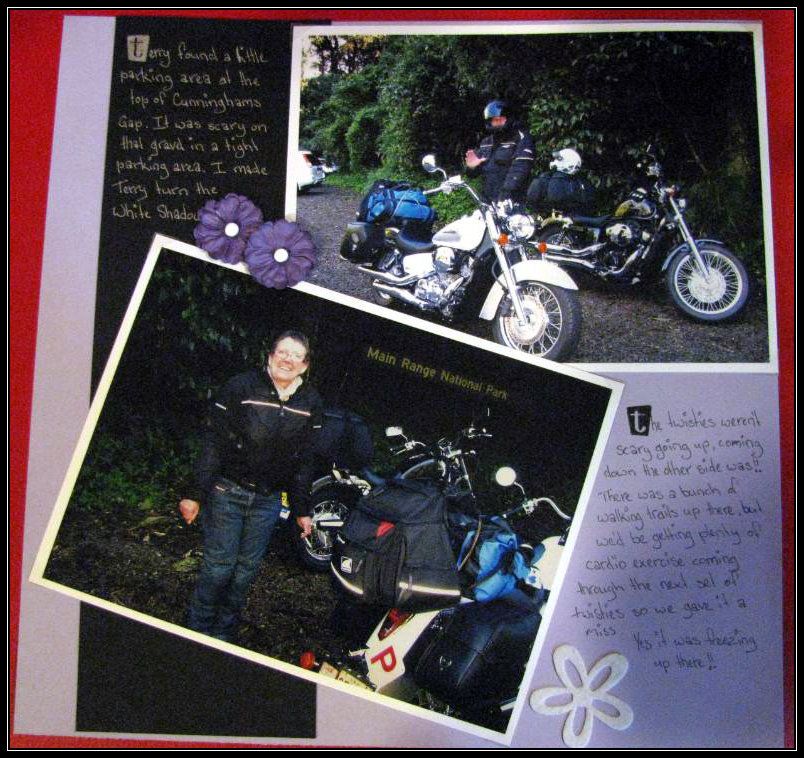 These two are the same, my favourites so far!!!
So I'm filling in some time being creative, the rest of it has been just floating from my computer to the TV and a book. I've been haunting the motoblogs that I follow, and the Shadow Riders Forums. I did find a gem in the forums, a new member to the group who is unfortunately looking for a new owner for his Shadow, but his story is fascinating. He linked his blog called Motormoon .. sounds interesting, I wondered where the name came from. Seems he and his new wife bought their Shadow just to honeymoon on him from Geelong to Alice Springs !! It's a great story, you can find it
here
well worth a read!
I haven't really been on the bike much since we got back from Queensland, it rained for the first 4 or 5 days home, and since then Terry's been working solidly and I've not wanted to go riding on my own. How quickly I got used to riding with him and now it doesn't seem as exciting to go riding without him. We went for a short ride last Sunday to a local cafe for lunch, it was his birthday so I shouted him out, then ooops left my card in my handbag at home. The thought was there :) I enjoyed that ride, it felt good to get back on the bike and just ride a short distance instead of having to psych myself up for 300km or more. And the baby felt as light as a feather without all my luggage on her!!
Today it got the better of me though, I rattled around the house for a while then decided that the shadow needed petrol so out we went!! I got petrol, the guy at the petrol station was jealous when I told him I was on holidays and had nothing else to do but ride today :)
Then I wandered around to the local bolt shop to buy one of those thingys that you use to measure the size and thread of bolts. I need one to get some pretty stainless steel bolts. The bloke there just kinda looked at me at first ... perplexed, then he held one up and said .. 'one of these?' Yep that's the thing, do you sell them? Nope ... Hmm he suggested I just get the guy who put the bolts in that I wanted replaced (Tony of the saddlebag fame) to tell me the thread. Well yeah I could do that, but I want to do it myself, I don't want to have to go to someone else every time I want something for the bike. It cant be that hard, I'll order one online. I hate shopping online, I don't trust it, but I know that's just a resistance to change thing, the other thing though is that I'd like to support my community by buying locally. It's getting kinda hard since a lot of the time lately I just can't get things locally.
So I went to the local club for a cuppa and to kill some time, I pulled into the parking lot, which I hate as I'm still wobbly on the tight turns needed in a parking lot, but I couldn't get a park on the street. As I pulled in the first thing I noticed was a lovely Harley that I've seen around town, it's got a super wide back tire that Tony (of saddlebag fame) had helped to make fit, and he is white just like my baby. So I parked the White Shadow behind him and left them to make friends.
When I came out I was still at a lose end, I didn't want to go home yet. So I rode out of town a bit, thinking I would take a road that Terry had taken me on when I was first learning on my baby, I took a wrong turn and ended up on another road I've never been on, but it was a great road. Semi residential with a 60km/h limit but it's got a couple of sharp corners and one of those zig zag type ones. It was great and I'm thinking it'll be a great one to do to practise my cornering.
While I've been busy scouring blogs and forums looking for entertainment I've been thinking about my poor baby. A lot of people name their bikes, but I didn't think I ever would, I've certainly never thought of it with any car I've owned. But it's funny bikes are different and I can see how some of them just need to be named, the same way some of them have definite genders. The scooter I had was male, he was a little boy but he was definitely male. The Shadow is female, she's a solid girl but she's all female. So I have been thinking recently what would I name her? I didn't know, and for a while I've just been sitting on it, waiting for it to come to me. Tonight it did. I was thinking I was really getting sick of calling her the white shadow, she needed a name that suited her, she's big, she's brassy, she's all woman with a bit of bite, but she's feminine with it ... I thought of Blondie .. kinda suited, but the white shadow isn't quite as .. sultry as Deborah Harry could be. I continued along those lines and remembered a blonde singer that I loved from a band that appeared in the late 80's ... Roxette. That's it!! So now my baby has a name, I can see her getting it shortened to Roxy but that's OK. The minute I thought of it I just knew she'd love it .. she's been put to bed tonight so I haven't asked her, but I'm sure she'll approve :)