We got up early on Wednesday morning, keen to get on the road, and like every holiday we've ever taken, exhausted and ready to be home. It's funny how we love holidays, always have such fond memories and fill them to the max with everything we possible can, then when it's time to be home we're just relived to finally get there and relax again .. .til next time!! This was no exception though this time we'd done so much riding to get here by the time we were ready to do the touristy thing we were too tired for it. But the best bit was still to come, riding home!!
Packing the bikes was becoming easy for us now, hard to believe the first time we did it took us about 2 hours, that morning it took us about half an hour and that's including a chat with the owner of the apartments too.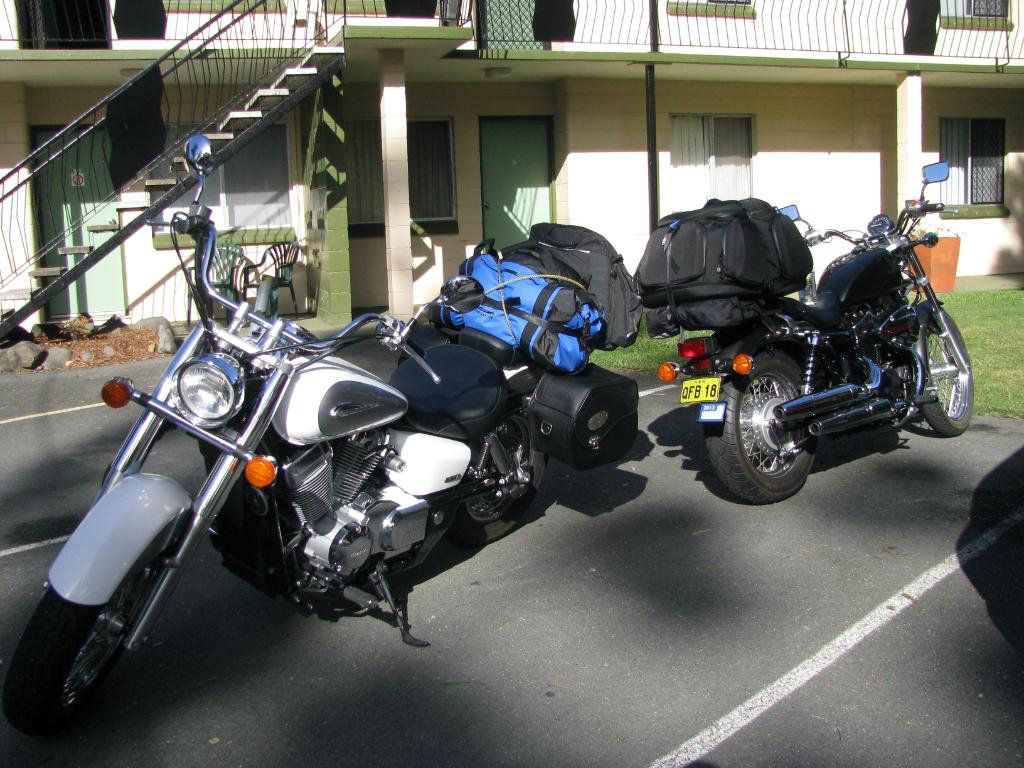 Let's Ride!!
This was just going to be a reverse of the trip up here, but we weren't going to take so long!! First stop for the day was to be Warwick for a bite, first we had to get through the mountians. Easy!! OK this time the real twisties were uphill so much easier for me. We got stuck behind a truck and I told Terry to overtake it, I think that's the 4th time I've ever overtaken, and on twisties too ... wheeee. I was dreading going down the other side but to tell the truth it wasn't that bad, I don't think they were as tight, but I also think I'm getting a bit better at cornering.
We stopped at a truck stop just before Warwick, we'd been seeing the day get gradually darker and when we stopped I got this shot of the clouds coming over.
That was behind us, I hadn't even noticed them while we were going through the mountains, but when we got back on the bikes you could really see them. We were riding straight at about 4 or 5 pockets of rain and I kept praying that the road would just go between them. It didn't. We got a short but heavy shower about halfway between Inglewood and Goondiwindi. No wet weather gear, it was packed away in our bags but by the time we'd found a safe place to stop and get it on the rain was stopped, for now.
We stopped anyway and the sun came out for a second, then it started to rain again ... we took that as a sign and made a dash for Goondiwindi. All the while watching the rain all around us, and ahead of us. When we got into Goonidiwindi the man at the motel asked if we'd got caught in that rain, apparently it had pelted down there just before we got there, somehow we missed that downpour. That evening the clouds cleared and put on a pretty sunset for us.
The next day was pretty uneventful. I lead the riding for a while and that felt pretty good, we set a good pace and this time we stopped at truck stops a lot of the time rather than in town. That seems to save a bit of time for some reason. We did have to stop in Narrabri for petrol, we discovered that the only petrol station for miles around there is the one Terry had gone back to last time. I had a bit of a moment there when I'd stopped next to puddle with a lovely oil slick on it and when I tried to lift the bike off the stand I realised if I stood in that to get the bike off the stand I was just going to slip, so my foot was too close to the bike for me to get purchase and I had to get Terry to give me a shove. He did it so nicely too, just nonchalantly leaned against the back of the bike enough for me to lift it without drawing everyone's attention to the fact I was a gurl :) It's only the second time he's had to do that on the trip, I'm normally much more careful about where I park the bike.
Just before Narrabri we got off the bikes and got some shots of the cotton fields.
And that was the last of the photos. We made it to Coonabarrabran that night, even though the roads close to Narrabri had tried their best to shake us to death. The only bad bit of road for the whole trip was the stretch either side of Narrabri. Coonabarrabran was our last stop before getting home, and to tell the truth I think we could have made it home that evening easily just after dark. I would have gone for it but I was damn tired, so tired that when Terry tried to get me to do a U-Turn in the middle of the main street in Coona I just froze. It was one of those horrible moments, I knew I could do it, was plenty of room, but I had an old man in a car on the other side of the road and I hadn't been prepared for a U-Turn I just froze and wished to old guy would just go away and let me take my time with this. I ended up just walking my baby around to the other side of the road, found a park, and sat on the side of the road and refused to move until I had coffee. I was tired and now stressed so we stayed the night in Coona.
The motel was bad ... really bad. We went to their restaurant for dinner but ended up just leaving when the guy who was serving and apparently cooking ducked out for a smoke and drink while we were waiting for him to take our order. Nope Terry managed to talk me out of that one, and I'm glad. We had dinner that night in the only restaurant in town, a Chinese one, and it was fantastic, if you're ever looking for food in Coona that's the place to go.
Friday morning, only the third day on the road, and we'd be home before lunch. Yay!!! We didnt leave too early because Coona is the coldest place on earth, so 9 am was still freezing but it looked like it was the best we were going to get. By the time we got to Mendooran my hands had stopped feeling anything so we tried to find coffee. No coffee but we did find a lovely couple who told us they were in the camper van around the corner and had stopped with the same thoughts, they were from Victoria. They used to jump on the back of his bike years ago but had traded it in on the camper van recently. I will never get sick of this!!
The final dash home was sweet, it's lovely getting to familiar sights. We got home at dead on 12 noon and we were freezing. We had a very happy puppy waiting to greet us and she liked the heater too!!
Well that's it, that's the whole trip in a nutshell, or not. We had a great time, I learnt a lot of stuff and got some very valuable experience. During those last few km's Terry and I were already planning our next trip, my only proviso is that I'm not doing it until I get something warmer for my hands!! But I don't think that will take long and we'll be on the road again. And off for more adventure!!!