Saturday 27th of October is a day I've been waiting for a while to arrive. A couple of months ago I read a ride report on a forum about a ride that had been put on by someone with the Australian Red Cross Blood Service in Queensland, the blood bank. The idea had been to get riders to donate but it had turned into a bit of a shamozel when they had huge waiting times for them to donate and then people who fainted then had to wait round for a couple more hours to be sure they were safe to ride.
I thought at the time that a ride to raise awareness of the need for donated blood was a great idea but wondered at the wisdom of getting people to donate blood then hop on a bike. We get regular donors who do that but they are regular donors and they know they feel OK after donating, I didn't like the thought of having a lot of new donors, who are always an unknown factor, then wanting to jump on bikes and ride to where ever home is. So I wanted to do a ride like that locally, but I was already having trouble working out what would be the most useful way to do it.
I talked to people about it, then talked to some other people about it and eventually it came about that we would join in on a ride already being organised to raise funds for an organisation called Can Assist at Peak Hill, a place not to far from Dubbo. It wasn't exactly what we wanted but it was a way to see what we needed to do, and to get the message out there. Basically all we would be doing is riding along and trying to pass on the message of the need to donate blood. I even came up with a name for the ride, Big Red Ride, and I'm hoping it can be done again next year under that name.
We met up with some of the guys that donate blood who agreed to come along to lend us a voice and a roar of their engines, at a service station in Dubbo at bout 8am.
One of those blokes is the guy who helped us to get involved with this ride and led us to the start of the ride at Tomingley.
Already there was a great selection of bikes turning up, there were our two Shadows, a couple of Harleys, a V Star. Another Honda, VFR something (yeah I know I'm not great at the sportsbike stuff).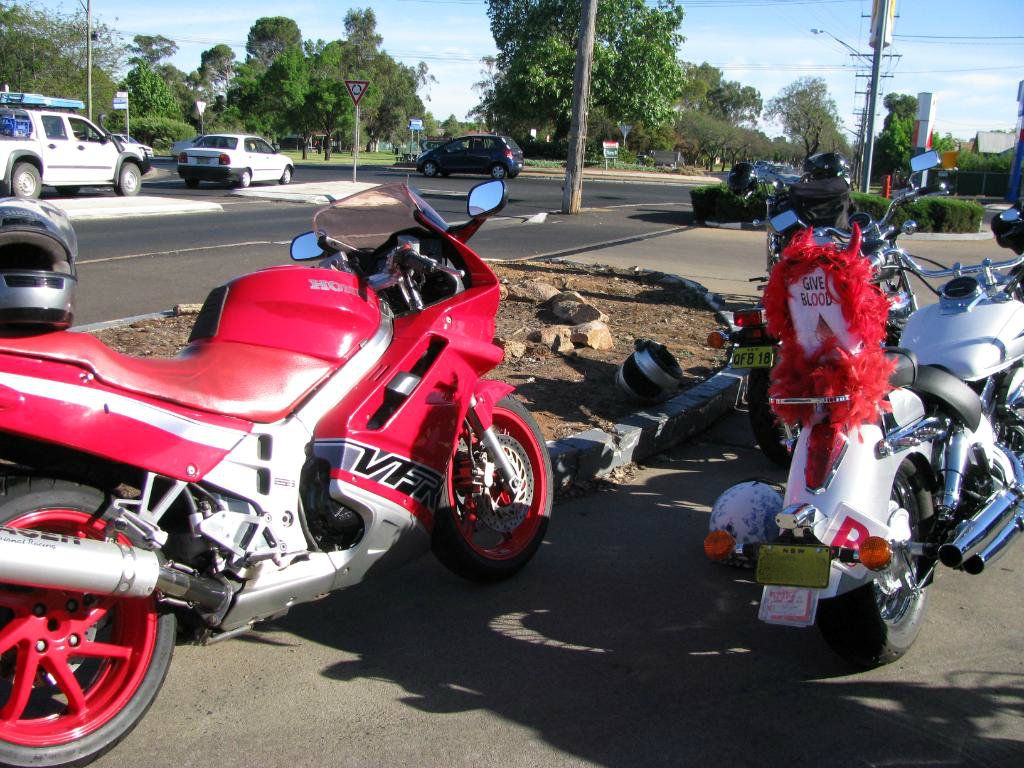 The guy riding the VFR is the partner of one of my workmates and hasn't been on the bike in a while so he said he'd be taking it easy today ... yay was looking like I'd get a riding buddy for the day.
I was pretty impressed with this when it pulled up just before we took off for Tomingley.
So seven of us on bikes headed out of Dubbo towards Tomingley, with a 4WD full of some of the girls from work trailing behind us. I was already excited!!
We got to Tomingley pretty much on time. The plan that had been relayed to us was that we would have breakfast at Tomingley (put on by the pub) at 9am then head on the road towards Parkes -Bogan Gate - Trundle - Albert- Trangie - Narromine - Tomingley. There was a big night planned for that night as well at the Tomingley pub but we'd already decided that after riding all day we weren't going to feel much like partying on then riding home in the dark late at night so we were going straight home to Dubbo from Narromine.
The pub had a few more riders than us, I think there were bout 20 all together, and we did pick up another donor at Tomingley who'd ridden down from near Collie to meet us with his wife.
The bikes lined up at Tomingley, I was the only one with a dressed up bike but that's OK cause there were plenty of people already dressed up for the Halloween theme they were running with for the nights entertainment.
Breakfast was a BBQ .. bacon and egg rolls, which even the Mario Bros. enjoyed.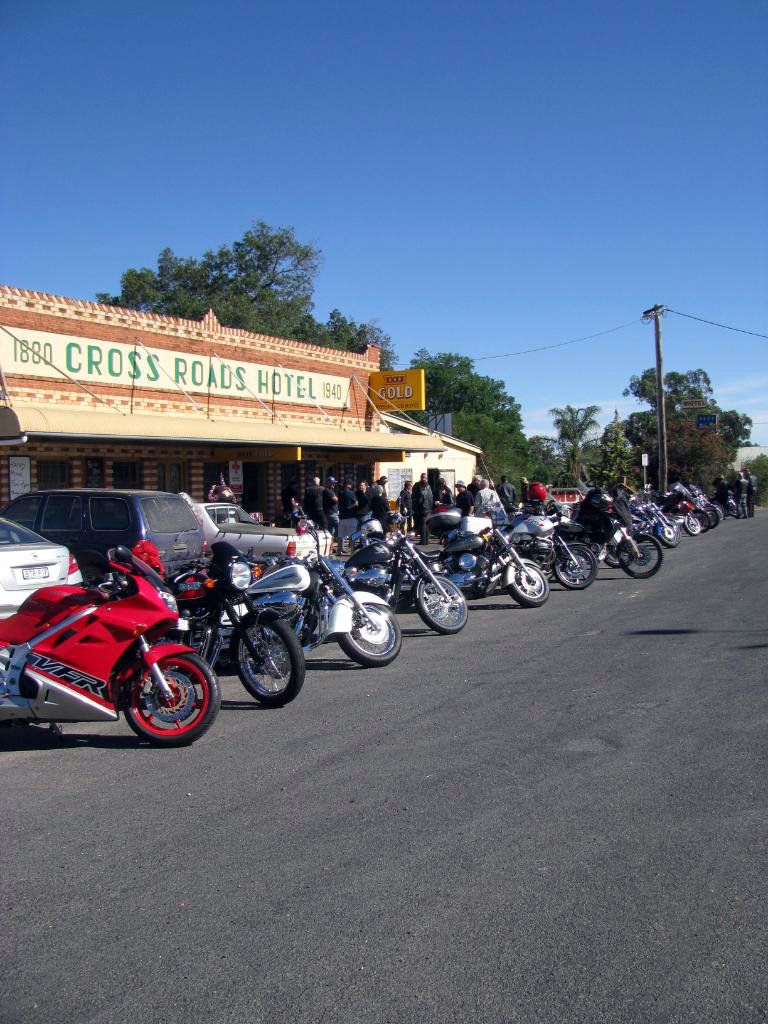 More bike pics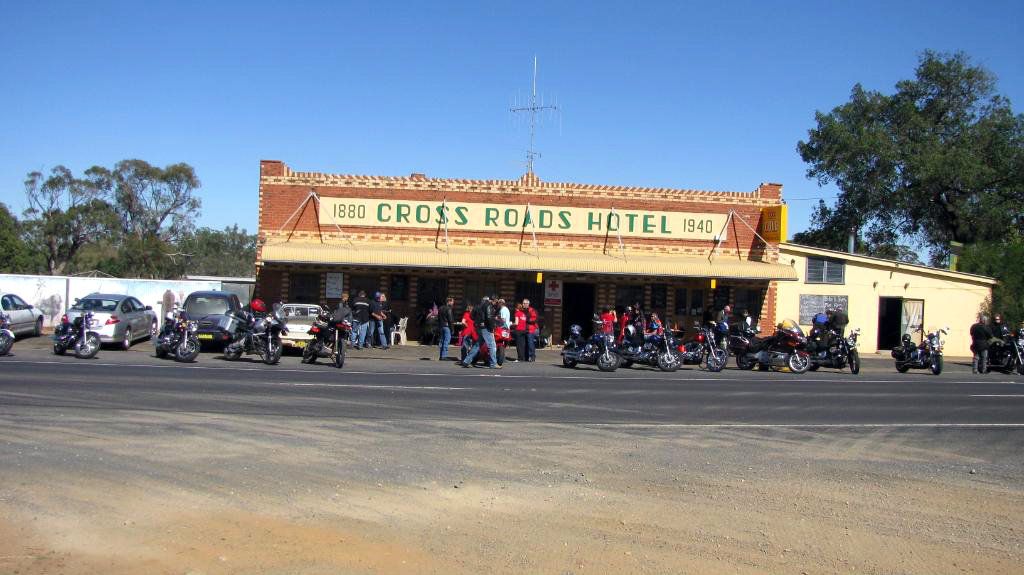 Was a pretty impressive sight all those bikes lined up in along the front of the Hotel.
We left Tomingley at roughly 10am and headed along the road towards Parkes. I kept thinking that we were getting to Parkes at every drop in the speed limit and it was just the villages along the way, for some reason it seemed like a long ride. A lot of the the riders took off ahead and we didn't see them on the road at all unless it was to be overtaken by them if they left behind us, riding in our little group was Me and Terry, my workmates partner and the donor who came down from Collie way with his wife on the back. We pretty much sat on the speed limit the whole way.
The first stop was at Parkes for fuel and to catch up. Actually I don't think the group ever rode as a group at any time, there were a lot who just took off ahead and the other thing I would have liked to have seen was some kind of corner marking. There weren't a lot of corners but if you had no idea where you were going and got left behind you would have been completely lost at times. I think they just assumed that everyone was a local and would know these roads like they did.
Right so that stop wasn't worth taking pics, but the next one was. We stopped at Bogan Gate next.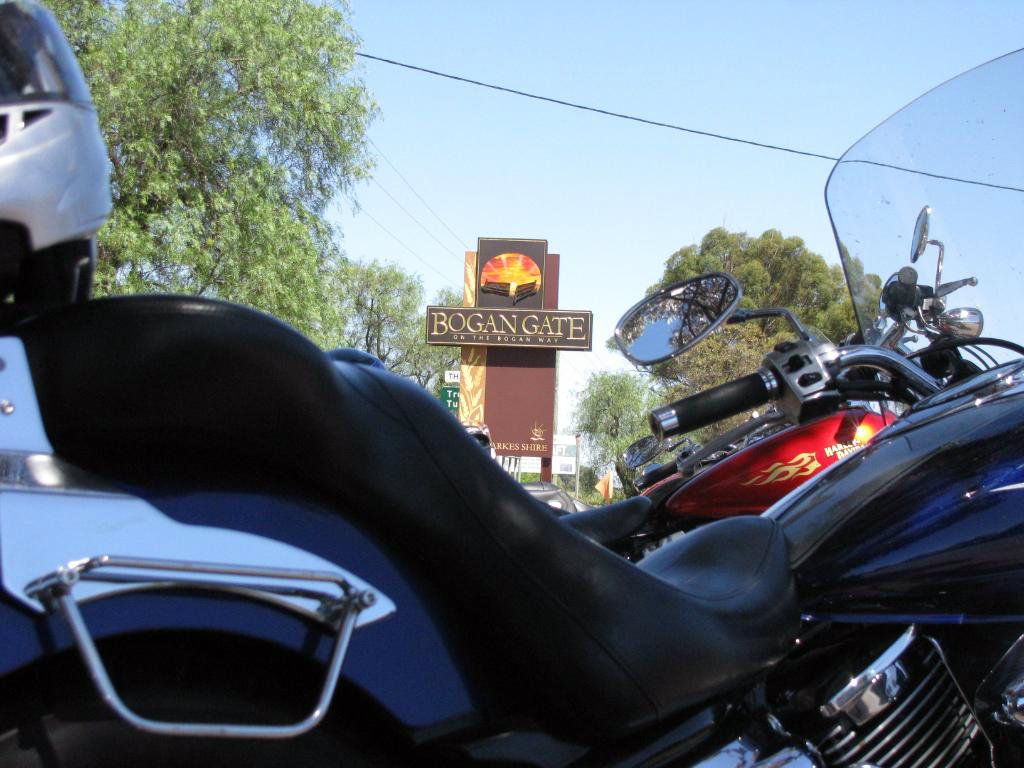 And this is where we found out that it was also a Poker Run, we would be stopping at every little town between here and Albert.
At the pub ...
Railway Hotel, Bogan Gate NSW
Yay I like stopping often, I had been starting to worry bout doing another long run with no stops.
For the last couple of weeks my boss had been talking about riding on the back of one of the bikes, so I loaned her my old helmet and she borrowed some boots and gloves from someone else. At Tomingley she jumped on the back of this ...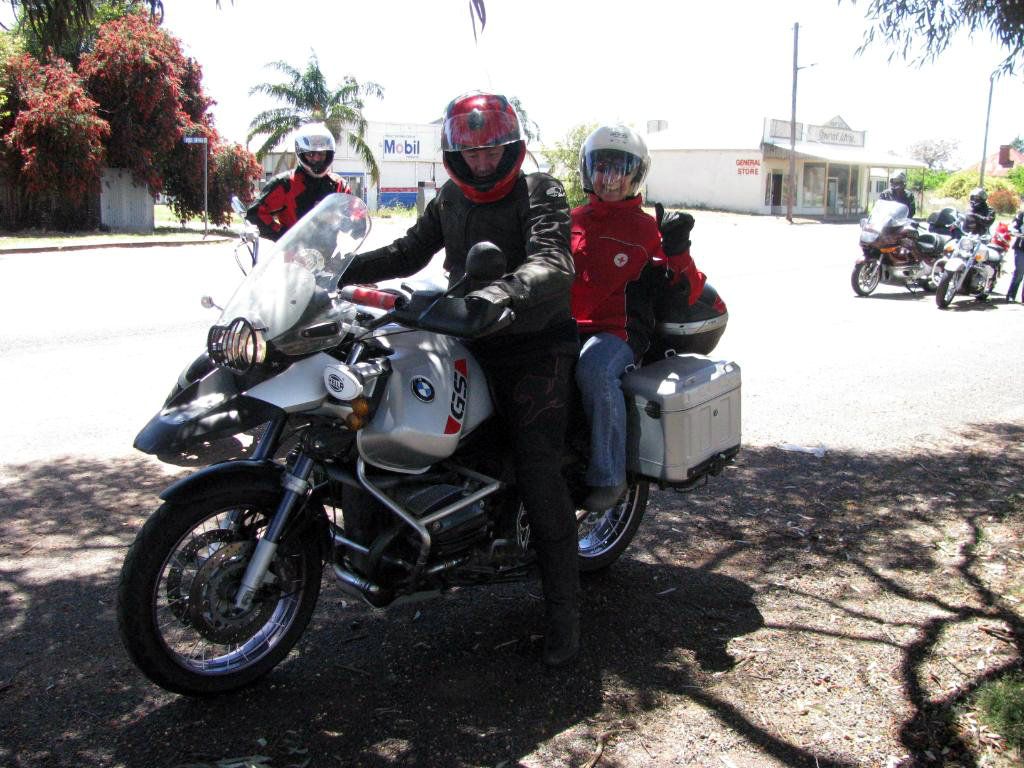 I think he needed a crowbar to get her off the back at the end of the day.
And here at Bogan Gate one of the other girls was handed a helmet and jacket and happily jumped on the back of this ...
I do have to let her know that if she's getting pics taken on the back of a Harley she has to put her visor up so there's proof it's really her .. shy girl :)


On that stretch of road between Parkes and Bogan Gate we had come across a brand new harvester being taken to it's new owner somewhere .. it was huge and I was wishing that the Gopro was mounted on the other side when I passed it to show how huge it was. Imagine my delight when it pulled up behind us at Bogan Gate, I ran straight over for pics ...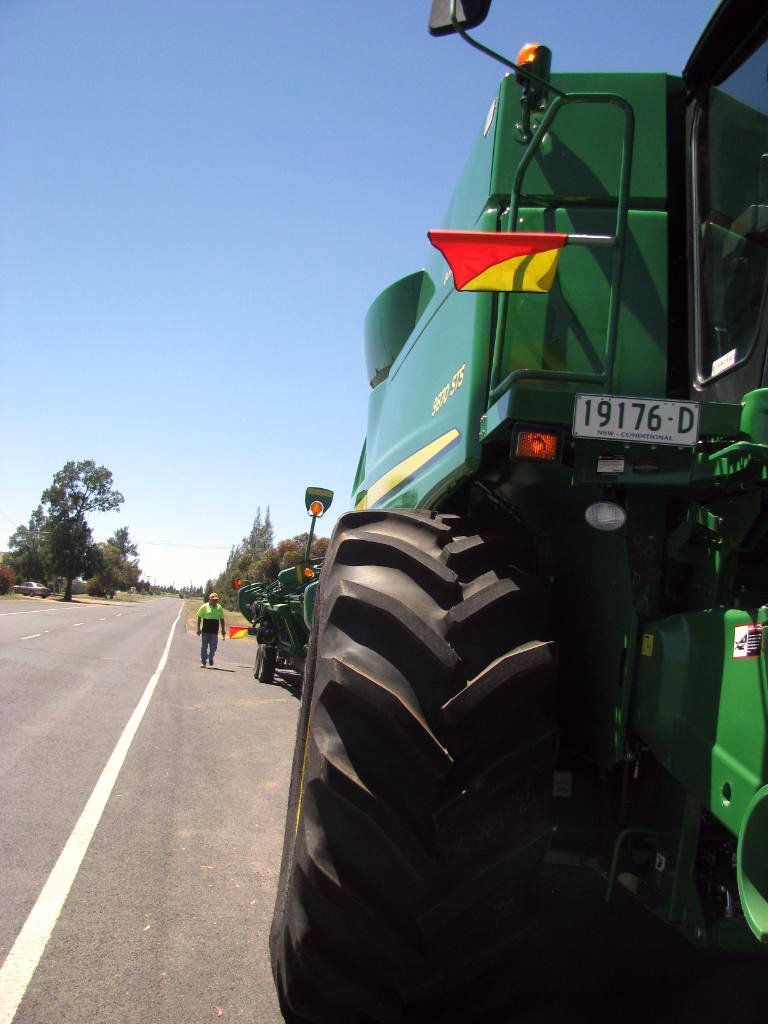 Oh yeah I got my Gopro, I got the Hero2 mainly because it was there. I know that the Hero3 has just been released but after looking at what is new I decided the Hero2 would do me for the level of technology I can cope with, also the one I got was from a local shop and I do like to support my local businesses if I can, not to mention I wouldn't have to wait for it to be delivered, I got to play with it the day I paid for it!!
I had it mounted on the side of my helmet because I have a vent and a vent button on the top of it that seem to be in the way. I'm not sure that I liked the view it gave me and I think I had it pointed down a little too much. But anyway here's the video that I ended up with after working out how to edit, I'm sure I'll get better with practise.
Yeah I know it's a bit long too, I'll get better at that with time too I'm sure. And there's no sound, I'm trying to work out why but I haven't gotten sound on it yet for some reason. I'll fiddle with it a bit more then if I cant work it out send Gopro an email or something to see if they can help out.
We moved on from Bogan Gate to Trundle next. Which has the widest main street I've seen yet.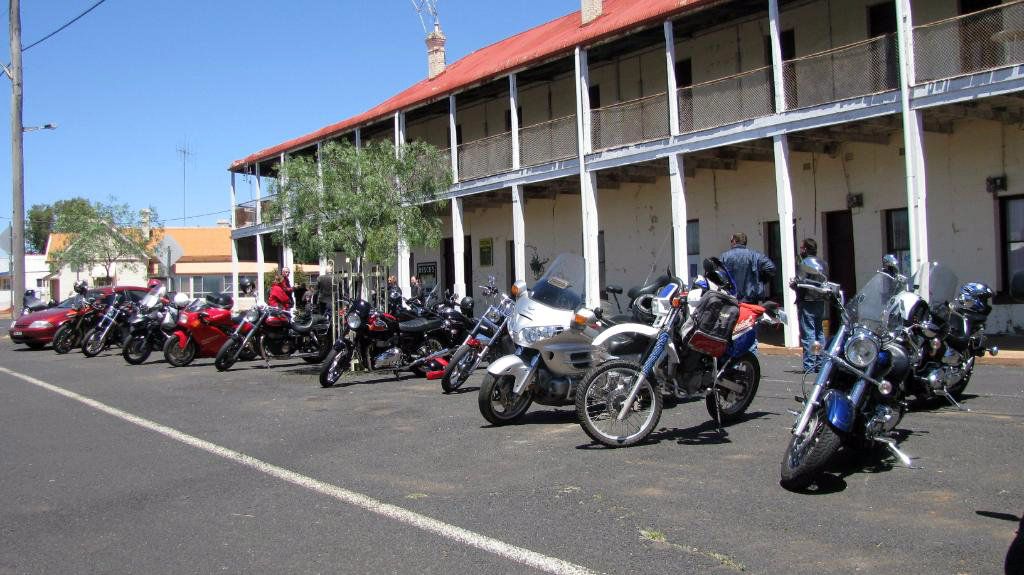 But I was completely fascinated by the old building that the pub was in.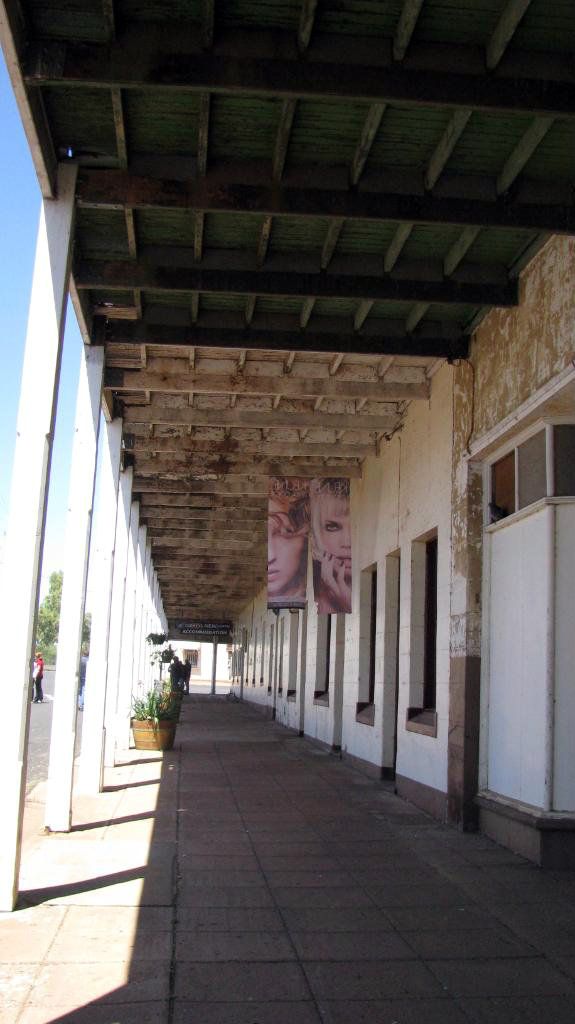 Terry managed to sneak in a pic of me and Roxy. The feather boa was lasting well but my tassells were pretty much gone by now as was the P plate.
From Trundle it was a quick 35km run to Tullamore. I'm glad it was a short run cause that's when my footpeg started to come lose. I was kinda feeling something funny down there for a few minutes before I realised that it was the footpeg spinning under my foot. Eeek I stopped playing with it with my foot and tried not to put too much pressure on it, keeping the speed to a minimum too as it started to vibrate like crazy if I went too fast. We got to Tullamore and saw the service station was open and a few bikes still fuelling up so we pulled in, I got my tool kit out and was relieved to find that the Allen Keys I had with me contained one that fit the footpeg bolt. So after tightening that and checking the one on the other side I got petrol then headed up to the pub with just enough time to snap one pic of the pub.
Right the next stop was Albert, we were having lunch there at the famous Rabbit Trap Hotel. I'm not sure why it's famous but it was a cool little outback village and nice little pub.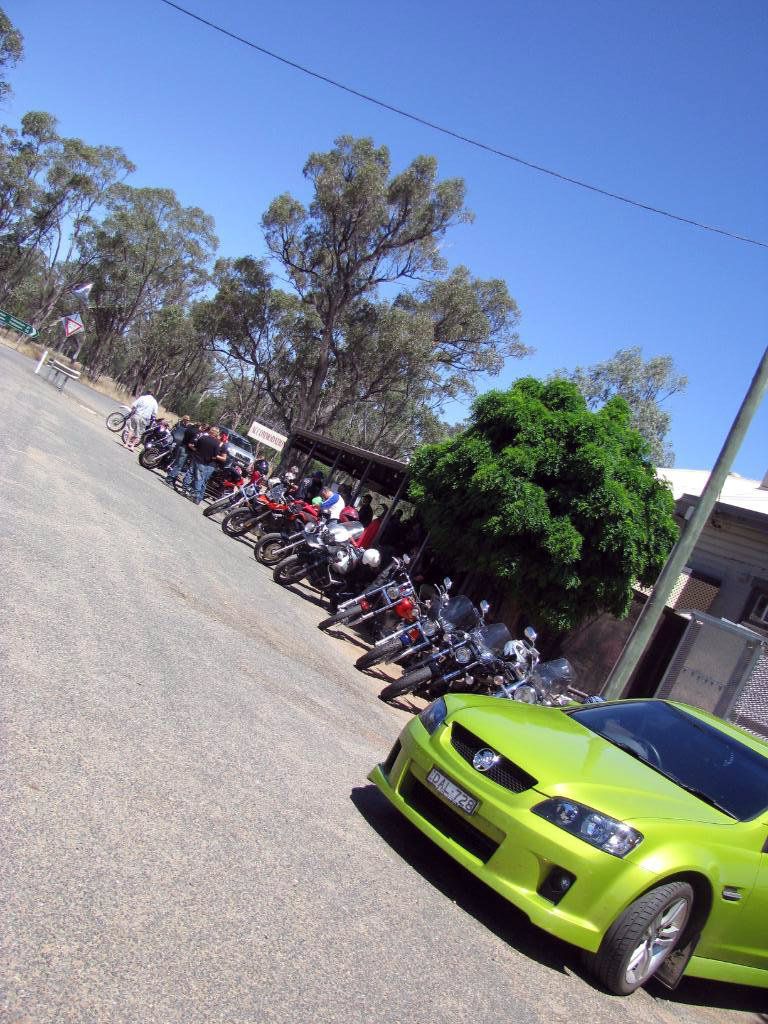 Yes the decor was all in Rabbit Trap theme, there were rabbit trap candle holders on the tables even.
The tourist cabins across the road from the pub.
That's about all there was in town and a service station that seemed to be un-manned, credit card at the bowser when were there anyway.
What do you do if you have a blonde in a Devils outfit and a red bike? Get her to pose on it while an evil wizard takes a photoshoot of course.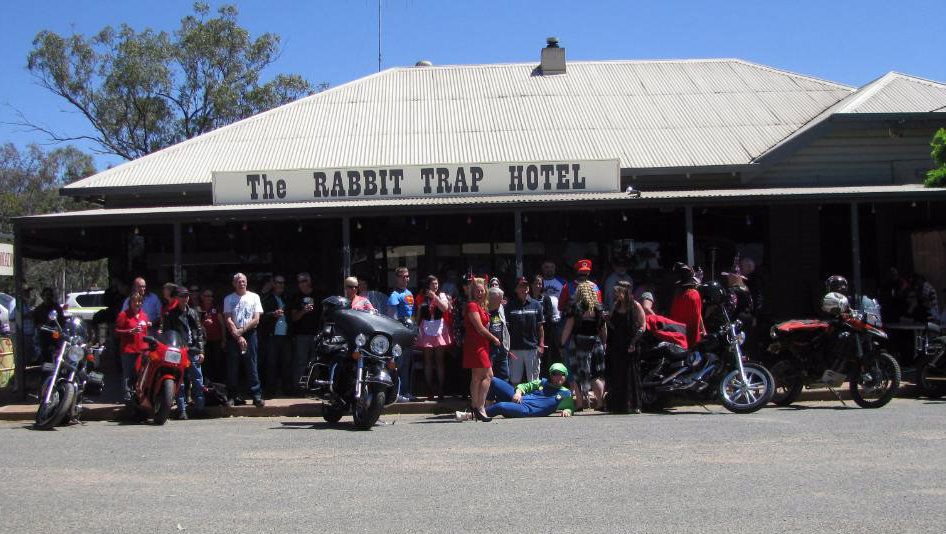 The whole party, including a bus load of revellers who came across from the Tomingley pub the short way to meet the bikes here.
Proof we were there ...
Roxy and friend enjoying the shade.




We rested here for a while then people started to get ready to leave.
It was decided not to go all the way to Trangie as had been originally planned, we were to take a shorter way back along a back road that went straight to Narromine. It cut about 20km off the trip but I was told that it was actually a better road than the main one through Trangie. Eek I hope they lied, the road we took was terrible and I'm sure it's the reason my back and right shoulder are still complaining two days later. Oh well it was the only bad road we got in 370km worth of roads so not a bad days ride.
View Larger Map
And not as painful as I thought it would be, all that stopping at pubs made it much easier!
The last stop was at Narromine, where we had a last drink and said bye and thanks to everyone who was heading back to Tomingley for a night of music and an auction to raise still more funds.
Royal Hotel, Narromine NSW