Thursday, 8 August 2013
1-2-3-4
Walking like a man,
hitting like a hammer,
she's a juvenile scam.
Never was a quitter,
tasty like a raindrop,
she's got the look.
Heavenly bound
cause heaven's got a number
when she's spinning me around,
Kissing is a colour,
her loving is a wild dog,
she's got the look.
She's got the look.
She's got the look.
What in the world can make a brown-eyed girl turn blue.
When everything I'll ever do I'll do for you
and I go: la la la la la
she's got the look.

Fire in the ice,
naked to the T-bone
is a lover's disguise.
Banging on the head drum,
shaking like a mad bull,
she's got the look.
Swaying to the band,
moving like a hammer,
she's a miracle man.
Loving is the ocean,
Kissing is the wet sand,
she's got the look.

My baby bike is named after my teenage memories of this Swedish 80's pop duo, and I'm starting to feel that she's really starting to be the bike I always wanted her to be. She still has a way to go but she's really starting to come into her own and to look like the gutsy girl she is to me.
I told you that I'd put in the HID light kit, that was all about safety but there was more that I wanted to do as far as lights went. I wanted a particular look as well as getting rid of the standard things that to my mind don't work the way they should. As far as lights go it's gotta be visible, Terry has often told me that he didn't see my indicators, and I've wondered if they were working at all but nope they work, they just aren't very bright. Add to that the fact that they are chrome flavoured plastic .. I've never really liked them, so when the back ones rusted out a while ago I replaced those with some very pretty but much smaller chrome ones. Surprise, Terry said they are heaps more visible than the standard ones ever were. I knew I had to replace the front ones as well, but as well as that I wanted something classy to finish off the look. I wanted a light bar complete with driving lights and indicators and had the ones I wanted picked out for a while.
A couple of weeks ago I finally got them and they only sat in a corner of the lounge room for a week before I finally got to put them on Roxy.
It was an adventure to install them, at one stage I was thinking that I'd have to take off my tank to feed the wiring through, but I found a way to feed it through without going to that extreme (I know I'll have to do it one day if I keep fiddling with her, but I just don't feel quite up to that just yet).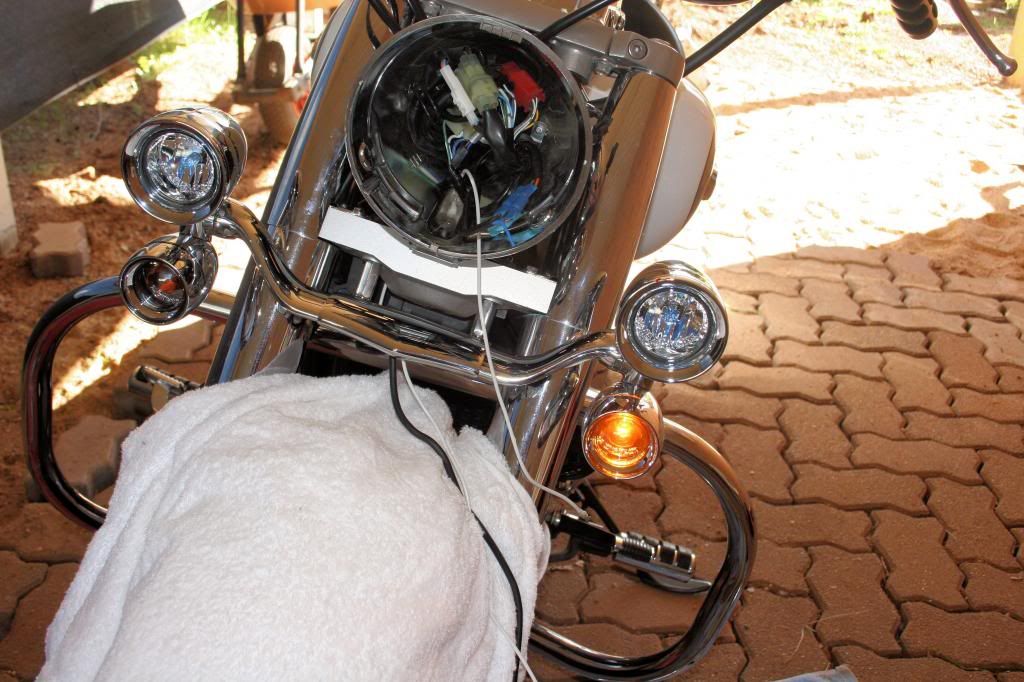 I had to pull apart the headlight again to connect up the indicators and I was kinda wishing I'd realised that before so that I could just do the bar and the HID kit at the same time, but at least it didn't take too long to get that bit done this time cause I knew what I was doing here. It was the rest of the wiring that was tricky, I had to employ some interesting tools at times ...
Yep that's whipper snipper cord, and that's what I used to feed alongside the existing wiring under the tank and pull up the wires from the battery.
Anyway it was dark as I finished up and I still had to shorten a few wires and I'd run out of wire connectors, so it all had to wait a few days til I could get to a shop and buy more. I wasted more than a few of those connectors before I got the hang of how to do it properly without destroying them.
Now she positively glows ...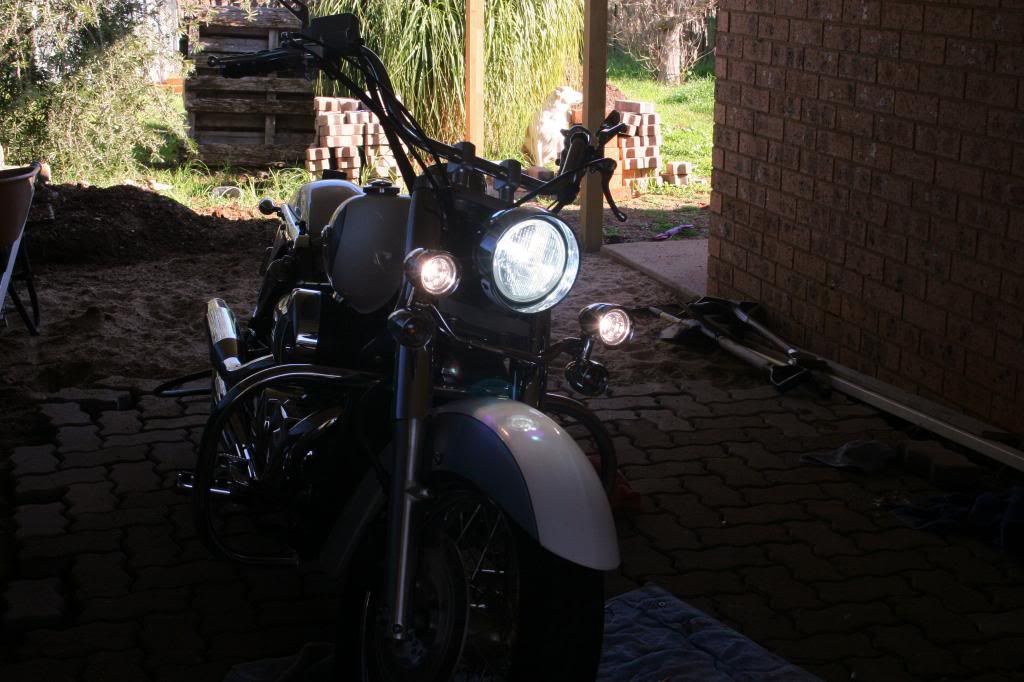 I've only been on one ride since then, we took the bikes out for dinner one night to meet up with another couple of SRA members who were up here from Newcastle area. I got to show off my new lights and even though one of the lights had decided to stop working (it was a loose connector that I fixed easily the next day, I also checked all my other connectors and yep they were all loose, learn by your mistakes eh) I was still pretty proud of the look. Not to mention very pleased with the light.
The HID light is definitely worth everything I went through to fit it, it lights up the road as well as any car lights .. so much better than the standard light. The driving lights don't really make things much brighter but they do spread the beam a bit, so you can see more of the side of the road .. makes spotting wildlife a bit less of a challenge.
I tried to get some pics of it on the gopro but they didn't turn out very good .. here's the best ones....
Just with low beam.
With all the lights on.
So now she has a sexy sleek front end as well as giving me the visibility I need when riding at night. I just had the back end to tidy up. I got the rack I really wanted and I have to say I was very pleased that it took me maybe a whole ten minutes to put it on! That has to be a record for me!!
Now she has a hot back end too! The rack and backrest comes as one piece and cost a pretty hefty amount for the added backrest so I'm a bit disappointed that I cant actually lean back on it while riding. Oh the joys of being short ... it's too far back and I really don't want to go to the added cost of moving it forward so it's in the right position, I'm thinking that I might see if I can get it padded out a bit more by the guy who did my seat, it needs to be recovered anyway as it already has a small rip in the leather at the back. I don't think it was there when I put it on so I'm not sure how it happened unless it was from trying to swing my leg over it. Oh yeah and it's a challenge to get on her now, no more swinging the leg over for me .. now it's a kinda shuffle-from-the-side-with-leg-outstretched mounting manoeuvre .. not very cool looking but I don't wanna scuff the leather!
The only thing left to fix here is the brackets that used to hold on the pillion pegs, they are welded on and stick out like they don't belong to anyone, I have to find some kind of unobtrusive cover for them.
I also got myself some new bags, having sold on my saddlebags. I never really liked the saddlebags they felt unwieldy while I had them on, and it's not a look that I like .. so out they went. I invested in some Kreiga bags, one 30lt and a 20lt that piggy backs it. What a great system! I've only put them on the rack empty so far and they do move around on the rack a little as they are supposed to strap on under the pillion seat, so I think I will use another strap from end to end when I have them packed and ready for the trip just to make sure they don't shift. I really don't think they will once there is stuff in them to put a bit more tension on the straps but I don't reckon you can put too many straps on things.
And about the trip, yep it's getting close now, I'm getting excited!! All our accommodation is booked in Broken Hill and we have a bit of a vague plan worked out. We're taking a couple of days to get there just because it's a holiday and who wants to tire themselves out just getting there. We'll travel about 300km the first day to Cobar, a short overnight stay there then on to Broken Hill on the second day, that will be a longer day of riding with about 450km to travel. We were going to stop over in White Cliffs but that got put aside when we realised that we couldn't stay in underground motel cause the road to it would suck for the cruisers. So we're just going on to Broken Hill in one day, try to catch a sunset somewhere (the sunsets out there are something special!) then spend three days exploring. Menindee is on the agenda, and a camel ride, as well as a place called Silverton that has been described as a gold mining ghost town ... there are still people there tho, and museums including the Mad Max museum!! We're also going to get ourselves to South Australia .. well at least gonna cross the border which is only about 30 km's from Broken Hill.
We're all ready to go, my bikes ready, Terry just has his lights to sort out (I promised to do the kit for him cause I'm the expert round here now :) ) and he wants highway bars, but that's all pretty easy stuff.... I'm ready to leave now and have to admit emotionally I'm more than ready to head away for a week and forget about life for a while. Work has been pretty stressful lately and it's all getting me down a bit, not to mention I haven't been able to ride in ages. I'm more than ready!! Let's go!!