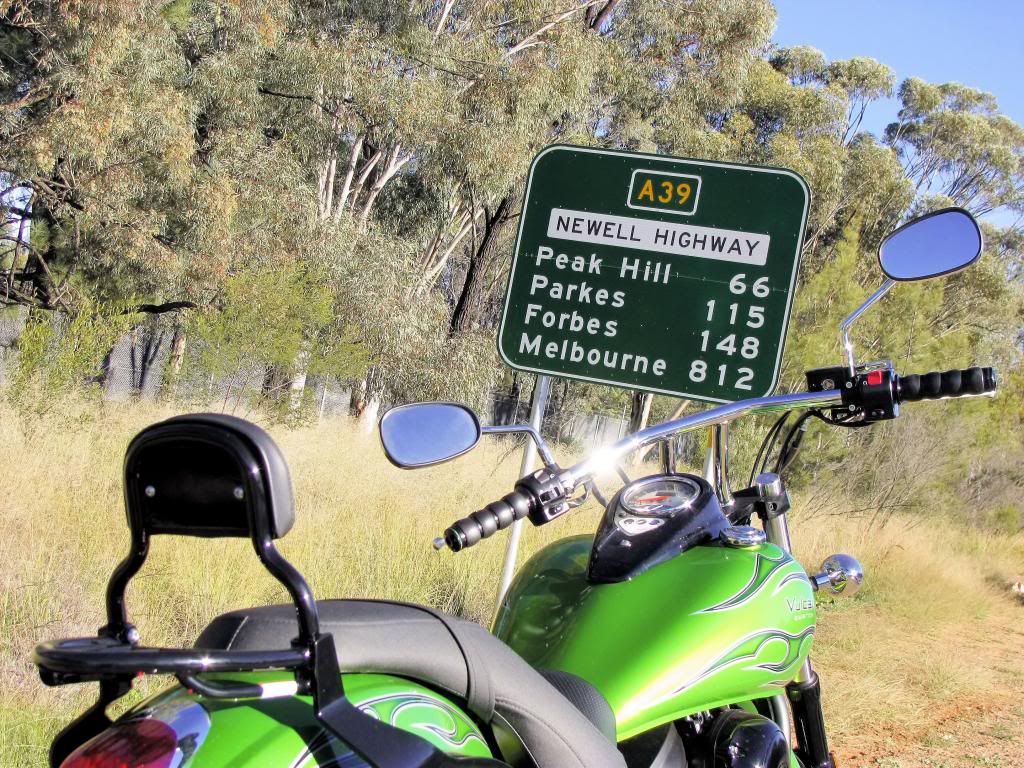 Unfortunately the sign is about at far as I made it that day.
I did ride to work for a week a few weeks ago, but then I had the next week off, and last week was just too cold. Our cold weather finally hit us last week, it's been a very mild winter up til now, but the frost has been thick on the ground for the last 4 or 5 days. Friday, the ice was an inch thick on the windscreen I swear! While we don't get snow here, we get temperatures that are cold enough to produce snow during the middle bits of winter. Luckily those extreme temperatures only usually last a month or so. Once every couple of years it snows in Orange (150km from here) and last weekend they got some, yep you can feel the wind coming off it even here. I don't really mind the cold, as long as I have some way to keep warmish. I do love the crispness in the air on a cold winters morning, I just don't like to have to get out of my warm bed to smell it!
The weekend that I was on my break we decided that a ride, even just a small one, was a must. I'd spent most of my time off doing a late spring clean in the house, and sitting round watching movies. Huck got a few new presents, new hand grips, foot pegs and a backrest. I'd put on the grips and backrest the week before, that's why I was able to ride to work. Finally somewhere to attach my bags.
The backrest was surprisingly easy to install, on Roxy I used to have to juggle backrest, fender, fender rail and all the assorted bolts, washers and spacers that go with it. With the Vulcan you don't have to undo the bolts that hold the guard onto the fender strut, there are 4 bolts each side, two for the guard and two for the fender rail. So I just had to undo the bolts that hold the fender rail on, put the spacers on the backrest struts and do up the bolts .. so easy. Then it was a case of slipping the backrest into it's slots and attaching the rack. The rack came with a slight manufacturing fault which I'm sure quality control didn't think anything of. I didn't think anything of it, until I went to bolt it on. The weld on one side where it bolts to the strut was a little rough, not bad, but bad enough that it wouldn't give enough room for the bolts to line up properly with the holes.
I guess I could have sent it back to the place of purchase. It's the Kawasaki's brand and cost a lot more compared to others on the market, as they often do from bike manufacturers, so I think I'd be within my rights to send it back. I just couldn't be bothered waiting all that time and not to mention trying to talk to people in the states. It's not that I don't like people from the states, quite the opposite, it's just that the time difference makes it very difficult to get someone during business hours. I'd priced the rack from my local dealer here, it ended up being $100 more than from Cruiser Customising including the grips, adaptors for the pegs and postage. So while returning it would have been easier if I'd bought it here, that price difference just couldn't be ignored.
As you can see from the photo, I got the rack on eventually by loosening the fender bolts on the troublesome side and just jiggling til I got the rack to line up and the bolt went in. I have forced it a bit by doing that, I'm sure there's tension on that bolt so I'm just hoping that the bolt doesn't eventually snap.
The grips were another story to put on. The only other grips I've put on were just slip on ones. Whack a bit of glue round the place and slip them on .. easy peasy. These ones did that on one side, the clutch side, but the throttle side had a bit more to it. I had to undo the switch housing and remove the grip from the throttle cables, and then put the whole thing back together with the new one. It was an easy enough job, but I did have to adjust the throttle so that I had a bit of play while doing it. Which all just meant that I have now learnt how to adjust my throttle. It was not quite right at first as I noticed the first time I rode, but now I know just how to fix it quickly. I know I should have learnt all these little adjustments by now, but I do tend to leave that sort of thing to my mechanics, it's just easier ... there's my lazy streak showing again!'
The grips are black which I think is great on this bike .. suddenly I am not looking for chrome everything, black is actually a lot harder to find for these kinds of bikes. They look great, I got some little green accent rings for them while I was ordering them, they aren't in your face, but just kinda match without being tacky. The important thing is, they are comfortable. These are the same grips that I put on the Shadow so I knew that they were comfortable, these ones seem to be softer though. The last ones came hard and took a bit of use to soften enough to be super comfy.
So we had to go for a ride. Even though I'd ridden to work with the new stuff attached, I needed a bit of a longer ride to test out those grips. Work is only 4km from home. Also I needed a photo of the bike in front of a sign that had a place of further than 100km's distance for a forum competition. So only 1 km out of town and we stopped for the photo. Then we travelled maybe another kilometre to a turn off for a road I've never been down. The reason I've never been down there is that I wasn't sure whether it turned to gravel as so many of the roads around here do, and Terry wasn't sure either. Well I'm a lot more comfortable on gravel with Huck so I said let's give it a whirl. It didn't turn into gravel. It loops around the back of the zoo, so one side of the road was bush (zoo grounds) and the other side was farm fields .. what a lovely little road.
Terry had me stop just before a bend in the road while he went on ahead to stop and take a photo of me coming round the bend. I knew it took him a while to get the gist of how my camera works so I gave him a lot of time. I was sitting by the side of the road for at least 10 minutes .. well 8 minutes for sure .. I timed it. While I was sitting there I looked across the road and noticed a building, with a car park .. and finally worked out that this was the Dubbo Observatory. I knew we had one but never knew where it was, now that I know we're gonna have to go back soon to check it out. Then I thought there was no way he wouldn't be ready so I took off slowly. I came round the corner and .... he was running to the side of the road looking perplexedly at the camera. Hmm not enough time. He did get a couple of pics though .. this one isn't too bad eh.
Behind me if you looked closely enough I'm sure you would see some kind of animal, I think that's the fields where they keep things like Antelope or Barbary Sheep, but it's a big field so maybe not.
Then we headed into town. I'd noticed that Terry's brake light had been stuck on the whole ride so I suggested that we drop in at the Honda shop on the way, since we were going past. We did, and a bit of WD40 fixed the sticking on the hand brake. His foot brake is corroded and doesn't work at all so they are ordering the parts. I had a bit of a look at their range of leather jackets, I've been wanting to try out a leather jacket since Terry got one earlier this year. As with all the bike shops in town, they seem to be reducing the amount of stock they carry with any cruiser accessories and expanding in the motocross type stuff.
They only had few types of jackets and only one leather .. men's .. sizes: huge. I had a bit of a rummage with the owner .. lovely man .. and picked up the smallest, a size 14 in men's. I wasn't confident but surprisingly it only floated a little bit on me. The sleeves seemed way too long though, you could only see the tips of my fingers poking out. I didn't mind the loose fit on the body, gives room for jumpers and stuff underneath in winter and breathing space in summer but the length of the sleeves was putting me off. The owner told me to go sit on my bike and see if they rode up when I was reaching for the handlebars .. and they did. It was perfect. Terry bought it for me, and I wore it home.
And that was the end of the ride. Just a short one but I found the grips comfy and got a couple of photos that I wanted. And since then I haven't been on the bike again. I still haven't fitted the foot pegs that I have here. They were ones that I got to put on for pillion pegs on Roxy, but they hit her back shock so I never did install them on her. All I had to do was get adaptors for Huck and they will go nicely on him. I just remember how painful that little spring was when I fit them before, and I'm having a lazy period. Maybe I'll get the energy this weekend ... and the patience!