I love doing things to my bike. Getting in and getting my hands dirty on her is one of the things about bike ownership that I've recently found the joys of. When I first started to get modifications for her it was a chore to put them on, the saddlebags became such an ongoing drama that took months to solve and I cant help feeling it just shouldn't have been that hard. Things started to get easier for me when I found someone with know-how to give me a hand or at least some hints. I have also been known to post threads with dubious titles like 'How do I undo the bolts holding my fender on?' Seriously I find everything so hard to do and I'm pretty sure it's because I've never done anything like this before. Oh I used to fiddle with cars way back when I was a youngster but it was so long ago that I think I've lost the knack of undoing bolts. So I muck about, doing things the hard way and ending a day having done a job that should have taken 15 minutes in about 6 hours. I normally have a huge sense of satisfaction about these jobs, and I normally stand back at the end nodding sagely and thinking to myself 'ahhh so that's how you do it'. But I am learning, sometimes a job that I dread ends up being pretty easy cause I've already done something similar, like when I moved the indicators the second time to a new bracket.
As you can probably guess, I put something new on my baby today. I bought two sets of second hand foot pegs from a bloke on the forums. I knew what kind of bike they came off, exactly the same as mine, so I knew they'd fit. Should be easy to put on. The first thing I did when they arrived was to look for an instruction manual for how to put them on. I like manuals they make my life easier, but I couldn't find one for the pegs that I had. I did find a generic one for Shadow Footpegs, so I would just follow that one. Looked easy. Friday was my first day off and to tell the truth I had a bit of a bad feeling about doing the footpegs, I wasn't confident that it would be as easy as it looked. I bit the bullet after lunch, deciding that if I didn't do it soon then I wouldn't get the chance to do it this weekend at all. I got tools together, and put a sheet down on the pavers so I wouldn't lose things .. see I am learning. After only a small amount of struggle I got the stock footpeg off. That was easy, I was a touch worried cause the little spring inside the peg had fallen out before I could see how it was in there. Ahh well there's only two ways it can fit so I'll work it out. Nope not this way, must be the other way. Hmmm I cant get the pin in that way either .... omg this is like a Chinese puzzle!!! I tried about 500 thousand different ways to put that spring in and get the pin to go all the way through the lot, it just wasn't working!! Much frustration and even going to Terry and ranting at him for a while, then snatching the stupid thing back from him to try to figure it out again ... aaargh I was going nuts. Why is this so hard!?!?!?
Terry made me a cuppa and pretty well forced me to sit down and have it with a smoke ( I swear that's the first time in my life Terry has told me to have a smoke), I didn't finish either before I went back to the bike to try to figure it out again ... fiddle, fiddle ... there has to be a secret to this ... fiddle, fiddle ... hmmm maybe this way .. then click ... the pin just went through the holes while I was fiddling. Ugh ... OK I was fiddling a lot and it was resisting the fiddling with the spring, but now I knew what I needed to do. I have to be under the peg looking up so I can see which way to fiddle so it can go through. Not that hard. Took a break and went to work on the other side. The other side was harder because it's the side the bike is leaning on, the stand is in the way for me to get my head under there and I cant get tools in comfortably cause they hit the ground. I remembered this time to look at which way the spring was in ... then dropped it and had to find it, lost the cotter pin for a while too .. by now I'd forgotten which way the spring was in ...... ugh another go at the Chinese puzzle. More frustration and this time I walked away from it myself and had another cup of coffee. So far this 15 minute job has taken me about 3 hours!! Terry came out to look at how I was going, and it was suggested that maybe we need to try to move the bike over on it's other side a bit so I could get under there to see what I needed to see. I didn't like that idea, it was inviting disaster I thought but after fiddling a bit more then another cup of coffee I got all the old soft blankets I could find and started to pile them up where my baby would fall if the worst thing happened. I decided to just have one more fiddle before I called Terry to come hold her up for me, fiddle ... click. OMG three hours ... three hours!!! I had been fiddling with this stupid thing to get it in this stupid hole for three hours, I touch it and it slips straight through.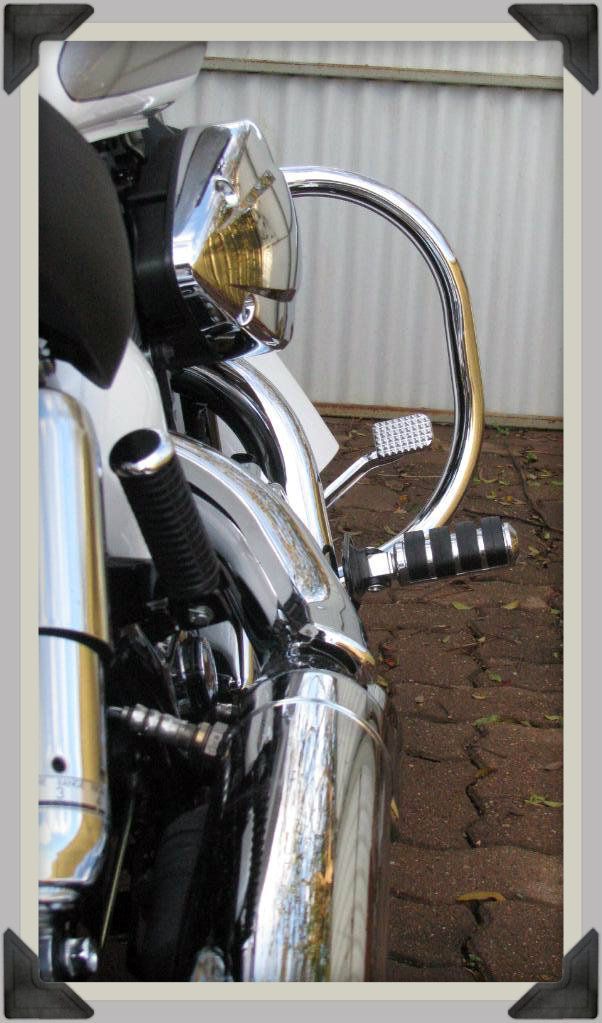 No kidding by now my frustration levels are as high as they have ever been in my life!! I do have a bit of a short fuse at times when things aren't going the way I want them too, and I did notice by now that Terry and the dog were keeping their distance. At least now tis over. The pegs are on and they are there to stay. They look good, they'd better look good!! So I snapped some proud pics of the new pegs and went inside to grab the pillion pegs. These have to be easy, no springs. Put the first one on and it just kinda flapped there. Hmm that's not right. I did notice a little hole at the end of it that looked like it probably holds some important screw. Oh I remembered the guy I bought them from said he didn't have any of the screws or fitting stuff with them, that I'd have to get my own, I'd said no problems, I'm becoming expert at getting screws and bolts. I knew I must need some extra stuff and went straight online to see if I could figure out what I need. Found the instruction manual for the rear adaptors first thing and yep I need some other stuff ... then I had a thought, I wonder if I can link back from this instruction manual to find the one for the front adaptors. It was a silly thought really, all too late I've done the job now and I'm just going to be upset when they tell me the easy 15 minute method of doing it. But like some kind of masochist I continued to search. I found the instruction manual which cheerfully stated in step two to 'throw away the spring' ... what?? Ahh I see the other stuff the guy didn't have, a you beaut easy method of putting the new pegs on, no spring you use a D washer. Now I have no idea what that washer is supposed to do, or how it supplants the spring, but if it had have saved me three hours of Chinese puzzle torture with the spring I'd have been all for it!! Unfortunately it didn't, I didn't have one and I have struggled and strained and put these things on using the springs. They work and they are not coming off until the bike falls apart around them! No doubt in a few weeks time when the dust from this little excursion into fiddling has settled I will decide to do it the right way, find the bits I need and do it. But for now I'm too over it all to even think about it, I've bookmarked the instructions and I'll leave it at that for now.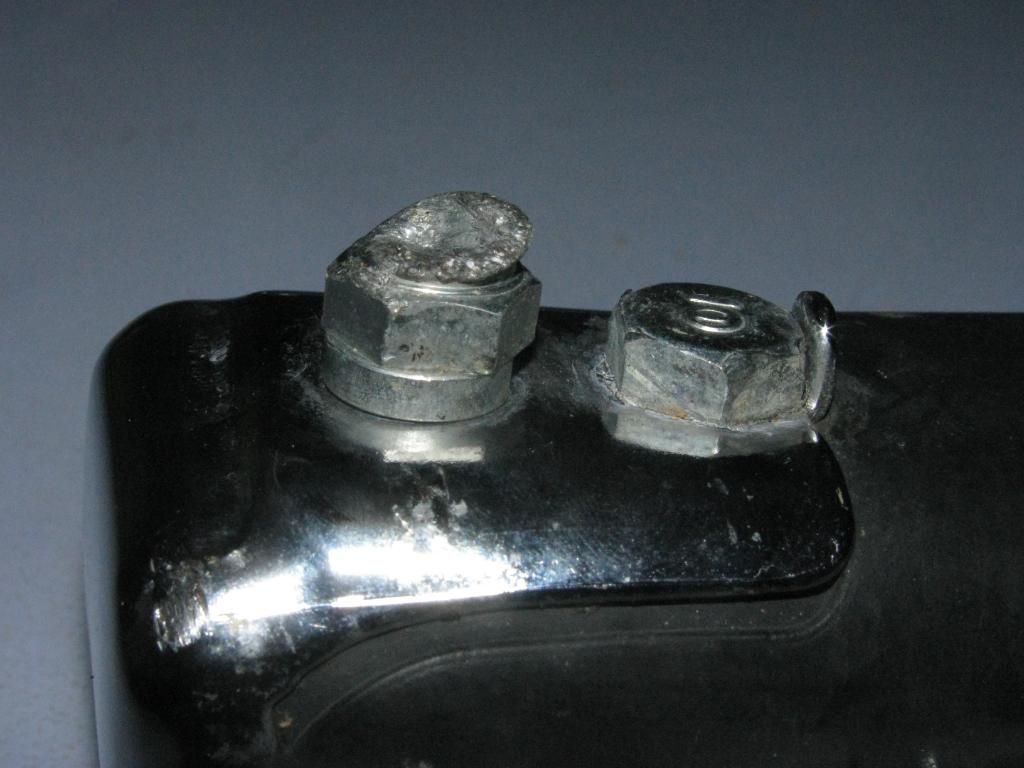 One interesting thing that I looked at while mucking about with my footpegs is the bolts on the stock ones I took off. Those babies took a beating when I first got the bike and dropped it, I don't know how many times, trying to learn to do u-turns. The pegs were one of the first bits to hit the ground and I could feel where I'd sheared the bolts underneath them. So I looked at them when I got them off the bike and yep they are well and truly sheared. Lucky I don't need to undo those bolts, they just hold the bit of chrome flavoured plastic on the ends of them.
Tomorrow the Bureau of Meteorology has promised me no rain, so I'm hoping to talk Terry into a ride. Maybe to Yeoval and maybe we'll get to try a cafe in Wellington that I've been wanting to get to.