Where to start? I guess the beginning is a good place, as I said people from 5 states converged on Dubbo last weekend. Before they got here for the festivities though, they had to get here.
We had a bunch of bikes from Victoria, and along with them came the one member from Tasmania, Pete stayed with us for the weekend, and it's not true .. Tasmanians don't have two heads. The guys from down south had no problems getting here, they just jumped on their bikes and had a ball making their way north for weekend. But .. there's always a but eh .. there's a running joke for the guys down there not to ride with their fearless leader, apparently he's a jinx and poor Pete found that out the hard way. His seat broke a bolt on the way up and he got here using Zip Ties to hold it on. But he's such a sport, he laughed about it the whole weekend and even offered to auction off the dreaded Jack Daniels Seat!!
Pete had an epic journey, he has only been riding for a short time, and like a lot of us he has caught the bug, he loves it!! He got his P plates only a week before making his journey north. Such a brave man, a longer journey than he had ever done before, riding with people he had never ridden with before, and coming to meet a bunch of people he has never met before! Not to mention staying the weekend in the house of people he has never met before. Pete you are a legend!!
The other mob that rode together was from Queensland. And more fun was had there too, they have a couple of comedians in their group (there's always one in a group but they had a few who just just kept us entertained the whole weekend) and I learnt why Happycamper got his name, a happier man you have never met in your life. So when he got a flat tire on the way South .. tis all in a days work for him.
Luckily one of that crew was towing her bike on a trailer down for the weekend so they swapped the bikes to get Happy's bike to the next town and Happy jumped on Ant's. So much more power than his bike, he admitted he was scared :)
The Victorian (and token Tasmanian) and Queensland teams all arrived in Dubbo at the Caravan Park that was to be their home for the next few days together, great timing guys!
The last two photos are posted with the kind permission on MRC, the Boss of the Queensland crew and our Vice President. That's his bike at the front and he's an awesome leader who is doing a great job organising the Qld rides. Not to mention he's just a damn nice guy ... you rule MRC!!
There were also a few people from New South Wales besides Terry and I, we had our Captain Johnboy and his partner, it was great to finally meet them. Johnboy can't get on the forums much so it was great to finally meet them both and get to know them, they are great people and I cant wait to get together with them again soon.
Now I've saved some of the best people til last.
Coming to Dubbo on his own from closer to the coast of NSW was Casper. Casper bought his bike a couple of weeks ago and got his L's then. So with a grand total of 3 weeks riding experience under his belt Casper jumped on his little 250cc Honda Rebel and made the epic journey to Dubbo. He took it easy and made the trip easily and while he was here he rode with us all with aplomb. Casper you are a legend, I know you are just going to get better! Unfortunately he's better at avoiding photos than I am so no photos of him or his Rebel :(
Then all the way from Western Australia came Louie on his incredible trip across the desert. Louie likes his Gopro so I have some videos of his to share.
Louie stayed with us as well, he was going to camp in our backyard but the backyard is under construction at the moment so we gave him a bed on our lounge room floor. How was he going to camp you ask, the same way he camped across the Nulabor. In his camper trailer.
Louie got this little beauty last year from Canada, specially made for his bike, it's a fantastic bit of equipment and I think it's a bit of his dream coming to life, he's always talking lately bout how he's just going to take off with this set up attached to the back of his bike and spend a year or two exploring the East Coast of Australia
Louie's camper trailer set up. It all folds out to the tent, he couldn't open it all out because it was under the car port, but there's lot of room in there to pack extra stuff .. even a stove and kettle.
When I saw this neat set up I thought immediately of motoblogger
Bob
and wondered how the Vstrom would go towing a trailer :) What better way to go moto camping?
Louie didn't get into Dubbo til late on Friday evening, we waited for him then a few of the guys went out to the edge of town to meet him, when he rang me to tell me he was nearly here and I asked if he'd spotted a bunch of Shadows going his way he told me that he hadn't seen a thing .. hmm. I rang Rusty and told him the right directions, then headed out myself to go gather up the sheep I'd so easily lost. We found each other eventually and soon we were all happily munching on the BBQ that we'd organised for that night.
Last to arrive and furthest to travel .. Louie
It set the tone for the rest of the weekend .. we were all there to have fun with like minded people and fun we did have!!
Last but definitely not least .. Rusty. Rusty is the head honcho of the whole shebang. He started the group in 2009 with a website and he has expanded and helped the group grow using only his love of his Honda Shadow and his commitment to making it all work smoothly. I have never met such organised man, he's unflappable and a great diplomat who did an extraordinary job getting this meet happening. Not to mention he's a wonderful soul who is gentle and just plain likable. He was tireless in his effort to make sure that everything went smoothly and seemed to know what was going on with everyone the whole time. How do you do it Rusty, you deserve a medal!!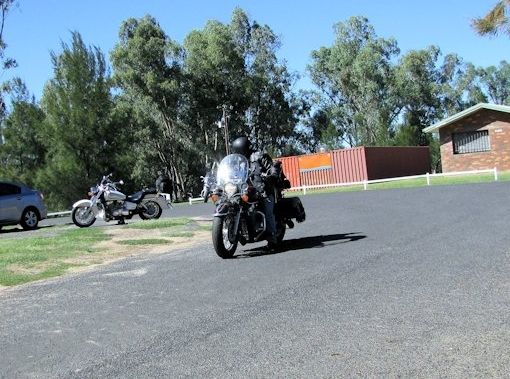 Rusty checking everyone is OK.
Rusty ready to ride.