SRA Eastern States Meet 2013 (photo curtesy of Ant from SRA)
Now we're coming to the end of our adventure. An adventure at home .. that sounds weird. But it was an adventure for both Terry and I. We got to do things we'd never done before and meet so many wonderful people.
After the boat ride the crew jumped on their bikes and followed Terry on a short ride before lunch. I didn't go on the ride so I could stand with my camera and catch a few pics of people doing what they do best. Riding.
This is the token Kawasaki, he left Dubbo swearing he was going to trade in the Kwaka for a Shadow!!
More people .. I'm not gonna name them .. mainly cause I don't know who they are with their gear on.
Terry took the guys around the route that I showed you in this
post
Not everyone went on this ride, and it seems they didn't stop either .. well it's a short ride so they didn't need to stop.
So these are the only pics I have of that adventure. I did ask how the ride was afterwards tho, and everyone enjoyed it.
Terry did a good job of leading them.
Pretty well everyone gave the camera a wave as they went past me, but I guess my button finger was tired too, I missed a lot of the waves.
Nearly all gone.
Terry late as usual.
And then they were gone.
I was all alone sitting under a tree, savouring the quietness by the river on a perfect day. All I had to do was jump on my bike and make my way home for a couple of hours rest before I had to go out for lunch.
Lunch was another fun affair. There were awards handed out, you know the kind of thing .. longest journey to get here that sort of thing .. Pete won the 'Iron Arse' award for making the trip on his now famous Jack Danial's bobber seat (poor Pete ;-D). I got flowers and stuff and all embarrassed, you can read all about that on
Random Thoughts and Ramblings
if your interested. I had a cake made for this event too....
It was yummy!
Then it was back home for another relax before dinner. Told you this day was going to be more relaxing :) Of course we still had company, Pete and Louie were there to keep us entertained in the gap between lunch and dinner. Louie got along like a house on fire with our amazing staffy, Gizmo.
I even came out one morning while Louie was still asleep trying very hard to not wake him, Gizmo was trying to be quiet too, but she was keeping a close eye on him and as soon as he woke up ...
Louie is famous in SRA for being the human companion of our mascot, Mooch.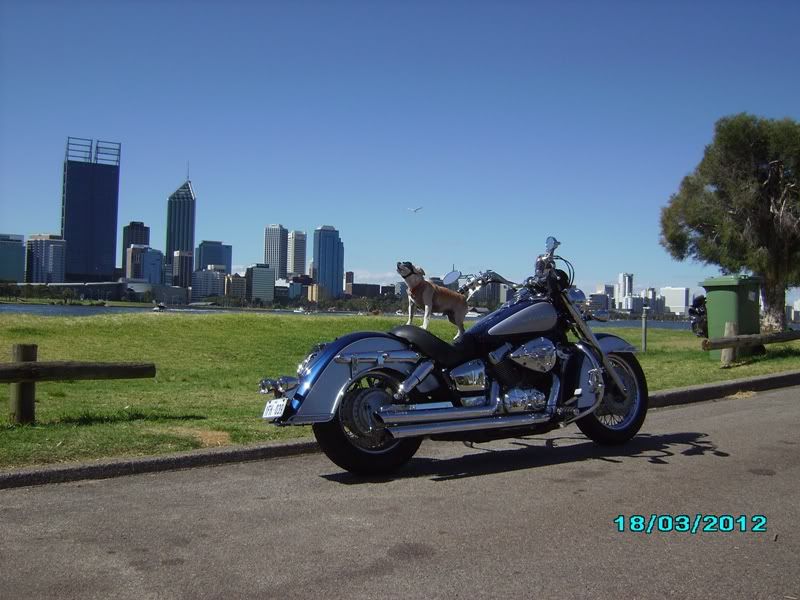 Photo posted with kind permission of Louie.
Sadly Mooch passed away late last year, but he's still in all our hearts and I imagine he's still having fun riding a Shadow :)
We said our seeya laters that night at dinner, everyone was leaving early the next morning for home. The weekend was over and all we had left to do was see Pete and Louie off.
Our carport had just been finished the week before (that's what Terry was working on Friday when he couldn't come to the BBQ til late), it was exciting seeing it filled with bikes all weekend. But now Pete was packing his saddlebags .. and doing a few running repairs.
His left bag lock had broken on the first ride, a strap and some tape kept it together all the way back to Tasmania.
Pete it was fun having you here for the weekend, I hope that one day we can return the favour and go down to Tassie for a week .. or two :)
Seeya Pete, ride safe!
Louie had to get new tires before he could set off on his return trip to Western Australia so we took him out for breakfast while his bike was in the shop. It wasn't long before he was connecting his trailer up to the Shadow.
With Gizmo's help of course.
Louie it was a blast having you to entertain us for the weekend, I never knew all that about Western Australia! Who knows one day Terry and I might just drop over the west coast to visit, til then ...
Ride safe Louie!
It's been kinda quiet here, but I have been buzzing for the last week from all the excitement of that weekend. The event has been slated as an annual event, with the location rotating around the states of Australia to give everyone a chance to attend. Next year it's Victoria's turn and I cant wait!! I cant wait to meet up with all the wonderful people I have just met, I also cant wait to meet a few new faces ( I reckon there's a lot of people who have looked at the fun we had and are already planning to attend next year). I also cant wait to go for a ride!! I wouldn't be surprised it ends up being in Mildura, which is one of the stops on the ride I had all planned out for later this year. So I've edited my ride a bit, I'll just do Broken Hill and White Cliffs sometime this year and save the southern part of the run for the SRA Meet 2014. Cant wait!!