The first full day for the Meet was booked full of fun. First there was breakfast at a local bakery.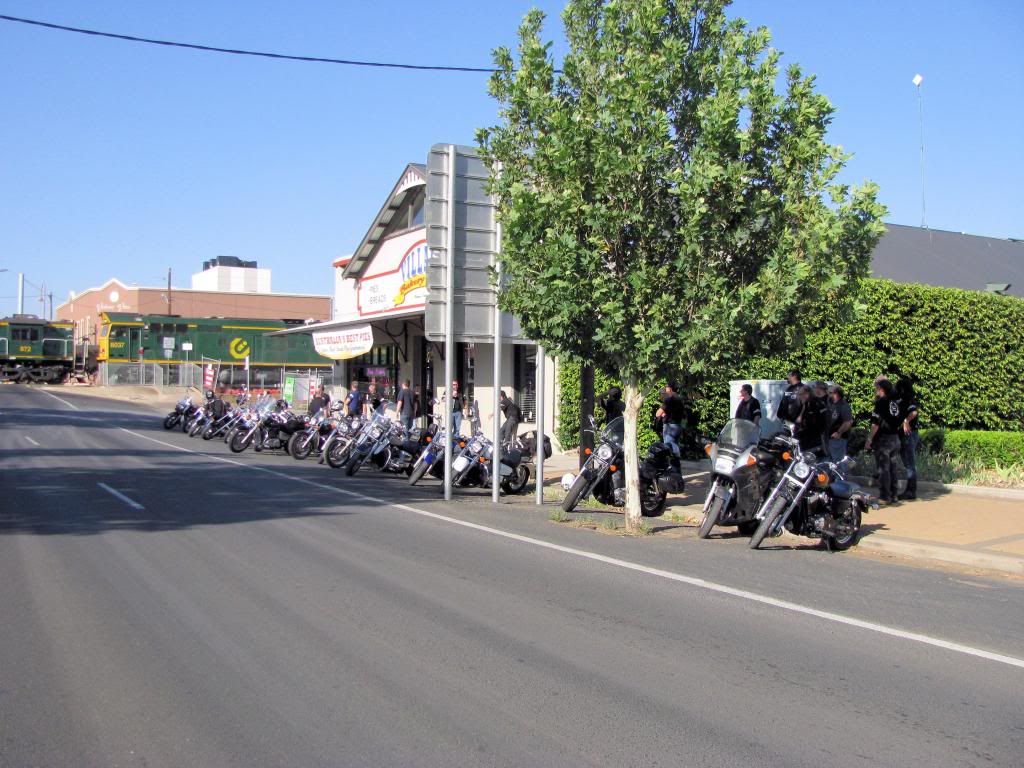 SRA meets for breakfast.
Then we headed to the zoo for the Inaugural Annual General Meeting. Seriously that was actually fun, sorta, it was good to actually hear people's points of view and get a real dialogue going on. On the way into the zoo grounds we all stopped outside at the big orange sign for a photo shoot .. that's the photo I used on the first post
here
so I wont post it again. Every stop was just a chance to have more fun and get to know each other better. I was starting to relax about the event now .. there was no chance of anything going wrong as it was all organised and these guys are just so well trained :-D
What I was nervous about was riding with them, I had to lead a ride with a bunch of very experienced riders behind me, I have read about what a ride leader is supposed to do but I stressed a fair bit about losing people or going too fast or too slow ... I never once thought about how much trouble I sometimes have parking my baby. We pulled into the car park at the zoo which has a loose surface, I was aware that I have trouble with this type of surface but I took it easy and was doing alright backing into the parking spot when I noticed the person next to me's foot slip on the gravelly surface. I thought to myself ''eeek I hope I don't do that or the bike's going over" just as my foot slipped and the bike went over. I did my normal self preservation act and jumped off the bike before I could land on the ground under her but then my next thought was "ugh how am I gonna get her upright". Before I could even get my hands back on her my knight in shining leather was there, (nope not Terry this time, he was across the other side of the car park) t'was Rusty who was beside me, he had Roxy upright in a jiffy and even helped me back her the rest of the way in. Nothing really wrong with Rox, just a couple of scratches on the mirror that I'll buff out easily, but my bruised ego was ready for the bashing. No one said anything. Oh that was so nice :)
Now that I'd gotten that out of the way, I just had a whole ride to go on ... ugh. I decided to go with the flow, take it as it comes and enjoy the company and the ride. And I did manage to do that eventually.
As we left the Zoo there was a line of bikes as far as the eye could see. Actually I soon realised that I couldn't see many of the people behind me after the first four or five. How was I going to make sure I didn't lose anyone?? Nerves were setting in.
Thank heavens someone had thought to tell the group to use corner marking, it's something that I'd thought of over the last couple of weeks constantly, Terry also thought to tell them a bit about the roads we were travelling, when the time came I was so nervous I forgot everything. Not to mention shy .. talking to individuals all weekend was actually easy, but talking to the whole group at once, oh I hate that and the thought made me sick.
So the group made it through town and we headed up the highway to our first stop at Geurie. I thought I was taking it easy, trying to be aware that I had a group behind me and that the last person would probably have to go faster than me to catch up. As well as being aware that we were spread out along a highway that has a 110km/h speed limit which I know not many car drivers like to do .. that's way to slow for the cagers. I didn't want some silly cager to try to overtake the group and cause issues.
How do I find that balance, I'm still not sure because when we arrived at Geurie a few people came up to me and said how fast they had to go to keep up .. eeek. Not to mention that I'd actually forgotten poor Casper, OMG and I'd thought to myself over the past couple of weeks that I needed to be aware that we had an inexperienced rider with us and I wanted to make it as enjoyable for him as the Queensland mob had made it for me last year. Oh I was screwing this up, I promised the next part of the ride would be much better, this was the back roads, single lane with no lines on the road, blind corners and crests. This was going to be single file for the next 50 or so kilometres so I knew there was no way that I would have many people in view, I was really trusting Terry to keep the group together.
I sat on about 80 - 90km/h for this stretch and not just because I was aware I was leading the group, this road has some corners and crests that can be a bit scary, specially when you get a farmer bearing down on you at 120 in the middle of the road. I must admit though that there were a few corners that I exited a bit faster .. I did get carried away sometimes but managed to pull myself back into line soon enough.
There are a couple of dead straight stretches along here too, and it's hard not to bump up the speed along them, specially when you get caught in that moment after you've just come over a rise and you are hit in the face by the most amazing vistas.
As you can see, I had the GoPro on backwards, this was what I wanted it for, to take pics of that line of bikes behind me. But it also meant I didn't get any shots of the view in front of me, and that was pretty breathtaking at times. I'll go out there again soon and put up some pics, it's something worth sharing.
There are also quite a few causeways along here, we haven't had any real rain recently so they were all empty, it takes a lot of rain to fill the causeways up round here and I've only ever struck one so far with a tiny amount of water in it .. that's my header photo :)
We finally made it to Balimore, the next stop on our journey.
I got off the bike looking for riders, the person next to me didn't even wait to take his helmet off before he started enthusiastically raving about how much he enjoyed that ride!! Oh, half of me was worrying bout whether everyone had made it but he truly distracted me so I lost that thought entirely, I was so chuffed that he had enjoyed it so much but also kinda embarrassed, I didn't build the road I just found it. I kinda lost track of things a for a while then, found Rusty and headed somewhere to go calm down a bit and get things organised for the next draw in the Poker hand .. Oh did I mention this was a Poker run?
Before too long I was calm enough to seek out refreshment, and Terry turned up. When I walked around the corner the whole team was relaxing with a cool drink and everyone looked happy.
I honestly didn't realise that he hadn't ridden in to village with the rest of the group. It wasn't until later that I found out that Pete had had a mishap and that a few of the guys were trailing quite a ways behind us and taken one wrong turn (somehow the corner marking had gone haywire) but they did make it to Balimore and I didn't find any of this out until that evening before dinner. As it was I was feeling pretty good now, I'd enjoyed the ride and I'd had some great feedback from one of the riders, I started to relax a bit.
We just had one more stretch of back road to get to Wongarbon. This is a lovely little road, more of the single lane stuff but nice to ride. I led the way and calmly took us to our next stop. I don't know about the others but by this stage I was getting pretty tired. I think that some of my stress was finally releasing it's grip on me but that meant that I was starting to feel pretty exhausted. I somehow managed to park my bike at Wongarbon and get it out of it's park (by backing it uphill, something that until then I'd never been able to physically do) I was feeling pretty proud of myself and when the crew from Queensland started blasting their air horns (those guys are way to attached to their horns really :-D) I started to buzz.
The rest of the trip home to Dubbo Caravan Park was along the highway. It was a relaxing ride and I really was starting to feel the effects of all the excitement by the time I got into town. I was taking round abouts very sloppily and had even done the sliding up the tank trick at one red light. I just needed to sit down. When I got to the caravan park and Terry wasn't there I started to really stress .. oh 5 missed calls on my phone .. Terry 'Where are you?' Hmm ...'Where are you Terry?' He had gone home, he'd forgotten that the last stop on the Poker run was actually at the caravan park, so I drew his last card and the cheeky bugger won!!
Dinner that night was a relaxed affair at the pub up the road from the Park. I'm glad it was relaxed, I was coming down and actually feeling slightly unwell. I couldn't eat, I hadn't eaten much in the last week actually, but I had a great time getting to know more people. Sleep also wasn't coming easily for me that weekend, and my body was starting to show signs that something had to give. Only one more day and the next day was a lot more relaxed. I'll tell you all about it in the next post.