As I posted up the video in the previous post I noticed that it was my 100th post. That gave me thoughts about how far I've come since I started both riding and blogging about my riding. I went back and read my very first post. I decided to do a bit of a reflection of both the blog, the riding and the bike, it's all changed .. a lot!!
The blog has changed, I'm doing much bigger posts now with big glossy photos. I guess that's a reflection on the new fascination I have with taking photos and trying new things like video and the GoPro. I also think it's because I don't really have as much to write about my riding, everything just seems to be going so nicely, so I pad it out with lots of pics.
The White Shadow at Newcastle Harbour
But then I had a lot more the write about back then I think. Reading my first four posts about learning to ride .. sheesh just getting the courage to ride .. was fascinating for me. You can check them out
HERE
if you're interested. I loved the first post about our trip to Newcastle, remembering how weird it all felt to be riding into the wind, I never thought I would get used to that or be able to go faster than 80km/h.
I feel like I have come a long way with my riding but still remember some parts very vividly, I still get butterflies every time I have to do a U-Turn and I did mention how hard I was finding them in a lot of posts. But some of the things I had actually forgotten about .. my problems getting used to braking, I'd forgotten how for the first couple of weeks I was actually braking so hard that I was riding the tank. Then there's the way in one post I would be all excited that I'd got the hang of something then a couple of posts later I am lamenting that I will never get the hang of it and that I think I'm doing it all wrong (I'm thinking particularly about braking and keeping one foot up while stopped here). Now I don't think about those things .. now I just wanna find more exciting things to do.
Another post that I loved but really am disappointed that I didn't put more pics in was the one about my
ride to Gulgong
The White Shadow in Feburary 2012 in the main street of Gulgong.
It was an exciting ride and it shows in the way I wrote about it, the thing that still sticks in my mind is the smells .. good and bad, I still love riding past a freshly baled stack of hay or a wet forest. I'd forgotten about how much every little bump in the road used to affect me though.
It wasn't really that long ago that I was worrying about not being able to park or back the bike comfortably cause I couldn't touch the ground properly. Now while I'm still careful on gravel, I don't stress like I used to, and parking is just happening naturally all of a sudden. I find that pretty amazing actually.
I have done a lot of posts about prettying up my baby, I even did a post where I officially named her .. Roxy. Those posts are interesting too, not just to show how the bike has changed and evolved but how I learnt more about her and what makes her tick. I still have a long way to go there!
Roxy as she looks now, on the road to Broken Hill
Then there are the rides where we met some like minded wonderful people and shared the adventure with them for a while. The first one was the
adventure to Queensland
where the Shadow Riders Australia (SRA) took us under their wings and showed us around for a day.
Morning tea with some of the Queenslanders.
And that was so exciting on so many levels, there were so many firsts on that trip that I can't list them but by far the best first was getting to meet all those wonderful people.
There were other rides with groups and every time I remember the dread that I would do something embarrassing in front of all those people, I never did until the last big meet up when the SRA came to Dubbo for their first annual meet. Yep I dropped poor Roxy right in front of the leader of the group, who leaped to help me almost before I realised what was happening .. such a sweet man, as they all were.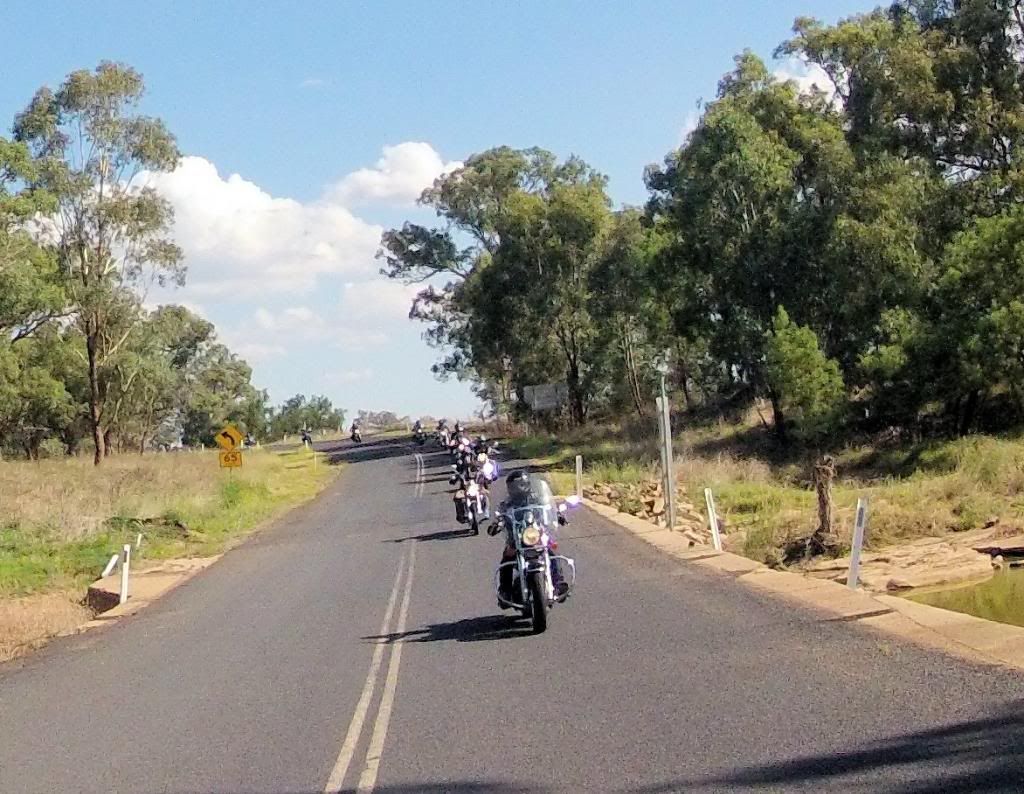 And fun too!! Check out the posts
HERE
if you're interested.
Of course there are a lot of other posts that I love and reading back through them has been absorbing for me, so many that I could point out that it would take another 100 posts .. so I wont go on. It's all there to look at any time I want to.
That's what it's all about isn't it? It's why I wanted to do the blog thing to start with. It's a record of the journey that is my bike riding adventure. From the very shaky start to the awesome plans for the future. It's fun!! So now 100 posts in and I'm still going strong, my love for riding hasn't waned (like most things I take up often do). I'm still blogging, though yep have to admit I do have times when I just don't get to it as much as other times, but I still love it! It has been a great adventure so far, I have learnt so much, and there's still a lot more to learn and experience .. I can't wait!!