Easter weekend I had bugged Terry til he agreed to come for a ride with me to the Cheese Factory in Mudgee. We'd decided that Saturday or Sunday would be the best days to take to the roads as that would be the times when there would be less crazies on the road. Saturday got busy so we didn't make that then Sunday rolled around with the pitter patter of rain on the roof in the morning. No trip last weekend but really I didn't mind that much, you just have to watch the news on Easter weekend to be scared off the roads, I don't understand why people cant learn and stay alive on these long weekends.
So this week I have Sunday and Monday off, we'd decided to go to Mudgee on Sunday, the weather was perfect for riding and I had a hankering for some cheese!! Unfortunately I also had a bit of a sore neck that I'd been nursing all week, it was getting better but I wasn't sure about riding about and hour each way with a heavy helmet on it. So ... we stayed at home.
But don't despair, we did get to ride ... it was such a lovely day, cool and sunny but the forecast was for showers in the afternoon, so a ride for lunch locally seemed like just the ticket. I'd gotten a new bracket for the GoPro last week and wanted to test that out too, this one puts it on my handlebars or highway bar. I wanted it for the highway bar, to try some shots from close to the road. So I attached that and before too long we were ready to ride.
I got a lot of shots of the town and traffic which was surprisingly busy for a Sunday morning in Dubbo. I wont share those they really aren't that interesting. I found one of Terry in front of me that gives the idea of the close to road thingy, as well as a nice shot of my front wheel, I like this perspective.
We had a lovely lunch at Old Ganarin, actually the cafe there is called Elements, but Old Ganarin is a lovely nursery about a kilometre out of town. I'm not sure what it used to be but it's got some history that I really should find out about one day.
Terry pointed out the Old Building
I was pretty proud of myself for parking in the finest and slipperiest dirt car park that I've come across yet, and I did it all myself first getting into the parking spot then getting myself out of it again!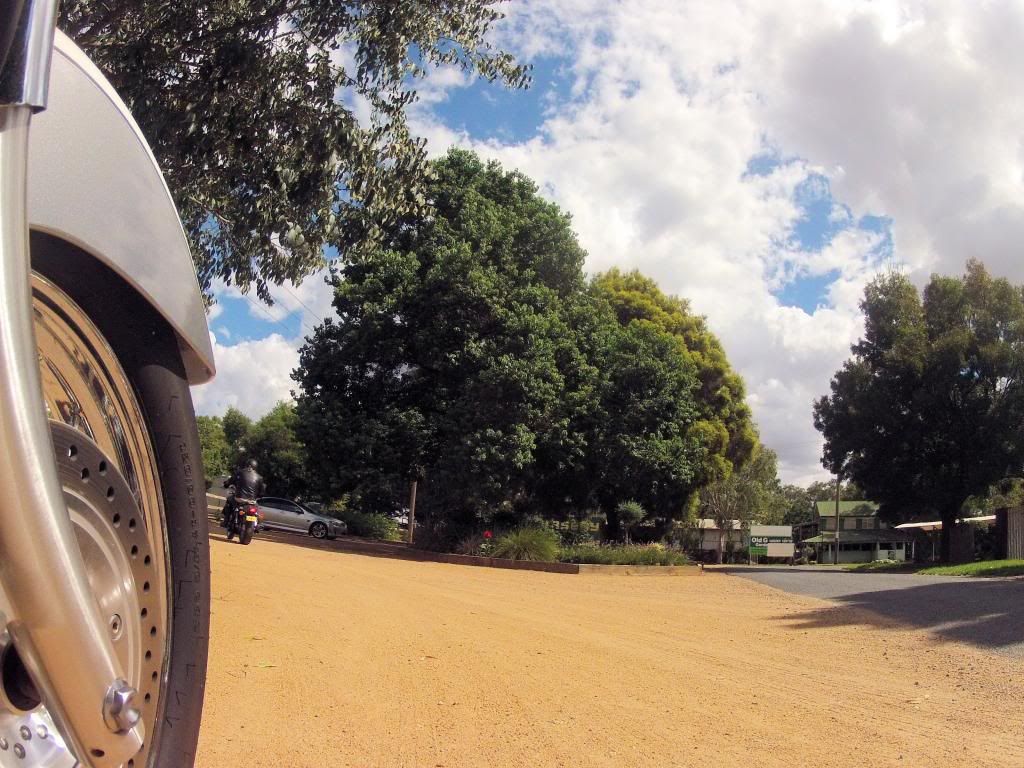 That dirt was like powder with a few nice round pebbles thrown in for good measure.
Lunch was under an umbrella sitting surrounded by some amazing trees, with tables underneath on the grass and butterflies and Wrens playing all around us. I spotted one tree just near us that I liked and Terry asked what it was.
It was a Weeping Oak, and behind it was a Weeping Mulberry, just like ours at home 'cept ours is bigger.
While we were waiting for lunch we saw this weird little bug on the table, I had to try to snap a pic of it with the phone camera but even though the bug didn't turn out that clear, I do like the effect of the glass table.
After a pleasant lunch we wandered around through the nursery for a while I wanted to look at some pots for a plant I was given from a friend that is getting very pot bound, I don't think Terry was looking at anything in particular, just browsing. I spotted a plant that I really do have to have, if only I can remember the name of it .. I know it was a chocolate something because amazingly the flowers smell like chocolate!!
At least I have a photo of it to show when I go back with the car to buy things. After finding the pots and putting in my order with Terry, we headed home. I was so nervous about backing the bike on that soft dirt but did it fairly easily in the end. Before we took off I carefully turned on the GoPro to video, I wanted to see how the lower perspective looked.
We took a more back road route home to make it more interesting for the video and it was more interesting. Just as we started to get into town again Terry chased a huge eagle off the road, it swerved away from him and then did a U-turn and headed back down towards the road before realising that I was there behind Terry, that bird had a wing span that was nearly as wide as my bike is long and he missed me by about two feet. I don't think there was any danger of him hitting me but it was exciting to get so close to him!!
Oh I couldn't wait to get home and look at the video. And when I got home and went to turn the GoPro off, yep you guessed it, I found it wasn't on. Ugh .. oh well I have the memory :)