I've been a bit slack the last couple of weeks, both with blogging and biking (not to mention any other online stuff as well). So Friday I decided to do something about that this weekend. I asked at work, where's a good place to go for a goodly sort of ride and end up somewhere to get a decent lunch and coffee? 2828 was the first answer I got. It's the postcode of a small town about 112 km from Dubbo called Gulargambone
here's the map
. The next answer was the little cafe in the nursery in Gilgandra, about 60km from Dubbo. Both kinda interested me so I mentioned them both to Terry on Friday night to see what kind of reaction I would get. Ahh he said 'if we go to Gilgandra we can do that measuring that I've needed to do for the last two weeks', well that put me straight off the Gilgandra trip, I don't mind helping him with measuring or going for work related trips with him, but he's been working so hard lately and we haven't really had much time together, I just wanted this trip to be about us. I decided to be totally selfish and told Terry I'd rather a longer ride and I wanted to see what this 2828 thing was about.
As I always do when I'm after an answer to a question, I googled Gulagambone. This is what I found
2828 Gulargambone website
. What an interesting little outback town, going the way a lot of those small communities seem to be when the big companies decide they aren't making enough money out of them. First they lost their banks then the post office declared they were pulling out when the community stood up and said nope we wont be beaten. They took over the post office and made a little tourism mecca in the middle of nowhere. I loved the story on the website and became interested in having a look at this place for myself. Before we make any trip to somewhere I haven't been before I like to have a look at Google maps and also check out the street view to get my bearings. When I checked out Gulargambone in street view though, one of the views went from highway to this ....
I'm pretty sure most National Highways don't duck down the back alley behind the houses like this, I reckon the man in the Google truck musta ducked down there to have a quick smoko and forgot to turn the camera off.
So Terry watched my little sub-adventure on Google maps with amusement then told me I'd been through Gular before. Well it was years ago sheesh, how was I gonna remember that, I do remember the Galahs though. I imagine someone thought of making these icons for the town as a play on the fact that Gulargambone is usually shortened to Gular by the locals, and it sounds awfully similar to Galah eh. Plus there's heaps of Galahs round this part of the country, just like anywhere else in Australia. So they have these huge Galahs made out of old bits of corrugated tin as you come into town, and now they have popped up everywhere round the town as well. I loved them because they just look so natural, how do you get a depth of field out of something made out of an old she roof?
It was all planned then, as long as it wasn't blowing a gale we were off to Gular on Saturday. We woke up early on Saturday, as we often do, and stayed in bed for a couple of hours waking up properly. This isn't normal, usually I stay in bed and Terry gets up and potters around while he has some peace without me bugging him to get ready to go somewhere. Today was different, we were both lazy. So at about 9:30 we decided to get up, if we were going to get to this cafe in time to get something to eat we'd have to move. Small country towns aren't renowned for staying open late, specially on weekends. We finally left Dubbo after getting petrol at about 11am, maybe 10 past but once we got onto the highway it was awesome!!
I couldn't actually believe how good it felt to be on the bike again! After two weeks off her I really thought I would be rusty, and I was ready to feel like a noob again, you know ... feeling every little bump, and the wind at 80km/h feeling like it was going to blow you off the bike. None of that, it felt wonderful, the bike between my legs felt wonderful, the wind in my face felt wonderful (until the whistling of the visor up made me think I would go crazy and I put it down), the long sweeping bends were just giving me a buzz that I haven't felt before. That was one thing I really noticed, I have heard a few people talk about those long sweeping bends and how much they enjoy them, and I've kind of agreed with them inside, but I've also been a bit scared of them. I always used to slow down a lot before taking on any bend and the long sweeping ones were a bit awkward to me, I would often lose my line on them and either go really wide or almost cut them. Saturday ... those bends were perfect, and for the first time I really enjoyed them ... wheeeeeeeeee!!!!
We made it to Gilgandra, and stopped for a bite at the side of the road, that is where I forgot to do up the lock on my saddlebag and lost it somewhere between there and Gular (the lock, not the saddlebag). After Gilgandra the road got worse, it looked fine but it was one of those deceptive roads that dips and bumps like a country track when you are on the bike, in a car I'm you wouldn't have even felt them but I was leaving my seat more than I have on any trip and I hit one invisible hole that thumped my front down so hard that I checked my front tire when we stopped. Not a great road and not one I want to do again in a hurry. Thing is, that's the way to get to Lightening Ridge, which is a place I want to visit before the weather gets hot this year, so I'll have to travel it again soon.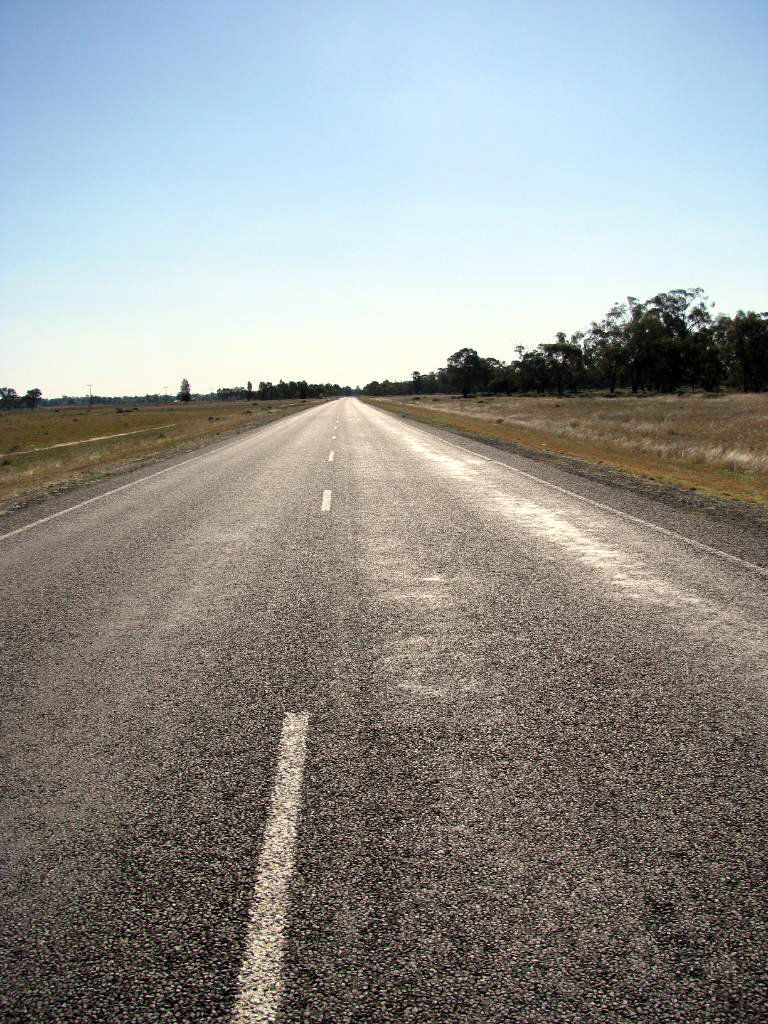 The National Highway to Gular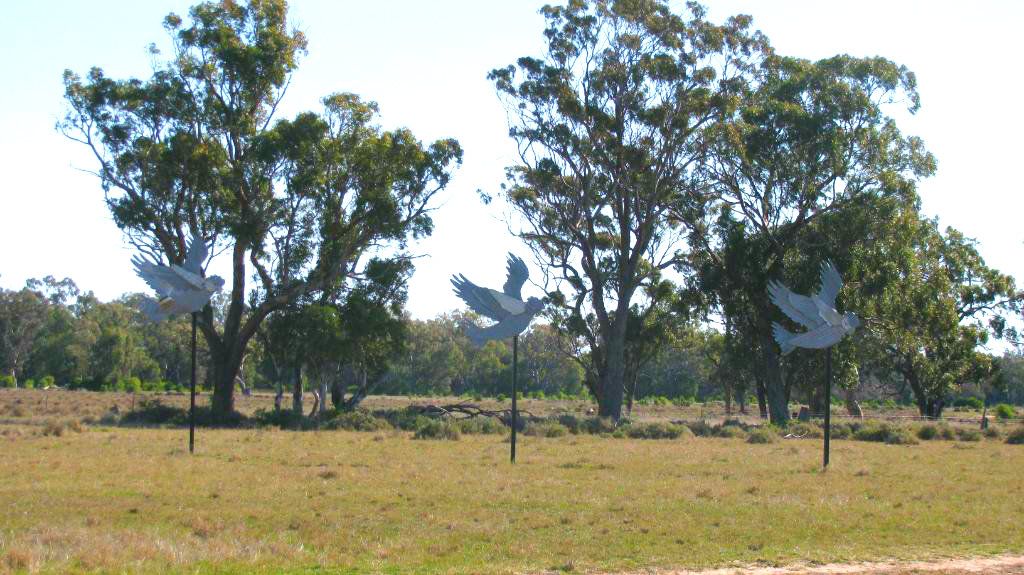 Some of the Galahs that you pass as you make your way into to Gular.
Wish I had a picture of some real Galahs but I guess they're so common that they aren't something I've thought to photograph, I'll rectify that next time I see them. Probably later today when I go out the front yard. One thing bout being on this straight stretch of mainly unused bit of road on the bike that I hadn't thought of, was the Galahs. I've thought of hitting a kangaroo and reckon that would be nasty on a bike, but I hadn't thought of hitting a Galah, and I think that's more likely than a kangaroo. The Galahs were flying round the roads like they owned them and they are so unpredictable, they just swoop and loop round like mad things, I'm sure even they don't know where they're going to end up. I had a couple come close but didn't hit any of them, that was pure luck I'm sure.
Our destination for the day, 2828 Cafe, Gallery and Tourist Information Centre.
Roxy looking sexy in front of 2828.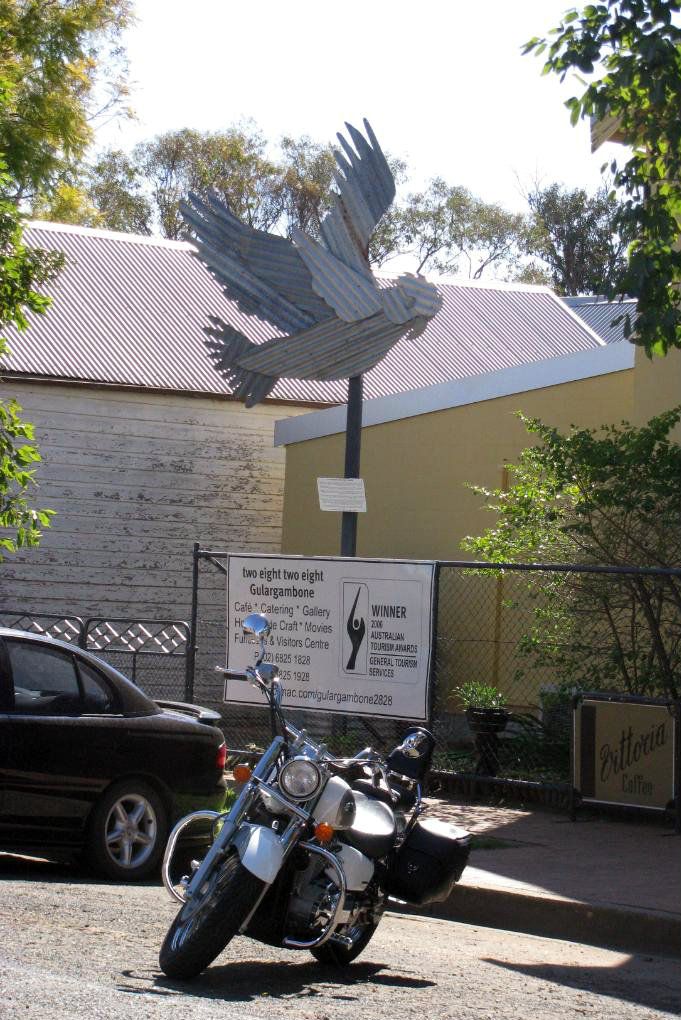 Roxy with a Galah.
We walked into this old building that has been restored by the locals, it appears to have once been the community hall. It wasn't huge and there really wasn't much to their gallery but the first thing I noticed was the Piliga Pottery near the front of the shop. Something I've been dying to see out here since I moved here is the Piliga Pottery and it's something we passed but didn't visit when we did our trip to Queensland, I've been raving to Terry bout it since then and when he finally saw some he agreed that it's awesome stuff. I may be a step closer to getting to the Pottery. We talked to a lovely country lady who was running the Cafe and Info Centre that day and it was revealed to me that Terry had rang her earlier to be sure they were open. She went on to tell us that this is a favourite stopping spot for bikers from the surrounding areas like Gilgandra and Coonabarrabran. Cool, if bikers like it cant be that bad. She then went on to tell us what food they had run out of ... sheesh I wasn't interested in that, I wanted to know what we could have. So when she took a breath and said there were cheese, ham and tomato toasted sandwiches we stopped her and said that will do, we'll have three!! And coffee!!
Well we went to their little outdoor sitting area, which was nice but obviously already packed up for the day so we sat on a park bench and soaked up the sun out of the breeze that had started up. Oh yeah the breeze, all the way to Gular I could see my P Plate flapping against the back of my backrest and was amazed when I got to the Cafe to see it was still attached. I proudly pointed it out to Terry just as it flapped in a little gust of wind and fluttered to the ground. Awwwww.
They had mentioned on the web site about a landscaped garden area, well it wasn't that obvious, but I think I kinda found something.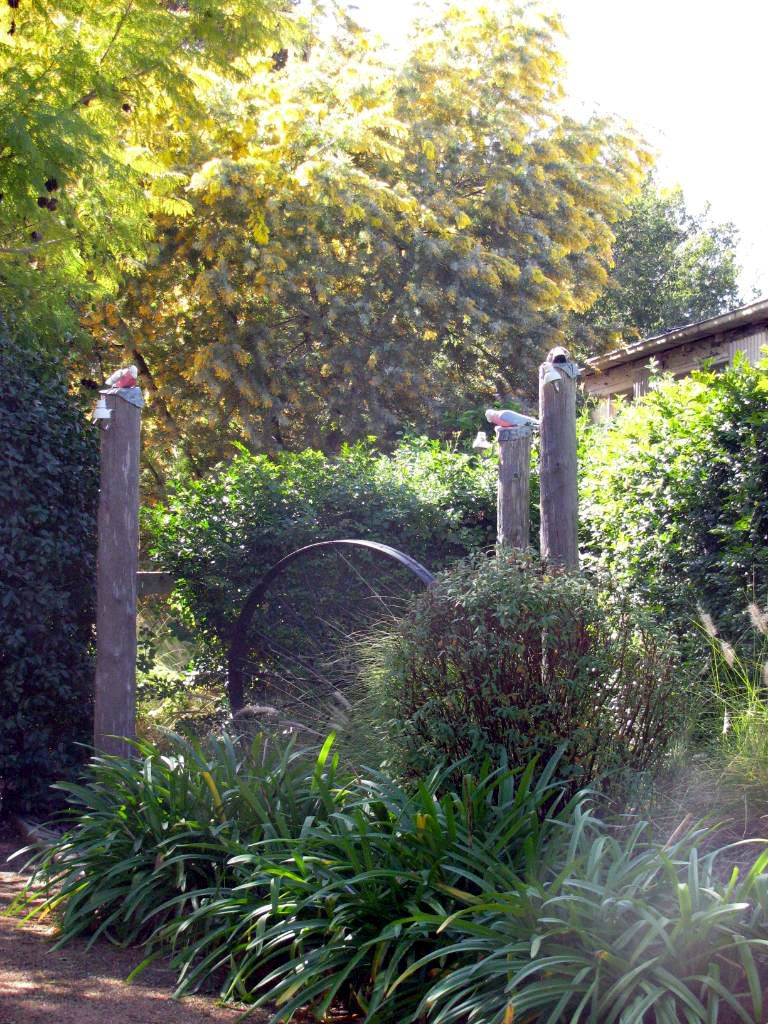 More Galahs, yep these ones are fake too, kinda cute tho.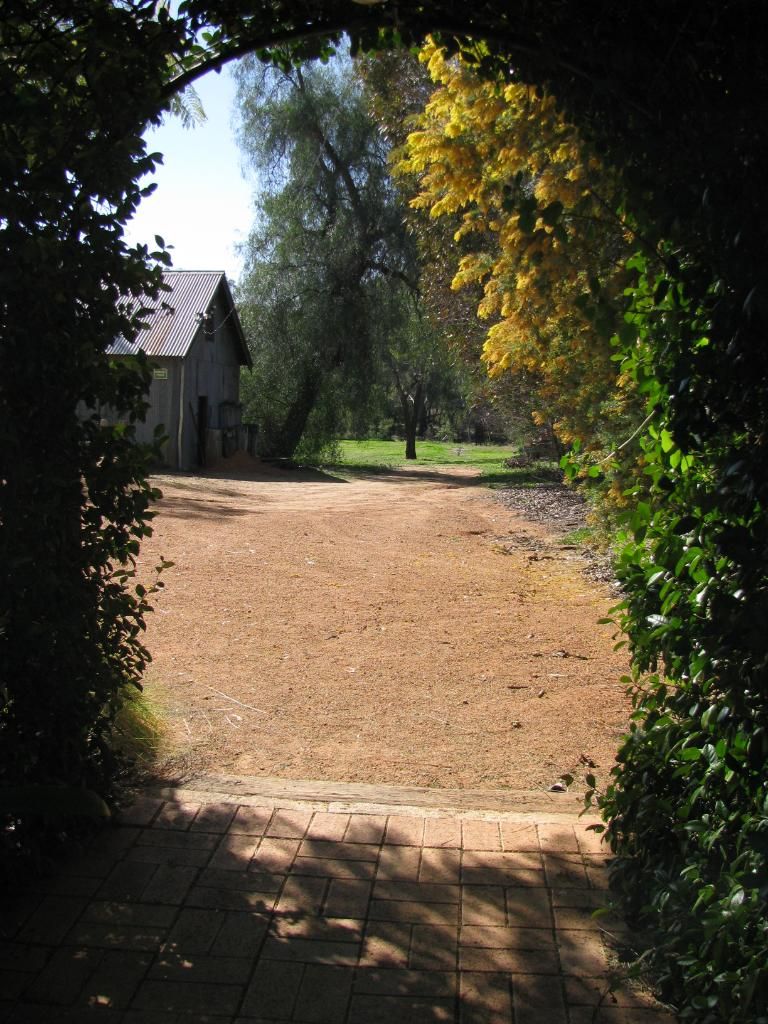 Through a little arbour you find an old tin shed.
Little outback tin shed ... restored.
I went and explored that shed and it's definitely been restored to all it's former glory, including the hand planed bare timber window frames, incredible really that someone cared enough to do it and it's actually very interesting to look at a bygone era like this. The other thing with this shed is ... I think it's haunted, I took a bunch of close up photos of it, they all turned out with a huge sun glare over them bleaching half the color and detail out of them, then when I tried to upload them to Photobucket to see if I could edit out some of the problems they wouldn't upload. I reckon there's someone who doesn't want something to be seen in those pics, I might have to have another go when I get round to buying Paintshop.
The little garden we ate lunch in.
We hung around a bit and found the most awesome roosters in the shop, made out of tin again, but the colors in these roosters were amazing and I'm sure if I could have fitted one in my saddlebags we'd own one now, unfortunately they wouldn't have fitted so they stayed. They were also selling the corrugated tin Galahs in large and small, again they wouldn't fit :( We'll have to come back with the car one day.
The trip home was the same as the trip there except for the wind that had started to pick up. I got some pics of the Canola fields which is in bloom at the moment with the most amazing yellow fields.
Canola fields.
I really wanted to get at least one shot of some canola but it was hard to find a safe place to stop at the side of the road that also didn't have weeds so high that you couldn't even see the fields. We found a spot but I wasn't terribly happy about where Roxy was perched, neither was Terry so they were rushed pics.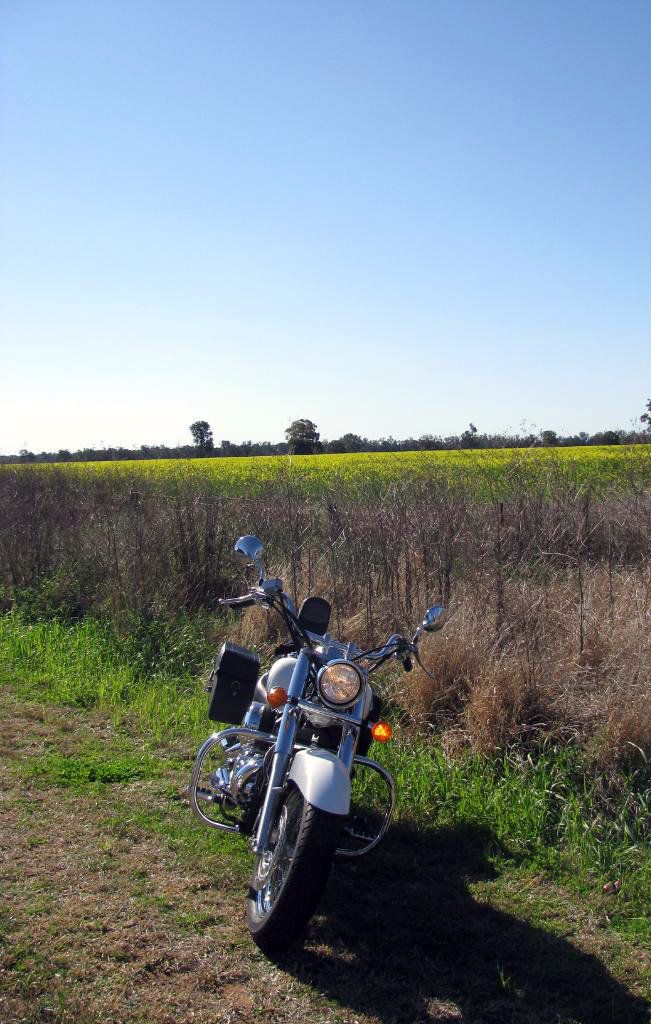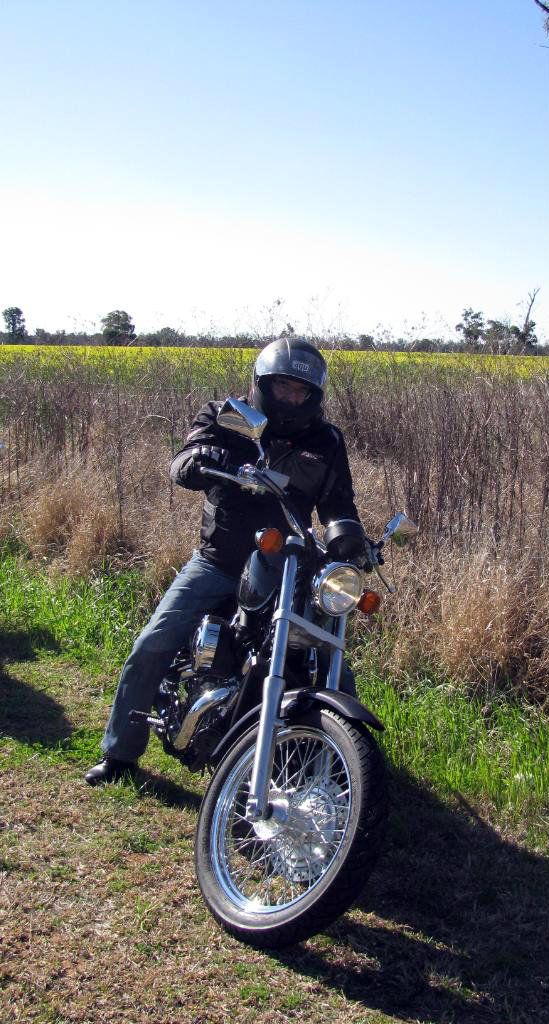 We stopped for the worst coffee in the world at Gilgandra then just went home. My back and my left shoulder are sore this morning, I'm sure it's from the trip home battling the wind as well as the poor condition of the road between Gil and Gular, but it was worth it, I had the best ride I've had in a long time and it's just reminded me why I want to ride.