Unlike car ownership, bike ownership includes a lot more than just jumping on and riding. I like to think that I have always done a pretty good job at keeping up maintenance on my cars. I started driving at the age of 14, in my next door neighbours Valiant Safari Wagon, on dirt roads in the bush around Toronto, Lake Macquarie. Along with that interest in driving came a desire to learn about the car, and I would help my neighbour do all sorts of things like change the oil, change a tire using the old fashioned tire levers and pull bits apart when the old beast was not going right. I bought my own first car when I was 18 and started taking care of those sorts of things myself from the first. Back in those days you could change gaskets yourself, do your own timing and so on easily, since cars became more computerised I've lost that knack, and to tell the truth I also lost the will. So from about the mid 90's I've just taken the easy way out with the car and taken it to a mechanic to get any work done. And since getting married I don't even worry about the basic stuff like checking oil, hubby does all that.
So now I have the bike. And if my tires are the wrong pressure it's likely to cause more problems than it would in a car. For a start bike tires seem to be more expensive than car tires, so uneven or excessive wear is gonna be a pain in the wallet if nothing else. So I checked my tire pressure today, first time since I got the bike. I bought her brand new so I assumed the guys at the bike shop would have the correct pressure in them, never assume. The pressure is much lower than it recommends in the manual. First thing tomorrow when I get on her will be to top up the tire pressure. I haven't checked the oil yet, but that's on my list of things to do today.
Maintenance is gonna have to be more of a priority for me from now on, but the nice thing is that I'm discovering that I want to do these things. I guess I'm not keen yet to try oil changes or those really mechanical jobs, the bike is still under warranty and they might just come back at me with it if something does go wrong and I've been doing my own servicing. But I'm able to do small things just to make sure everything is going right with my baby. I would love to get hold of an old farm bike cheap just to tinker with, I saw one recently at a farm sale, but the amount of things completely missing from it put me off, woulda cost more to get parts than the whole bike cost, I'll keep an eye out.
Well it's been a lazy weekend for me, Terry was away Saturday and I wasn't really keen to do a big ride without him. I rode to work a couple of times and that has kinda satisfied my burning need to ride, if not the want to go for a long ride. Terry's home today but it's just started raining and so our plan to just take the bikes for a quick somewhere for lunch have gone out the window. So I've been surfing the web all weekend. And I want to buy presents, damn you bank account ... grow!!! I found a cool looking blinker relocator plate, from an American website. So I figured that I would have to buy a bunch of things at once to make the postage worthwhile. Why pay $100 for postage on something that costs $20? So I was shopping .. I found so many pretty things I just have to have for my baby, it's amazing how many chrome bits you can get for your bike. There's a lot of plastic and alloy on the 400 shadows, to keep the cost down I imagine although it's still not a cheap bike.
Here's my shopping list so far ...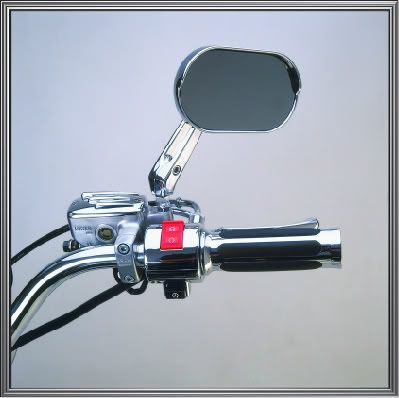 For the handlebars, well I was thinking about bar risers, not so much to raise them (I have enough trouble reaching them as it is) but if I raise them then tilt them down they should in theory also come forward, bringing the grips closer to me, not to mention ya can get nice chrome ones that are a lot nicer than the alloy ones on the bike now. And the other alloy bits on the handlebars can become pretty too ...
Switch box housings and master cylinder covers look so much better in chrome. Then there are a million different mirrors you can choose from.
Then there's handlebar grips, and chrome levers (yep mine are alloy). And ya can get foot pegs, shift and brake covers to match.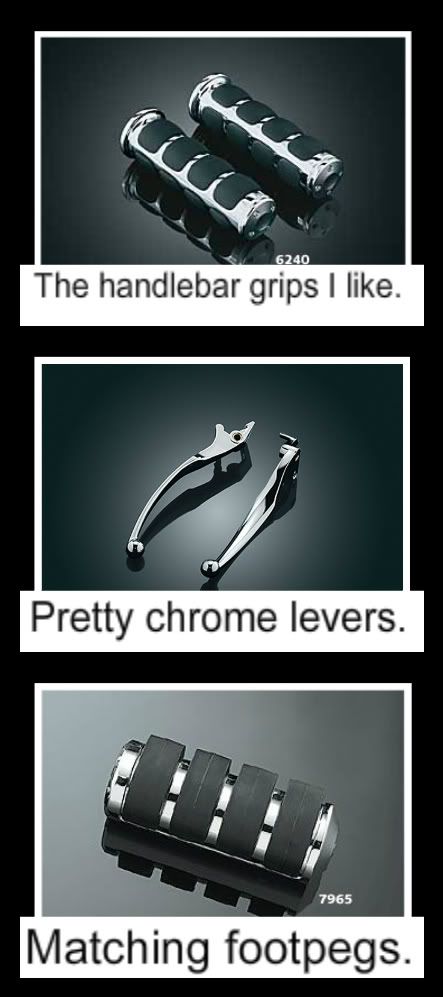 All the pretty shiny stuff!! I've already spent a couple thousand dollars in my mind. We can all dream cant we. There are so many unbelievable things available for cruisers, skull themes, dice, Lady Rider (to keep the biker chicks happy I guess), it's a merchandisers utopia out there in chrome world. Oh yeah there's a web shop called Chrome World of course :P
When I first bought my bike I loved her just the way she was, I joined a forum and started chatting about finally getting my baby and saying how proud I was of her, and one of the replies said something about how I could now start working on the bling. I was lost .. huh? I thought, she's already full of bling how can I make her any better? Then I started fiddling with her, I realised how much of that pretty chrome is just silver plastic. I started talking to people about what they had done to their bikes on forums, and looking at all the pretty pictures. Then I started looking at online shops, not just in Australia, there's really not that much available from Australia online for my bike, is it because they are such a popular bike in America? I dunno it seems unlikely to me, maybe it's just because it's so much cheaper to buy this stuff from the US or even Hong Kong or China, they have squeezed the Australian vendors out. I'd like to buy what I can locally, unfortunately the bike shops in Dubbo tend to deal mostly in stuff for trail or farm bikes, ya ask for something shiny and they look at you as if you have three heads ... and then ask why? Because it looks pretty of course, it seems to be a completely foreign concept to some people. Well if I cant buy locally I'll do my very best to get it from an Australian outlet, unfortunately that's not always an option.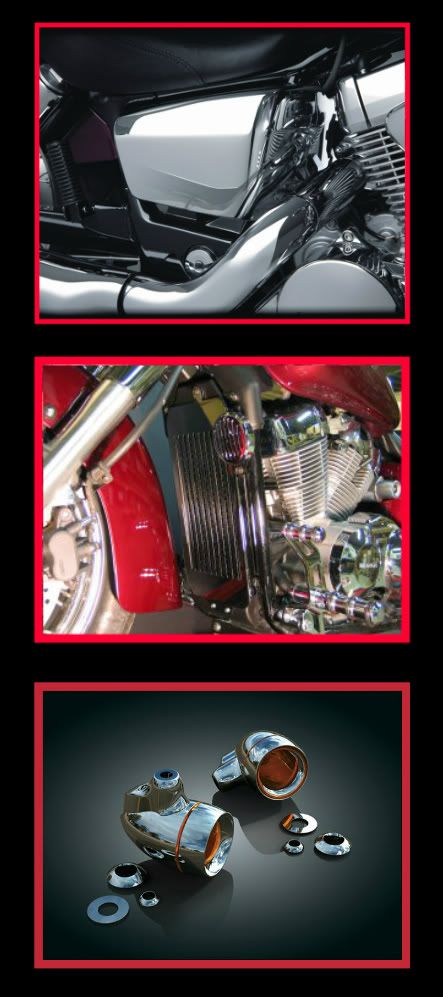 So all that plastic is going to have to go, I want chrome covers to replace all the plastic bits, and chrome blinkers as well. I love the look of the big bullet shaped blinkers on the Shadow so I'll have to find chrome ones like that ... done :) There is such a range of those too!! Not to mention Chrome side covers, radiator and horn covers, chrome edge guard for the mudguards and tank, speedo visors .. oh the list just goes on.
So with all this chrome on my bike I'm really going to have to make sure I keep an eye on the tire pressure :D
I go for my P's in a couple of weeks, not sure how I'll go but I'm not taking my bike, it's just too far for me to feel comfortable riding alone. I don't even like driving that far alone. So I'm hiring one of their bikes and here's hoping it'll be easier for me to do U-Turns on. Yep I'm still not confident with them, tho I think I'm getting better with practice, I do find that if I think about them I muff them so I haven't been out solely to practice, I have done a couple at work the last week just to keep the practice up and I haven't fallen off or gone too wobbly. Fingers crossed it all goes well, wish me luck :)
I haven't really thought about riding since Bathurst last week, am I bored with it ... no way!! It's just that I don't feel as nervous about it all as I used to. I've done a few of different things, going to different places and stuff, and I'm starting to get a feel for it all. I guess I should go for at least one more ride before I do my licence though, cause not long after that we are off to sunny Queensland. I was told about a nice place to eat in Narromine last week, an Alpaca farm called Andonbel Alpaca Farm, has critters to pat and feed as well as a cafe. We may just go check that out next weekend if I can drag hubby away from work. And we still haven't gone on the ride from Yeoval to Wellington, I'm keen to give those twisties a try.
Well that's all my rambling thoughts for today cept ... I love my bike :D