I'll warn you in advance, this one is a photo heavy post. And there's not much to do with bikes either, besides the fact that we rode the bikes to get there, this one is gonna be chock full of holiday snaps.
Yep we managed to sneak away for a long weekend just for ourselves. Well it wasn't all for ourselves, there was a reason, my Dad. I was chatting on the phone with my father a while ago and he reminded me that he'd been living in NSW for over two years, and still we hadn't seen him since our trip south nearly four years ago. Oh I felt bad, so I was talking about a trip to Taree sometime soon. Every month I'd say we'll do it soon .. maybe not this month, too busy .. there's too much holiday traffic .. cant get the time off work .. there always seemed to be a reason why we couldn't go this month. Well I asked and got an extra day off work this month and planned to go east come hell or high water.
View Larger Map
And it nearly was high water too. Dubbo recorded a fall of over 20mm for the Thursday that we had decided to start our ride. Now I don't really know much about rainfall amounts, and those kinds of figures mean nothing to me not being the farmer type, all I knew was that whenever I looked out the window that day it was pouring. It wasn't looking very promising, we had planned to ride the first 200km on the Thursday afternoon when I'd finished work, to a little place called Merriwa. It was one of those last minute decisions that seemed like a good idea at the time, that meant that the next days ride would be easier and we would get to Forster with enough time and energy to enjoy that afternoon.
Oh yeah and we weren't going all the way to Taree, we'd stop at Forster which is only about 30km short of Taree. In my fathers words 'why would you want to spend a weekend in Taree, there's nothing here.' So we decided on a weekend in Forster, where's there's plenty of sun, surf, cafes and relaxation to be had. Foster has a place in our hearts as it's first place that Terry and I went to as a couple and we have fond memories of that weekend.
Thursday afternoon, I sent Terry a text asking him what he thought the weather would do .. it became an unanimous decision .. it was just raining too hard to ride that day, it was decided to cancel the room we had booked at the little B&B in Merriwa and then just ride all the way through on Friday. Terry came to pick me up after work that afternoon with the wonderful news that the woman wouldn't cancel the room, actually she had already taken out the full payment from my bank account! Needless to say I was less than impressed by this .. I thought briefly about just writing off the money but it had just annoyed me that she had done this, and I'm pretty sure it's illegal too. Sooo we left Dubbo at 6pm on Thursday afternoon in pouring rain. Our destination was only 200km down the highway, but it seemed like the longest 200km of my life and it ended up taking us 3 hours to get there. The rain actually stopped about halfway there but the roads were still slippery and we were still kinda damp. Terry also found out that his back rack bag is not as waterproof as it's supposed to be .. he had wet pj's when we got there ...
It was a lovely B&B, but I have to admit that the only thing on my mind that first night was a hot shower and bed .. oh and food, it seems that everything in Merriwa closes down at 9pm, our arrival time was .. yep 8:50pm. We shared a chocolate bar and raided the coffee and bikkies in the kitchen.
The B&B in Merriwa, a converted old bank.
After a big breakfast we were all fuelled up and ready for the long haul to the coast. It took us about 5 hours to travel the 300 or so kilometres, but we were riding away from the rain, towards the blue sky all day .. seemed like an omen for good things to come. We just took it easy, stopping whenever we felt like it. No photos along the way but I do have a bit of video of the weekend with some of the trip down on it. I just have to edit it there's about 4 hours worth that I need to cut down to no more than 5 minutes .. well 3 minutes seems ideal to me but sheesh that's a lot of cutting .. maybe I'll do two videos. Anyway I'll post that up as soon as it's done.
We rested in the motel and grabbed fish and chips for dinner. Wow I miss seafood!! And that was it for Friday, we were meeting with Dad late in the morning then heading down for more fish and chips for lunch .. yay!
Dad
Now Dad's probably gonna kill me for posting pics of him here but I got some really good shots of him so had to be done. First pic .. photo of a man happy with his fish and chips.
Second pic .. photo of a man wondering when his calamari is gonna get here ..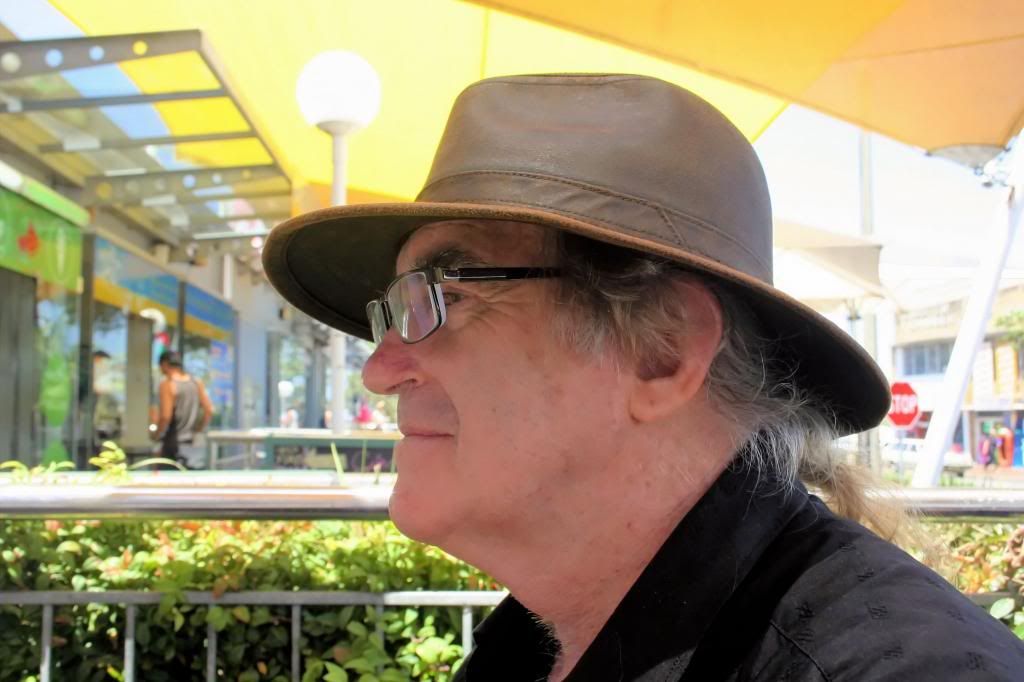 Terry
Then we wandered down to the wharf to check out the scenery and people watch for a while.
Dad and I are good at looking at stuff ..
And sometimes we even look at the same thing ...
We lazed round for a while, catching up then sadly it was time for Dad to head home. I think we were all tired but it was great catching up again and I hope we don't leave it so long next time.
That evening we headed to a local tapas bar for dinner then came back to the motel in time to catch the regular evening chorus. Native parrots of all types were feasting in the palm trees bordering the motel. I took a lot of photos of them but only this one of some Scaly Breasted Lorikeets turned out.
They were great to watch, there were some Eastern Rosellas and Rainbow Lorikeets there as well playing and making a racket.
The next morning we really had no plan of what to do. We wandered down the main street for a quick breakfast that turned into a long one. Then headed towards the beach.
We found some local markets which we wandered round for a bit before heading back towards the channel. Where we found the fishermen were cleaning their catches by the water. Some other creatures were quite interested in what the fishermen were doing too.
That was across the water from us, closer to hand we noticed ...
It seemed these two had the monopoly here, and they knew to wait patiently.
I didn't mind, it meant I got a tonne of great photos of one of my favourite birds.
And the reward for all that patience ...
The pelican gets his fish .. and I get a fantastic pic!!
Forster had a sister town on the other side of the channel called Tuncurry, they are joined by a bridge.
And in the middle is a heap of these sandbars and a largish sand island .. the sides of which are all covered in boats of all sizes and shapes. I was amazed at the amount of water activities going on here but then is it the middle of school holidays and this is a very popular tourist destination. I could see why.
I would have had a go on one of those ski-jet thingys but apparently they don't hire them anymore cause of insurance of something .. shame, one day I'll get on one :)
We'd talked about hiring a little boat with Dad the day before but really were happy enough just sitting round and relaxing, it seemed the Sunday was going to be more of the same til Terry suggested we jump on the bikes that afternoon for a bit of a ride round the town. All of that ride is on video so I'll save the commentary for when I get it finished.
After dinner that evening I was trying again to get a good shot of all the parrots when I noticed that the sun was setting quite prettily .. I grabbed my camera and headed for the water.
Got some good pics too .. what a great way to end a perfectly relaxing weekend.
The next day we headed back home. It was a long ride at just over 500km so we stopped often. We even stopped at one place that I didn't even know existed, well we'd driven through Denman often enough but I'd never realised it had more than just a couple of houses by the road. There was a cafe called Chocolate Hills, I had to eat there!!
And that's about it. Took us a long time to get home but it was still daylight at least. I don't think I like travelling that far in one trip though, from now on I'm going to plan our trips like I have in the past with the longest day being no more than 400km's. The heat was turned up again after the first hour or so and that in itself makes for a longer journey since we have to stop more often just to hydrate. I really wish summer would just take off now .. and I'm waiting for Autumn so we can ride again. Our next big trip is coming up soon, in March we head over the border to Bright, Victoria for the Annual SRA meet. Can hardly wait!!