As we move into winter Terry and I are busy planning for our trip in Spring. If you travel inland in Australia the climate is one of the biggest factors you need to think about when planning. Summer is just too hot to be riding throughout the middle of the day, winter gets lows that you just wouldn't believe possible in a dessert environment overnight, so spring and autumn are the best times of the year to think about going west.
We decided that this spring was the time for us. I'd originally planned a huge trip that would take us almost across the whole state but after finding out that we had a trip to Victoria to do next year we have had to cut that trip in half. So the amended trip will only take us as far as Broken Hill, 750km from home. Not that far but we've added in a few detours ...
View Larger Map
The original plan had us going to White Cliffs to stay in the underground motel there, something that I've wanted to do for years, and this trip also includes White Cliffs but ... not the motel. I was chatting to one of the donors at work about our plans one day last week and he said ' ooooh ya gonna love it!! We did it a couple of years ago .. the motel's great and White Cliffs is a fascinating little place .. do a local run tour, they know all the interesting stuff ..' All great advice and stuff I'm taking on board, then I mentioned that we were doing the trip on the Shadows ... He knew what a Shadow was!!
He also did the trip on his bike, a BMW (he told me the model but I'm hopeless at remembering stuff like that) and his next piece of advice nearly broke my heart ... ' I wouldn't take any bike on the road to the motel ever again!!' Eeek .. really? Awww :-( He told me the road from the town out to the motel is about 5km or so of the worst dirt road he's come across in ages, full of potholes and loose gravel and ruts and huge stones that roll nicely under a bike tyre ... oh :-( So I looked into it a bit more and .. well it looks like this trip wont see us staying at the underground motel. We're still going to White Cliffs but probably staying at the only accommodation that is in town and doesn't have a dirt road to get to it, the pub. Could do worse I reckon, outback pubs are a world apart really ... intriguing. And we'll still do a tour cause I'm not game to try and ride to any of the opal mining areas cause I know that's dirty gravel roads too. Will be interesting still and maybe I'll find an opal :-D
Then from White Cliffs we are heading back down through Wilcannia, to avoid more gravel roads, and I hope Terry will let me explore there a bit. Wilcannia has a bad reputation as a rough town but it also has some amazing historical buildings that I would love to at least have a quick look at. Then up the road about 190km is Broken Hill where we will camp out (in a motel!) for a few days and explore the surrounding areas.
Broken Hill has some amazing sights to see and I'm told that we have to check out the sculptures at sunset .. I'll explain that after we have done the trip and hopefully get some awesome pics to post up too. We're also defiantly going to head down the road to a place called
Menindee
, an interesting little place described as
a historic desert town and oasis by the NSW tourism site. This is apparently the place where Bourke and Wills based themselves during some of their famous expedition that opened up inland Australia in 1860-61. Fascinating history plus some amazing scenery, the whole area is surrounded by lakes and waterways.
Once we've finished exploring we're gonna just hop back on the bikes and head home, I only have 2 weeks off work cause I need to save some leave for the other trip next year so the timing's going to be a bit tight, but we'll just play it by ear a lot of the time I think and if we have extra time then we'll explore a bit more. It's all very exciting at the moment and I'm going to be counting down the days til winter is over even more than normal.
We'll have plenty to keep us busy though. First of all I need to actually get on the bike a bit more, more practise is needed I haven't been actually on the bike in a few weeks now. I started Roxy up today just to see if she still worked, then tried the lights and blinkers and things .. just looking .. the left blinker doesn't work. It was getting late in the day and there's no light out there yet so I'll have to look at that this weekend, I remember one of the connections being a bit dodgy when I moved the blinkers back the other week so I think I may just have a lose wire that's shorting. I hope that's all it is.
I have some more plans as a part of the transformation of Roxy from pack horse to sleek and sexy machine .. most of them are involved with being able to carry luggage now that I've taken away the pillion seat and luggage rack. I'm going to get a new luggage fender rack something like this.
And possibly some Kriega bags like this ..
Until I can afford all that, I need something to carry goodies in just to ride to work and for our weekend day trips .. which have been too far apart lately. So I went out and bought myself a tank bag. I have been a bit hesitant about getting one of these, I have visions of huge scratches all over my tank and I was also unsure if it would block my vision of the speedo which is on my tank as well. I asked on the forums about tankbags and got a few positive replies so I shopped and found one I liked from
Tomcat Distributions
It's a Motocentric Tank Bag and from what I could find out about it online it seems to be a good quality bag. The first one I ordered came really quickly and I was excited last Friday when it was sitting at home waiting for me after work .. I immediately unwrapped it then took it to try it on Roxy. It didn't fit, it was too long and one of the magnets was in a little flap at the back of the bag and hung over my seat, I was sitting on it. Two of the other magnets were sitting at the edge of my tank, just where it angles and so not connecting properly. That left only one of four magnets doing it's job to attach the bag to the bike. Not great, it was a great bag though, more than big enough for my needs, I could see my speedo and instruments over it .. lots of pockets and even a clear section on top to put a map in. Loved the bag .. sad it didn't fit :(
I had to wait til Monday to contact Tomcat with some questions about exchanging the bag, I was really hoping they wouldn't mind if I exchanged it for another bag I'd looked at, and I was also hoping he'd be able to give me some info about where the magnets were. I didn't want to have to keep paying postage just to try these bags on the bike to see if they would stay. When I talked to the lad he was more than happy to help me, even went so far as to get the two bags together and compare them side by side for me ... I did have to commiserate with him as he told me how he had only been able to go for two rides so far this year .. oh we had a lovely chat :-)
I ended up getting the
MotoCentric Weekender GPS Tank Bag
which doesn't have the nice map section, or quite as many pockets, but it does have a great little flip up GPS pocket. Now I just need to get a GPS. It's something I've actually not really wanted, I don't mind getting lost, but I do need some kind of map and if I can read it while stopped without having to dig through luggage to find it, then I reckon it would be worth having. Or maybe I'll just fold up my map and stick it in there :)
Here it is on my baby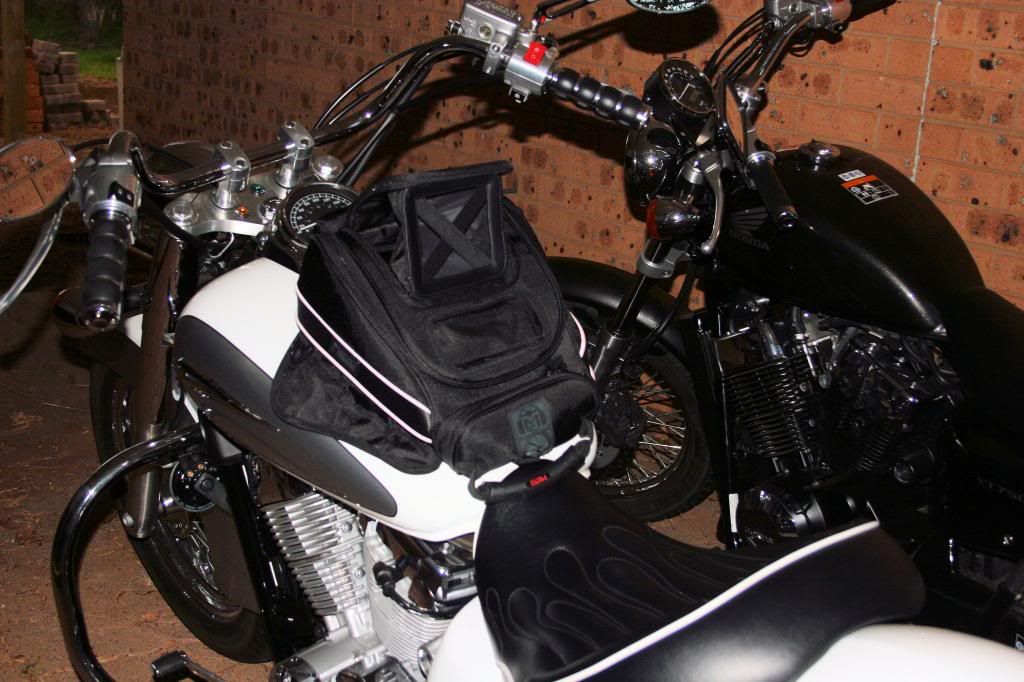 That top bit that's sticking up there is the GPS bit, ya can fold that down and zip it up. Also has another clear section in front for a phone or something .. not something I'm likely to play with while riding but still a handy little pocket. It has reflective bits all over it which I also like and has bits where you can feed wires through for ya gadgets and a hydration bladder pocket and port to feed that through too. It's held on with no less than 7 magnets, all of them actually touch the tank too. They thought of everything. I like it, it's sticking to Roxy like glue and it fits my stuff in it. It's perfect .. now I just have to take it for a ride .. as soon as I've fixed the indicators.
There's a few more things that I want to do to get her ready for an outback trip, top of the list is more electrical stuff ... decent lights. I want to see if I can get a HID kit for my headlight, I'm also looking at some driving lights and pretty indicators (to match the back ones) on a light bar. More playing round with the bike is gonna be happening soon ... and now Terry has decided he'd better do the same sort of thing with his bike. Oh the fun days are coming!!