Rusty water doesn't sound good when it's coming out of a part of your precious bike eh.
Here's the story .... I finally got off my padded bit today and went to the famous
Tony
to see if he could fix my new(ish) number plate frame to my number plate. I knew it wouldn't fit when I bought it in November but I got the closest that I could get in size and they were supposed to be adjustable to fit any plate. It wasn't adjustable at all and when I got it and I put it up against my number plate I just knew it was going to need a little bit of work from a professional to make it fit. So after talking about it for ages I finally rang Tony and made a time to go show him what I had and see if he could work out what needed to be done. I pulled into his driveway and we stood around in the baking sun looking at it. It was decided eventually that the frame wouldn't cover anything important and that I'd still be legal with it on .. yay! All he had to do was drill a few holes for me in the number plate so that the (adjustable) screws on the frame could be attached. Easy peasy.
It was done in minutes really, although as with everything with Tony it took a bit longer cause ya just gotta chat about anything and everything while your working. It's always entertaining getting stuff done by Tony. So he drilled some holes, with me watching him like a hawk to make sure that drill didn't touch any part of the bike it wasn't supposed to touch. He's a champion with a drill and it all went to plan until ...
He took off the number plate to do something with some holes or to fit the bolts in or something and when that was loosened the bracket that I had my blinkers on also came loose. Yep it's all attached together there cause it's the relocation plate thingy that I was so happy with way back in June last year so I wasn't worried .. tis gonna come loose ..
... then Tony said: 'oh water'
Me from across the other side of the shed where I was sitting: 'hmm?'
Tony: 'There's water coming from somewhere'
Me, leaning forward a bit in my seat: 'oh...?'
Tony: 'the blinker is leaking water'
Me, peering over towards him to see if I could spot something 'what... ?'
Tony: 'both blinkers are leaking water'
Me standing up: 'What??'
Tony: 'it's rusty'
Me rushing over to eye off the waterfall: 'WHAT??'
Yep there was a little puddle of rusty water sitting underneath one of the blinkers and with just a little bit of gentle jiggling more emerged from both of them. Ugh
I knew the blinkers got a bit of condensation in them from time to time, I've seen it and had it pointed out to me more than once by people eyeing off the baby. But sheesh there's a lake in there!
So Tony pulled the lens off, carefully removing the rubber seal ... hmm I have no idea what the rubber seal was actually doing cause it certainly wasn't sealing. We peered into the cavity to find ..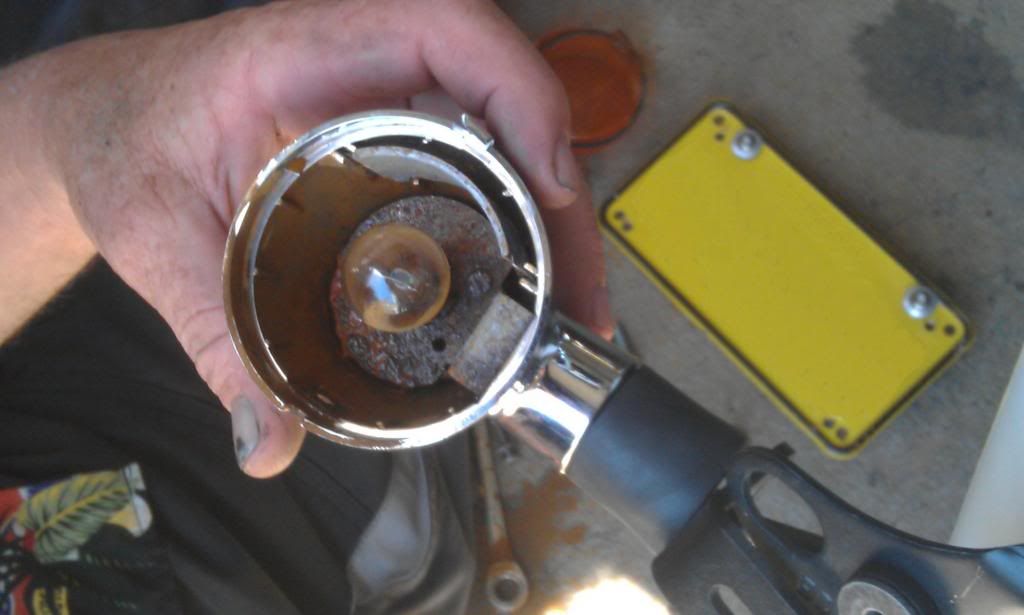 Now before we go on any ride I check everything works the way it should, the last few times that I've done this I kinda thought maybe that the blinkers were a bit dimmer .. it wasn't really that noticeable just something I had thought maybe, might be, could be .. you know what I mean. They still worked and they were certainly bright enough to be seen or I would have really noticed. I wasn't even sure if they were dimmer than before or if that's the way they had always been. Looking at that rust covered globe melded into the socket I figured that yep I was right, they were dimmer. Geez.
Where the blinker bracket is mounted is on the back guard along with the number plate bracket, all sort of following the line of the guard angling outwards a touch, so the number plate and the blinkers follow that angle and kinda tilt up a bit. I've noticed that upward tilt of the blinkers and thought nothing of it, actually I thought it would make them a bit more visible for cars as it was pretty well angled straight into their line of sight. I now also think that along with leaking rubber seals I contributed to the problem by making the blinkers into little buckets, tilted up so that the water could pool in the bottom of them nicely.
Tony then tried to pull out the globe, he wanted to see if there was any way he could tilt them onto a more even keel by twisting something at the back of the assembly or something .. nope the glass came out and the metal bit stayed in the socket, it was truly attached to it's rusty little home. He got some pliers and approached it in a more meaningful manner and it finally came lose. The globe was a throw away but the actual socket looked alright. At least I could put a new globe in there so that I can actually ride the bike, and I did that as soon as I got home. It still works yay!
The whole while Tony was coming up with solutions to the new little conundrum that we'd had uncovered. I'm pretty happy that I'd found this out now as if it had've been left for too long I'm sure things could have started going haywire with shorts and stuff. At least now I know I can work towards fixing it. The plan is to get the blinkers that I've been eyeing off for ages and Tony is going to make up a new bracket for me that will not tilt the blinkers, it's also going to lift them a bit and make it all a bit more streamlined. Awesome .. now I just have to get the blinkers, of course the ones I want are expensive, but I figure that I'd rather get expensive than have to go buy new ones in another years time.
These are the blinkers I've always liked but now I want clear lenses with the amber globes instead.
So after a planning with Tony what needed to be done and promising that I would return I am still very happy to say that I now have the pretty bling on Roxy where it was always intended to be.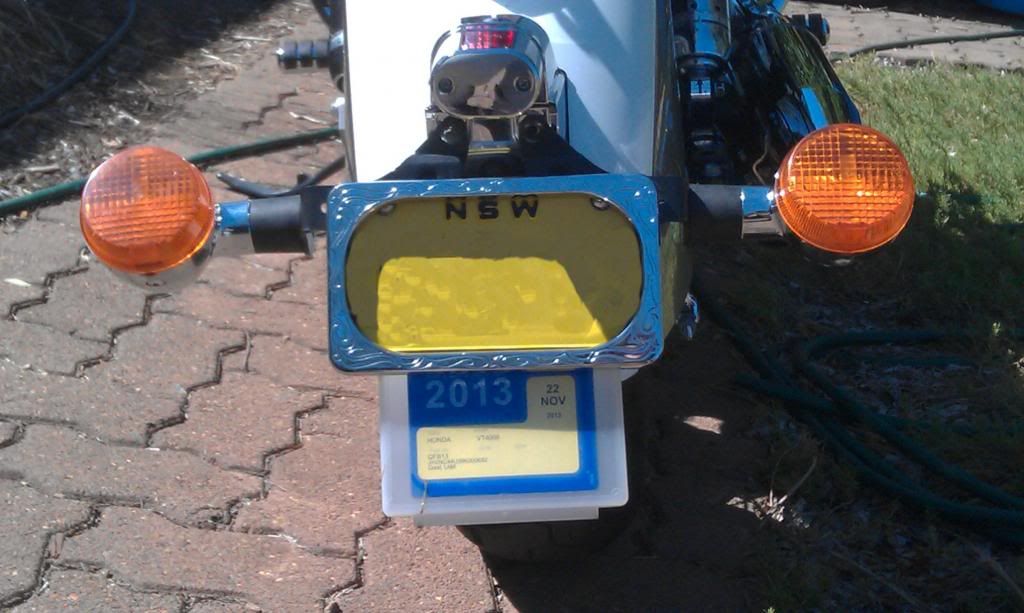 It's legal, you can just see the letters and numbers clearly enough that I'm confident that I wont get into trouble and the most important thing ... Roxy is looking sexy !!