A bit over 12 months ago I bought a bike. The first time I rode it I got all worried and nervous that I would never be able to keep it upright. I had some drama's trying to keep my baby bike on her wheels when I taking it slowly on her. I decided to take her to Newcastle for Christmas that year. That was a long ride and huge adventure for me which you can read all about
here
. This year we did pretty much the same kilometres on a trip somewhere else for Christmas and I couldn't help comparing this trip to the one we did 12 months ago.
My confidence has come along in huge leaps and bounds. And I think that my riding skills have improved out of mind since that ride to Newcastle. With the first trip everything was so new to me, just travelling at speeds over 60km/h (town speed limits) was something so new to me that I felt uncomfortable, and things like bumps in the road and trucks passing me were an adversity that I had to overcome. This trip I didn't worry about those things, I have a whole new set of things that I have to learn about. But I did think about that first trip a few times and even smiled proudly at myself a few times about how I have learnt since then.
We did the first trip in small stretches, and that hasn't changed much yet, I still find it more comfortable to ride for no more than about 100km's before getting off the bike and moving stiff joints. It helps that Terry needs to stop often for petrol, I always go pay so I can move my body around a bit.
The trip this year was to Wagga Wagga to visit family and meet some new people too, about 400km again, but this time I was riding the whole way on my own instead of getting to jump in the car and let Terry take over when I got too tired.
Here's a map ....
View Larger Map
We took the less well travelled route through Molong, Canowindra, Cowra, Young then Junee, which is not far from the farm we were staying at for the next few days. First stop was Molong and there was nothing open except the petrol station so I broke out the water and a chocolate bar and we sat on a bench on the main street to eat it before we headed on our way. I turned on the GoPro then, to photo, I much prefer photo to video at the moment. It has taken me three weeks to get all the photos downloaded, sorted and edited, I still haven't looked at much more than the first five minutes of video that I took.
On the Christmas 2011 trip I took a couple of photo's from the car while I was driving, of Terry riding, I have to admit tis much easier and safer to take pic's of my hubby on a bike using the GoPro.
We stopped at Cowra for our next stop and bite to eat, I also took the socks and boots off for a while for my poor little feet to catch a breath of fresh air. It was hot and getting hotter as the day went on.
We watched them closely and had just decided that we were going to skirt them when the road turned and we were facing this ...
On that first trip for Christmas last year Terry got caught unprepared in the rain, and it's something that I do dread. But we are better prepared for it now with wet weather gear in the saddlebags all ready to go. My jacket is supposed to be all weather, with vents for hot days which you can close to waterproof the whole shabang. The waterproof stuff works as we found out on the trip to Canberra a couple of months ago, but the temperature today was heading towards the 40's by the feel of it so I kept my vents open.
See that blue sky ahead of us, it taunted us for a while then we finally broke out of the rain to it and our gear was dry within minutes. All but the patch under my butt where it had pooled then spread out when my bum left the seat with a particularly awesome bump in the road.
We stopped at little place called Cootamundra for fuel not long after that and my butt got a chance to dry off.
After a little sidetrack where I got Terry lost, he really should just follow me not listen to my directions cause he still hasn't worked out that when I say turn right I mean the other right (left). Anyway we did finally get to the farm we were staying at after about 7 long hours, we were both pretty melted by the time we arrived at the top of the driveway, and I came pretty close to letting Roxy lie down when Terry stopped in front of me .. I'm pretty happy, and very proud, to say I didn't let her, for the first time I managed to hold my baby up when she was feeling determined to take a rest.
We sat on one of those veranda's for dinner that night, which was cooked by our hostess for the weekend whom we'd met that day, wow what a wonderful cook! And a lovely person that we were glad to finally meet. So after a scorcher of a day, we found out later that it was 39°C when we arrived at about 3pm (no wonder we were melting!!), there was a spectacular lightening storm that started just after we finished our meal. We sat in the darkness and watched natures show for about an hour then headed for our beds early. It had been a long day.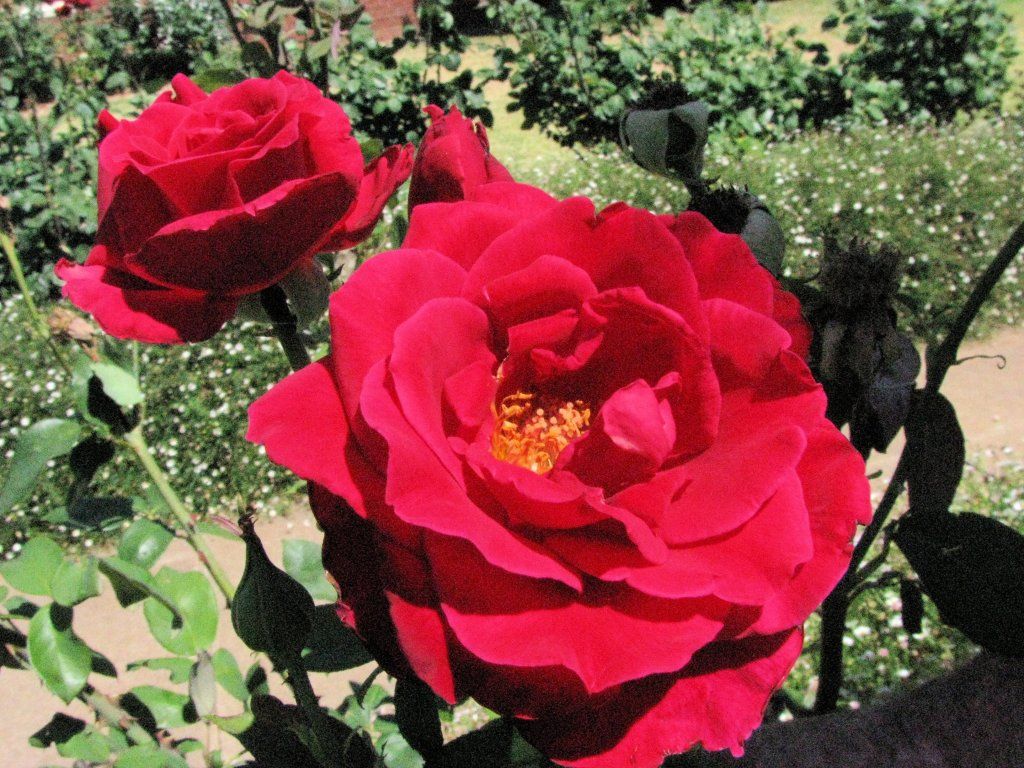 The next day we explored our surroundings a bit before brekky .. we found some roses, the rose garden is stunning and these are old fashioned roses that have a scent. There weren't many still blooming but I bet when they all are it's heavenly out here.
Terry checked out the view from one of the veranda's.
Then after brekky, cooked by Terry's son we headed to the old chapel...
Which not only has more stunning views ..
It has also been turned into a coffee shop type affair .. we finally got some awsome coffee made by Ben ...Thank you Ben :D
After a relaxing morning we needed to head into Wagga for some emergency Christmas eve shopping. We had planned to get some presents for the new acquaintances when we got there because we needed hints from people who knew them, plus we didn't have a lot of room in the saddlebags. A trip to the shops was needed and we were luckily able to beg a car to take. All we had to do was let the car owner take the black shadow for a little ride ... easy we can do that :)
That's Terry's son in front of us, and no I wasn't taking pics while driving, Terry took the pics while I drove.
We went under this viaduct and I just had to stop on the way home to see if I could get a pic of it.
We got home just as the sky's were opening up for a repeat performance of the storms, this time it was a bit earlier in the day and they weren't as close but I did manage to catch one flash of three bolts stretching across the sky on the GoPro.
Then I got some nice pics of the sun trying to break through afterwards.
That night we went for some Christmas drinks in a Daimler limo....
Wow this has been a pretty fantastic chrissy and is gonna be hard to top. We had a bit of a sleep in Christmas day and then had a lovely breakfast with fresh fruit and yogurt and paté and ham and all sorts of amazing food served with a smile and a wonderful Christmas feeling that I have rarely had the joy to feel ... not having children of my own means I have missed out on that part of the festivities. I liked to visit it, we had a lovely time, but we decided nearly as soon as we woke that morning that we were going to head home a day earlier. The weather was playing nice for once and we decided to take advantage of the cooler day to get home.
This is the driveway out of the property, and I was pretty proud to have gotten off the very loose gravel in the car park and pointed in this direction. Most of the trip home was video on the GoPro but as I said I haven't looked at much of it yet let alone decided if it's worth editing for here, if it is I might post it up later, or I may just rip some pics from it.
It wasn't as long a trip to get home, even though we stopped at Cowra for about an hour during the hottest part of the day it still took us less time to come home. What a wonderful Christmas it ended up being, not just the great ride, but also spending time with special people. There were times when I honestly thought I'd taken on too much with such a long ride in the heat, and I had a bit of a melt down at Cowra where I felt that if I didn't get off the bike I was gonna just cry or scream or both. I got off, had my melt down then got back on and we made it home on Christmas day in time to catch some chrissy left overs.
By the end of it all I was more than ready to get off the bike, the last leg we rode straight through from Cowra to Dubbo, about 200km. We were both tired and glad to be home, but it was still nice to come home to a house full of people and more children celebrating Christmas. Perfect.