Today was my first day of my holidays, yay!! I had plans, the house needs to be spotless as we have a workmate staying here and house/puppy sitting.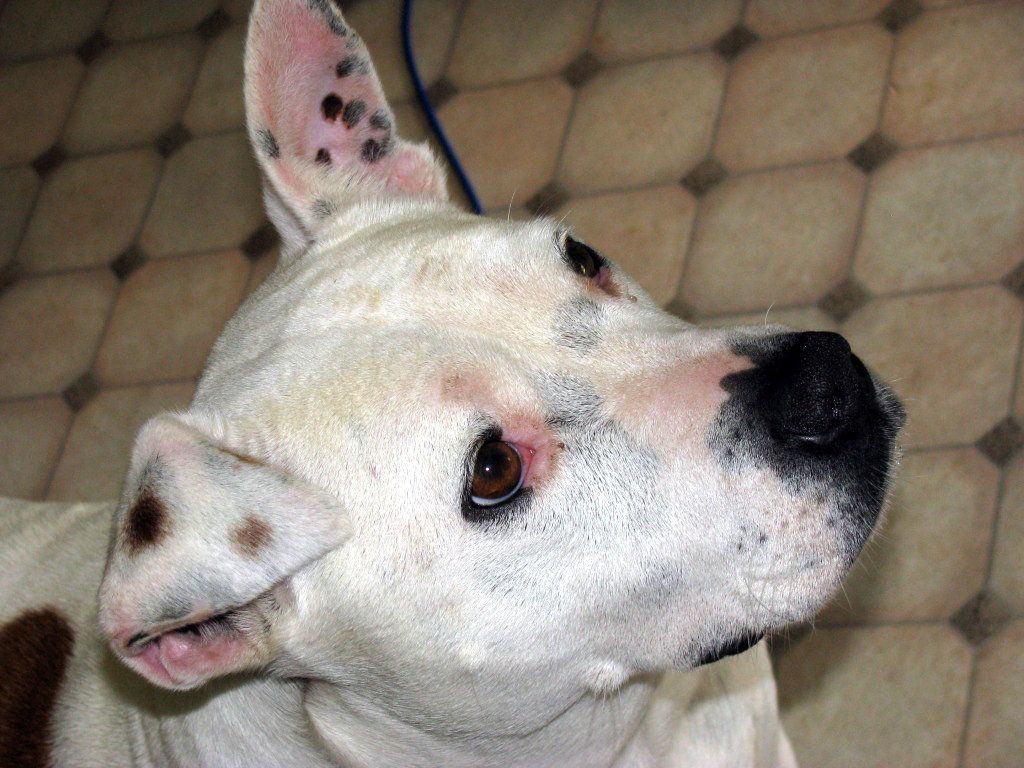 The puppy who is being sitted .. Gizmo. She looks so gentle and loving doesn't she?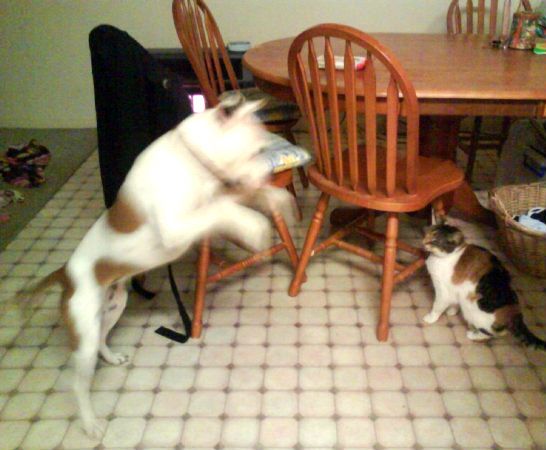 Tesla never thought so!! I think I might have to warn my workmate bout how unstoppable Gizmo can be.
I don't want her to see the squalor I live in day to day. I don't think of myself as a dirty person, more untidy. But as I looked at the place with a critical eye, instead of the 'oh the suns shining and the bikes begging gotta get this done fast' eye that I normally look with, I realised my idea of cleaning is pretty ordinary. Right so today was to be a flurry of cleaning, got the bathroom spotless, then noticed the drip marks down the back of the door ... Then went to switch off the light, feeling pretty happy that one room in the house looked good, ugh the light switch plates are filthy ... OK round the house with a cloth and some heavy duty cleaner .. fixed. Open the back sliding door to dry the kitchen floor, which is now spotless, and notice the dirt that has built up over the last couple of years in the rail .. so run round the house looking at all the rails to windows, yep they're all the same. I swear there's some dirt gremlin following me this morning. OK they are clean and I can settle into getting our bedroom into order in case she opens the door while we're away, I don't want anything jumping out at her.
So I had a cup of coffee to work up the energy, and looked at my baby bike. There's so much I still have to do to get ready for the big trip. Little things that I need to make sure we have, I started a list there and then. Then hubby decided we needed lunch and we deserved it somewhere not here ... yay lets do it. Then I'm going to shop for the stuff on my list. The house work can wait!
So to Bunnings for earplugs, first thing on my list. I haven't used earplugs before but have seen in forums and so on that they are a good idea. Makes sense to me I know the few trips that I've done that have involved more than half hour of riding I get off with ringing in my ears sometimes. I don't have great hearing as it is, I was born with some kind of nerve damage which has given me a degenerative hearing loss, so I want to preserve what I have left. When I got home with all my shopping bags from the day those plugs were the first thing I tried out. Rolled it up and shoved it in, just like it said in the instructions .... ouch! They hurt!! I know I have small ear canals but should they hurt like that? So I tried again, maybe I wasn't rolling them up tight enough or pushing them in properly or holding them long enough, nope they still hurt, and when they do expand in my ears they cause a horrible pressure that makes my head feel like it's going to explode.
Well I did get some other useful things though, a vacuum sealed bag for my winter woollies. I had been wanting to take my dressing gown and a thick winter jumper and cardigan, and I was whining that I wouldn't be able to fit that stuff in when someone mentioned those vacuum sealed bags. So one of those was bought today. Just tested it out on a pillow ... my husband was perplexed as to what it was. Yay I'm going to be warm while I'm up there.
Then to the camping store and found a fantastic little clothes line, folds up into the tiniest little bag you've ever seen and includes pegs. Wet ones are something I've been meaning to get and travel tissues .. oh I love the camping store they have all these little things. A packet of Bungey straps went in there as well and I was getting full bags by now. I looked at the Leatherman tools again, I really want to get one they are just so handy, and it means less tools in the toolbag.
Terry found this website
http://micapeak.com/checklists/
and I've just now printed out our personal checklist for the trip, now to start ticking stuff off.